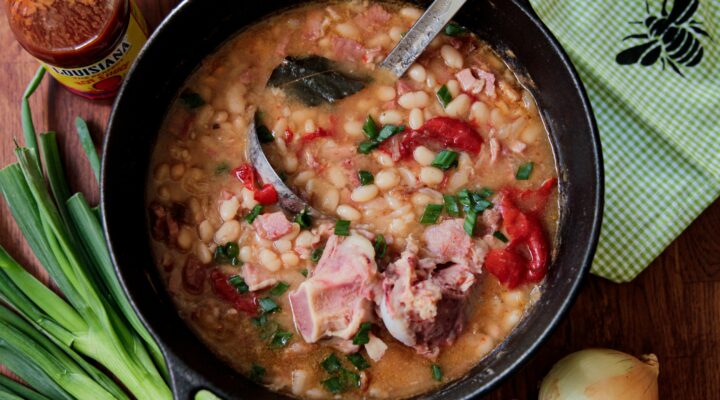 Contributed by
Jennifer Hill Booker
Great Northern Beans and Ham
Directions:
In a colander, pick over the great northern beans and discard any misshapen or discolored beans. Rinse well.
Transfer the beans to a large bowl and fill with enough cold water to completely cover the beans. Soak overnight.
When you are ready to cook, drain the beans, and place them in a large stockpot.
Add 6 cups cold water, the ham bone, ham, onion, garlic, chili pepper, and bay leaf and slowly bring to a boil over medium-high heat.
Cover and reduce the heat to medium-low.
Simmer for 6 to 8 hours, stirring occasionally. Add additional water as needed to keep the beans covered by 2 inches of water.
Salt and pepper to taste.
Serve with Buttermilk Cornbread.

From Field Peas to Foie Gras: Southern Recipes with a French Accent by Jennifer Hill Booker, photography by Deborah Whitlaw Llewellyn (Pelican Publishing, 2014).
Chef Jennifer Hill Booker is a Le Cordon Bleu-certified chef, cookbook author, reality TV personality, culinary educator, business owner and GA Grown Executive Chef for the GA Department of Tourism and Travel. She weaves her love of traditional Southern cuisine with her belief in incorporating healthy, seasonal foods and her classic French training.