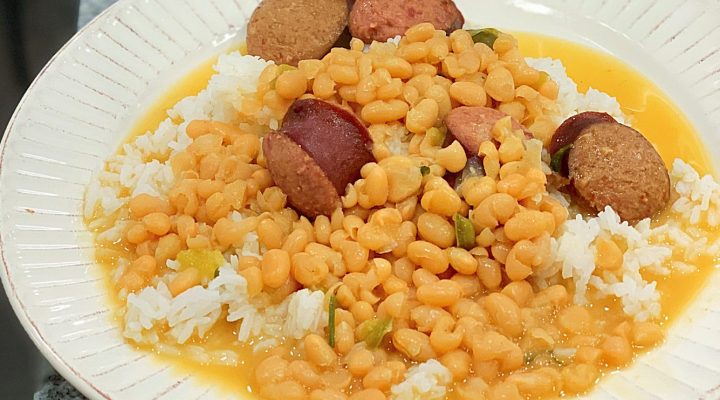 Instant Pot Navy Beans
Directions:
Press the SAUTE button on Instant Pot and add olive oil.
Once heated, add sausage and brown on both sides, stirring often, about 10 minutes/
Push browned sausage to one side and add onion and bell pepper. Stir and cook until glistening, about 5-8 minutes, then stir sausage, onions and bell peppers together.
Add chicken stock and water and stir.
Place lid on and lock and seal.
Set PRESSURE COOKER option on high for 1 hour and 5 minutes.
When done, carefully unlock seal valve to remove pressure, then open lid and stir contents.
Add smoked paprika, Slap Ya Mama seasoning and garlic powder to taste.
Cook, uncovered, on BEANS/CHILI setting for an additional 15-20 minutes, stirring often to avoid sticking. (Temperatures may vary with different brands of pressure cooker.)
Serve over rice with a side of cornbread.
Angie Dumas is a Lifestyle & Food Blogger and Recipe Developer. Angie started out as a food writer doing restaurant reviews and now develops recipes for brands on her website. She loves creating new recipes, reviewing products, spending time with family, traveling and seeing the world!