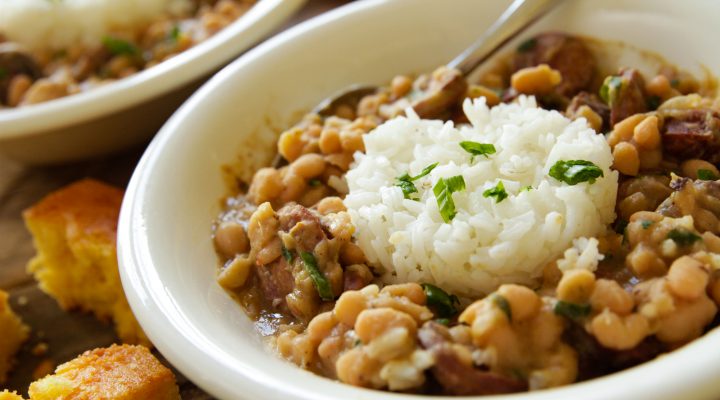 Instant Pot New Orleans-Style White Beans
Directions:
Rinse and sort beans.

Press the Sauté button on the Instant Pot, and add oil to pot. Add onion and garlic, and sauté for 2 minutes. Add chopped ham or seasoning meat, and sauté another 1-2 minutes.

Add beans and water or broth to the pot. Stir well.

Turn Sauté mode off. Cover Instant Pot, twist to lock the lid, and turn the valve to sealing. Press the Beans/Chili button (or use Manual mode and set to 30 Minutes).

When the timer beeps, allow the pressure to release naturally for 20 minutes. Then, turn the valve to venting.

Remove lid, and use a spoon or potato masher to mash beans to desired creamy consistency. Add salt and pepper to taste.

Serve with hot cooked rice.
Tips:
If after cooking, beans are soft but there's too much liquid remaining, use Sauté mode and cook, mashing beans in pot, till thickened.

If beans are not soft enough after cooking,

put the lid back on and make sure the release valve is set to sealing. Use Manual mode to cook at high pressure for another 5 to 10 minutes. The pot will quickly come back up to pressure because the contents are already hot.

Get more 

Instant Pot Tips, Tricks & How-To's.