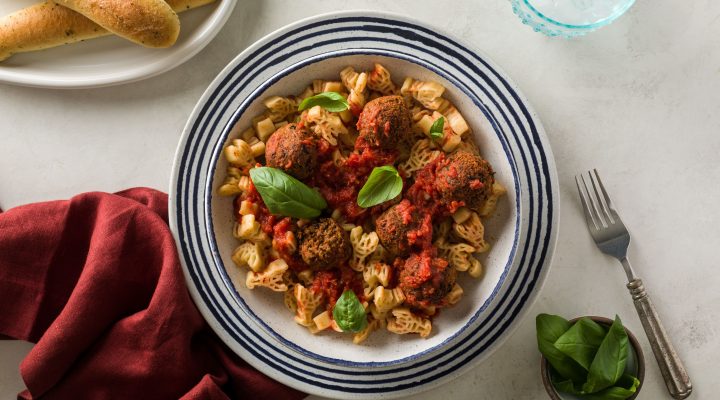 Contributed by
CooksWithSoul
Kid-Friendly Vegan Meatballs & Pasta
Directions:
Preheat the oven to 400°F.
Line a baking sheet with parchment paper. Spray cooking oil on the parchment paper and set aside.
Heat olive oil in a skillet over medium heat.
Add onion and garlic and sauté until onions are softened and translucent, about 5 minutes. Remove from heat.
Add onion and garlic to a large mixing bowl.
Stir in cooked lentils, cooked black beans, basil, Italian seasoning, walnuts, tomato paste, salt, and pepper until combined. Taste and adjust seasonings as needed.
Transfer mixture to the cup of a food processor and pulse until a tacky dough forms.
Use a tablespoon to scoop heaping amounts of the mixture and roll into balls; set meatballs on a lined baking sheet.
Transfer the baking sheet to the oven and bake for 25 to 30 minutes.
Heat 1 jar of tomato sauce in a large pot over low heat.
Coat cooked meatballs in sauce, then remove from heat.
Serve meatballs and sauce with cooked pasta. Garnish with fresh basil leaves, if desired.
Krysten is a Maryland-based recipe developer and photographer. She is also one-half of the popular food blog, Cooks with Soul, where she and her husband, Marrekus, publish recipes and digital content. When she's not busy with her food blog and photography business, she works part-time as a behavior analyst with kids who have autism and related disorders. Krysten is a mom of three and a self-proclaimed cheer mom, football mom, and special needs parent.