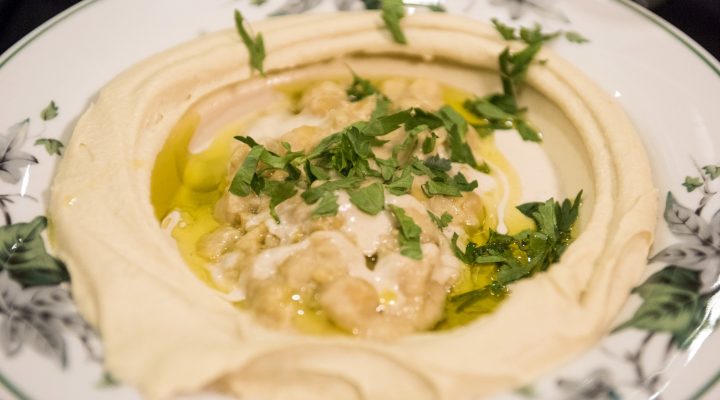 Contributed by
Alon Shaya
Masbacha
Directions:
In a large mixing bowl, cover the garbanzo beans with water making sure there is 6 inches of water over the beans. Let sit overnight on the counter at room temperature to soak.
Drain the beans of the excess water. In a large sauce pot or dutch oven over medium heat, place the drained beans and cover with fresh water. Bring to a boil then turn down to a low simmer. Let the beans cook slowly until soft. It will take about 1 ½ hour. Keep adding water 1 cup at a time if they have soaked all the water up.
In a separate pan over medium heat, add olive oil, onion, serrano peppers, cumin, coriander and salt. Cook, stirring frequently until translucent. Set aside.
Take the heads of garlic and trim off the top of the head by ½ inch to expose the cloves. Place each head of garlic on an 8"X8" square of tin foil and bring the sides of the foil up to cup the heads of garlic. Before completely covered, drizzle in 2 tablespoons of the extra virgin olive oil into each head and close up the foil like a package. Roast the garlic for 1 hour at 300F until the cloves are soft and golden. Let chill to room temperature and squeeze the cloves from the skins. Set aside.
Once tender and creamy, add the sauteed onion mixture, cilantro, parsley, and roasted garlic cloves and prepared tahini. Season to taste with more salt if you prefer.
Alon Shaya is an Israeli-born chef who currently owns two restaurants: Saba in New Orleans and Safta in Denver. His culinary journey and resounding love of Israeli and Italian cuisine is reflected in his cookbook, "Shaya: An Odyssey of Food, My Journey Back to Israel."