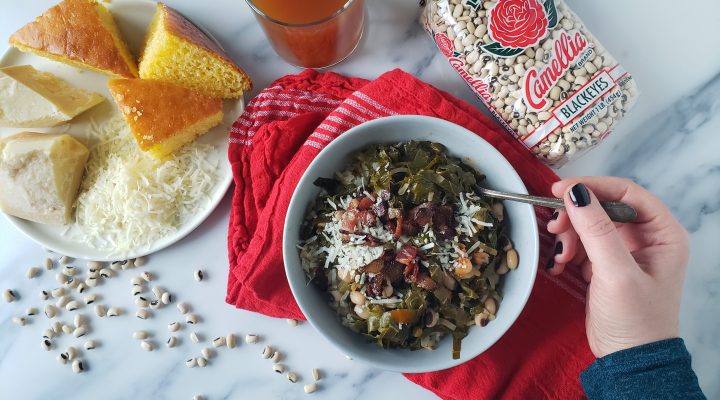 Potlikker Greens with Blackeye Peas
Directions:
Make Blackeye Peas:
Place rinsed blackeye peas in a large bowl, cover with water (by at least 2 inches), stir in 1/2 teaspoon of salt and soak overnight in refrigerator.
The next day, add blackeye peas (plus their soaking liquid) to a medium-sized pot, adding extra water if necessary to ensure they are covered by at least an inch of water. Boil for 10 minutes.
Reduce heat, add oregano and ½ teaspoon salt, cover and simmer for 1 hour, adding hot water if needed to keep peas submerged.
After 1 hour, check to see if blackeye peas are tender and cooked through. If not, continue to cook in 5 minute increments, keeping a close eye.
Remove blackeye peas from heat. Strain through a colander, catching broth in a large bowl. You should have about 2 cups of blackeye pea broth. Set peas and broth aside.
Make Potlikker Greens:
In a large dutch oven or heavy-bottomed pot over medium heat, cook slab bacon until fat is rendering and bacon itself is browned, about 8 minutes. Remove bacon and set aside to use as garnish.
Add onion, shallots and garlic to the pot, cooking until the onion becomes translucent, about 5 minutes.
Add vinegars, hot sauce, salt, pepper and brown sugar, stirring until completely combined. Reduce to a simmer, then add blackeye broth and vegetable stock. (If you don't quite have 2 cups of blackeye pea broth, add extra vegetable stock. If you have more than 2 cups of blackeye pea broth, reduce vegetable stock.)
Add greens to broth, gently stir, and cover the pot. Depending on the size of your cooking vessel, you might need to work in batches, allowing greens to cook down before adding more raw greens.
Cook for at least 50 minutes and up to 1½ hours, stirring occasionally.
Assemble:
Remove greens from heat and stir in the blackeye peas in amounts desired.
Serve warm, ladled into individual serving bowls and topped with reserved slab bacon, Parmesan cheese and extra hot sauce, if desired.
Serve hot, buttered cornbread on the side for dunking or crumbled on top.
The dish can be kept refrigerated for up to 3-5 days. The flavors will continue to marry, so it makes for great leftovers!