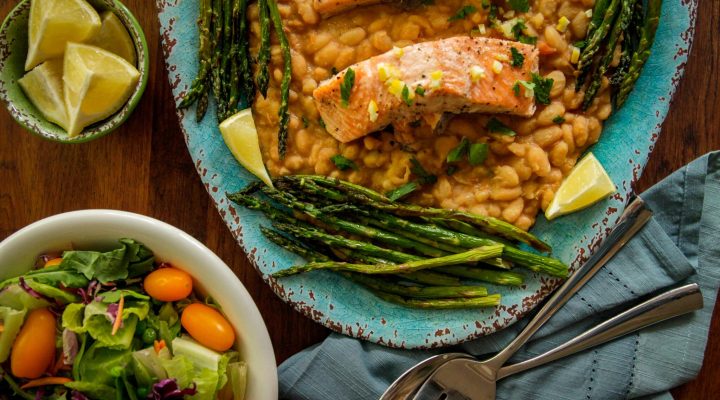 Contributed by
Jennifer Hill Booker
Roasted Salmon with Stewed White Beans & Preserved Lemon
Directions:
For the Preserved Lemon, preheat oven to 325°F.
In a small stainless steel or ceramic baking dish, add half of the sliced lemons and sprinkle with half of the salt and lemon juice. Add the remaining lemons and remaining salt and lemon juice.
Cover with a non-reactive lid, (no aluminum foil), and place in oven.
Bake for 3 hours, stirring occasionally.
Remove from oven, allow lemons to cool and transfer them and all of their liquid to an airtight container. Cover and refrigerate for up to 1 year.
For the Stewed White Beans, heat oil in a large stockpot, over medium-low heat. Add diced onion, carrot and celery; sweat until translucent, about 10 minutes. Add garlic and cook for another minute. Add drained beans, vegetable stock, bay leaf, and thyme.
Bring to a boil, reduce heat to low and simmer, covered, until beans are thick and tender, about 2 hours. Add additional stock as needed.
Remove from heat and discard the bay leaf and thyme stems. Add salt and pepper, to taste.
For the Roasted Salmon, generously season salmon fillets with salt and pepper and set aside. Preheat oven to 400°F.
Heat a large sauté pan over medium heat; add 2 tablespoons oil and increase heat to medium-high. Add salmon fillets, skin side down, and drizzle with remaining 2 tablespoons oil.
Remove from heat, pour wine and lemon juice over salmon, into the pan; place sauté pan in pre-heated oven.
Roast for 12-15 minutes, depending on the thickness of the salmon fillets. Remove from oven and allow fish to rest 5 minutes before serving.
To serve, ladle warm, stewed white beans onto plate or in bowl, and top with roasted salmon and preserved lemon.
Chef Jennifer Hill Booker is a Le Cordon Bleu-certified chef, cookbook author, reality TV personality, culinary educator, business owner and GA Grown Executive Chef for the GA Department of Tourism and Travel. She weaves her love of traditional Southern cuisine with her belief in incorporating healthy, seasonal foods and her classic French training.