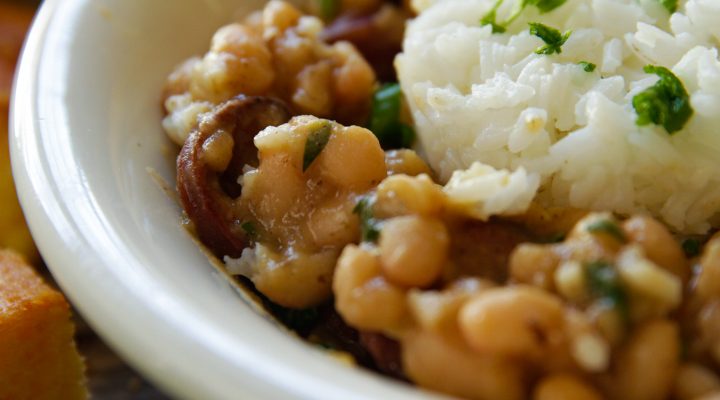 Instant Pot South-Louisiana Style White Beans & Rice
Directions:
Rinse and sort beans.

Press the Sauté button on the Instant Pot, and add 1 tablespoon oil to pot. Add sliced sausage, and sauté for about 5 minutes or until browned. Remove sausage to a paper towel-lined plate and reserve.

Add another tablespoon of oil to the Instant Pot. Add onions, bell pepper, celery, and garlic to pot. Sauté till soft and translucent.

Add cooked sausage back to the pot, along with the beans, water, cayenne, and bay leaf. Stir well.

Turn Sauté mode off. Cover, twist to lock the lid, and turn the valve to sealing. Press the Beans/Chili button, (or use Manual mode and set to 30 Minutes).

When the timer beeps, allow the pressure to release naturally for 20 minutes. Then, turn the valve to venting.

Remove lid, and use a spoon or potato masher to mash beans to desired creamy consistency. Add salt, pepper, and Cajun seasoning to taste.

Just before serving, remove bay leaf and stir in fresh parsley and green onions. Serve over hot cooked rice, with additional fresh parsley and green onions as garnish.
Tips:
If after cooking, beans are soft but have too much liquid remaining, use Sauté mode and cook, mashing beans in pot, till thickened.

Firm sausage will hold its shape during cooking, but softer sausage may not. If you prefer, you can wait to add the cooked sausage back to the pot after the beans have finished cooking. Then use Sauté mode, cooking for a few minutes more, so the flavors blend.

If beans are not soft enough after cooking,

put the lid back on and make sure the release valve is set to sealing. Use Manual mode to cook at high pressure for another 5 to 10 minutes. The pot will quickly come back up to pressure because the contents are already hot.

Get more 

Instant Pot Tips, Tricks & How-To's.