Chicken's Kitchen's Choice Morsels Keep Customers Coming Back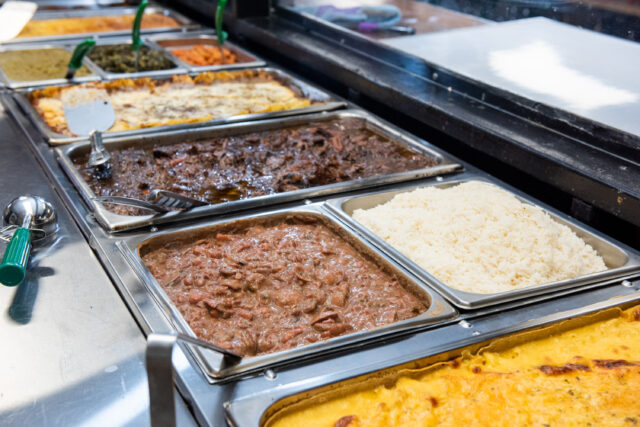 If variety is the spice of life, then Chicken's Kitchen in Gretna could be considered one of its culinary epicenters. So much so that it was named to The New York Times "Restaurant List 2022: 50 Places In America We Are Most Excited About Right Now."
On the Menu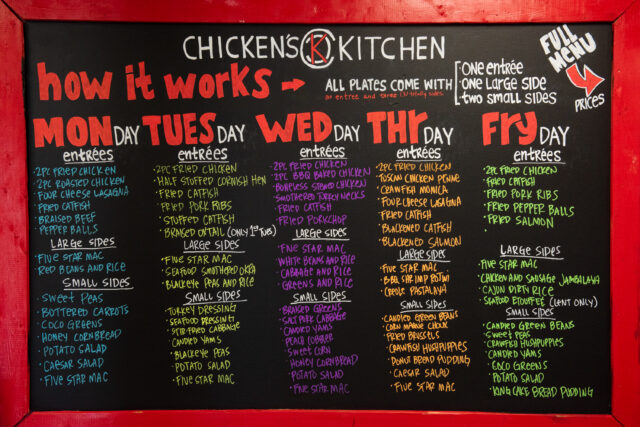 The menu — colorfully written on a large blackboard on the wall — features daily specials Monday through Friday that include fried chicken, braised beef, half-stuffed Cornish hen, oxtails (the first Tuesday of the month), smothered turkey necks, Five-Star Mac (named for the five cheeses used for it), potato salad, seafood smothered okra, and candied yams, to name just a few. Other options include red beans, white beans, and black-eyed peas with rice dishes.
Then there are the multiple ways you can combine them: a fried pork chop with white beans, cabbage, and candied yams might be your preference, or perhaps red beans with fried chicken, Five-Star Mac, and honey cornbread is more your style.
Each combination offers a unique and delicious flavor profile. (Combine some white beans and rice with the candied yams. Trust us.)
And don't forget to finish the meal with a sweet treat by Anointed Confections.
Take-Out Plate Lunches

The man behind this culinary cornucopia is restaurant owner Marlon Chukumerije — his nickname is Chicken, hence the restaurant's name.
Chukumerije's mother and grandmother taught him to cook, and in 2014, a friend asked him to cater a wedding. Out of this adventure grew a catering business, and when the opportunity arose to open a restaurant in September 2020, he took it.
The menu he created features New Orleans and southern-style dishes that work well as take-out plate lunches.
"The idea was to find things that hold well in the heat, things that could stay long and not
change the quality," says Chukumerije.
"There are things I would love to add to the menu, but we just can't," he adds, stating certain pasta dishes and vegetables don't work well for take-out, while others do.
Red Beans & Rice, Perfected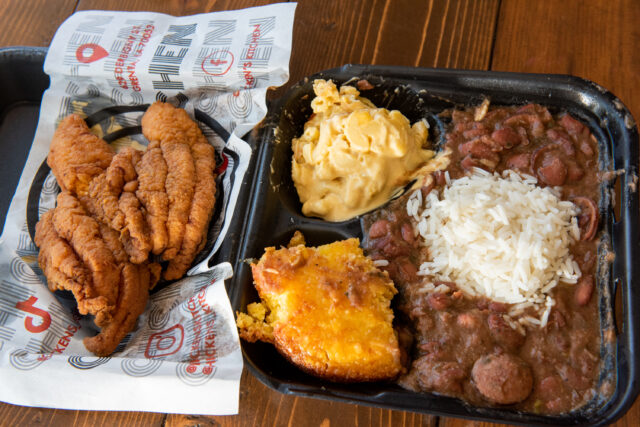 One dish he worked hard to perfect was the red beans and rice.
"When we opened, we made red beans four or five different ways," he said. "It was trial and error."
"And I landed on this version because I got the most consistent feedback from customers."
The version Chukumerije and his crew hit on starts with Camellia Red Kidney beans soaked overnight.
Green onions, celery and parsley are added, then Tony Chachere's, Italian seasoning, onion, garlic powder, and chicken bouillon powder, which he says amplifies the flavors.
When it came to pork, he worked hard to find the right cut and flavor.
"Certain people have pork issues," he says, noting that ham seasoning, salt pork, and pickled pork (tips, tails, for example) were not popular.
The one ingredient everyone liked was smoked sausage. "That's the only meat we put in it," he says.
For the restaurant's white beans dish, Chukumerije uses Camellia Navy Beans and the same cooking process and ingredients used for the red beans.
As for the blackeye peas, Chukumerije uses scraps from that day's fried ribs to add flavor.
Red beans are traditionally served on Monday, blackeye peas on Tuesday, and white beans on Wednesday.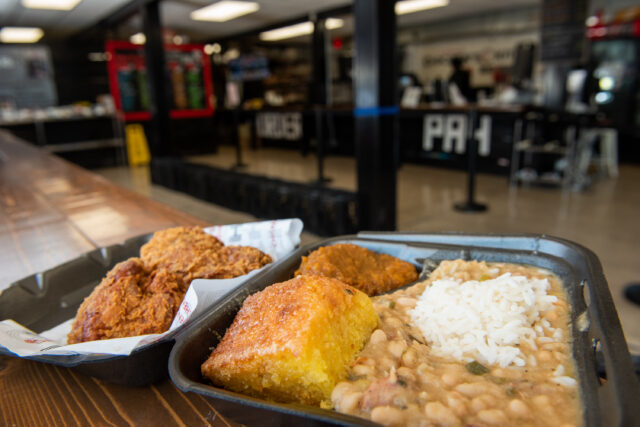 A Love of Green Onions
Another unexpected ingredient used in Chicken Kitchen's bean & rice dishes is green onion. "Something I learned here that I think gives our beans a unique flavor, which most people don't do, is we finish it off with lots of green onions," he says. "Right when we are doing the cooking, while it's still super hot, we put the chopped green onions in there and mix it.
"It elevates it to a whole different level," he says.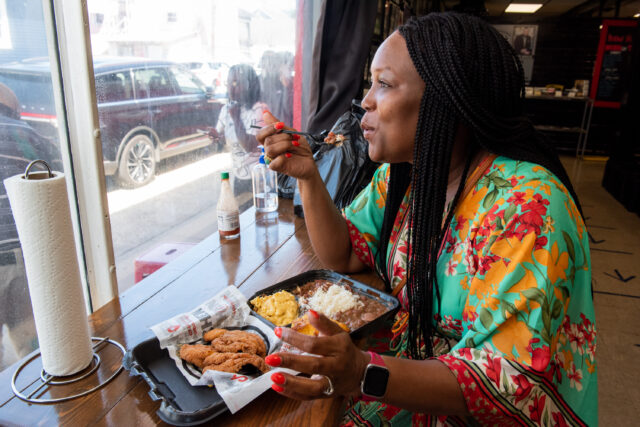 Praise for Chicken's Kitchen
What Chukumerije is doing is working based on the line of customers outside of the restaurant who know to get there early as food often sells out fast. And, of course, the restaurant's recognition in the New York Times.
"It's a gratifying achievement that wouldn't even be possible without the community support we get on the daily. That's more special to me," he says.
Chicken's Kitchen, 629 Derbigny St., Gretna; Mon.- Fri., 10:30 a.m. – 3:00 p.m., chickens-kitchen.com; on Instagram.