How Do You Red Bean, Artigue's Abita Market?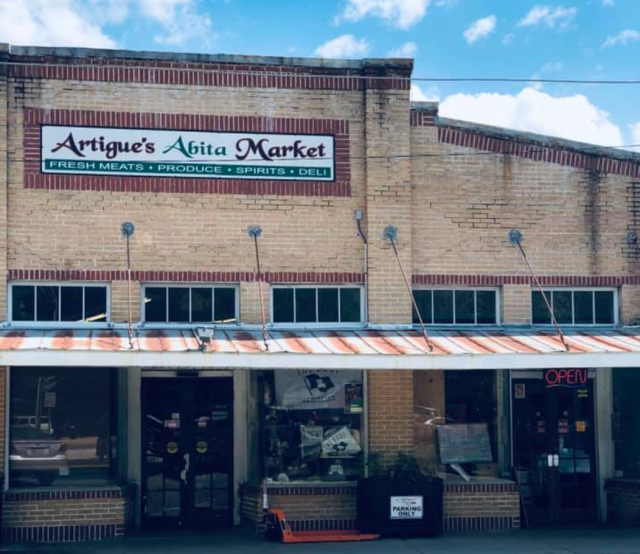 Abita Springs is a quaint village deep in the piney woods of the North Shore of Lake Pontchartrain, about 45 minutes from New Orleans. Once a spa town where New Orleanians came to escape the summer heat and swim in the many local springs, it retains not only its 19th-century architectural charm but also its old-timey general store, right in the town's CBB (central business block). With an emphasis on local tradition, Artigue's Abita Market is a family business that serves the little community's loyal residents, many of whom live in historic Victorian cottages close enough to walk to the store. Customers also include cyclists passing by on the nearby Tammany Trace bike path and day-trippers from New Orleans who come to check out the town's attractions, including the quirky UCM Museum and the local Abita Beer microbrewery. 
A Small Town with Big Flavor
In addition to the grocery essentials required in any small Louisiana town, like Cajun spices, T-Rey's local andouille sausage, spicy boiled peanuts and plenty of red beans, lima beans and blackeye peas, Artigue's also offers a fresh daily specials menu, brought to life by chef Trey Herty. The menu features a rotation of classic Louisiana hot plates and po-boys plus local family recipes like Mom's Red Beans and Rice with Pickled Meat, T-Rey's Smoked Boudin, Louisiana Catfish Meuniere and Artigue's famous Chicken and Smoked Sausage Gumbo. And not to be missed are the side dishes, from tasty Boudin Balls with Pepper Jelly Dipping Sauce to Stewed Green Baby Limas, Baked Yams and Collard Greens.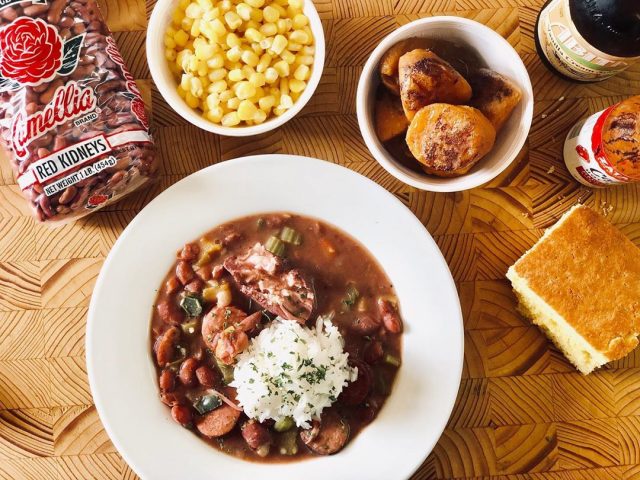 Artigue's Red Bean Secrets Revealed
The menu at Artigue's evolves along with the seasonal produce that's locally available, while also staying true to New Orleans traditions such as Red Beans and Rice on Mondays. Sometimes the menu is more Cajun and other times it's more Creole, but at Artigue's it's always Louisiana. So how does Artigue's do red beans? Chef Trey essentially follows his mom's recipe and adds in a few "chef hacks" along the way. (His mom, Reba, makes the best red beans he's ever had.) For seasoning meat he uses products he developed – T-Rey's Specialty Meats Smoked Sausage and Pickled Meat – which customers can also buy in the store. Chef Trey always browns the sausage in a separate pan and deglazes the pan with vegetables to impart a rich umami flavor to his red beans, and he keeps the spice lineup simple and classic: salt, black pepper and cayenne, with garlic added at several different stages of the cooking process and a couple of dashes of Louisiana Hot Sauce when serving. Can't get much more Louisiana than that!