How to Up the Protein in Red Beans & Rice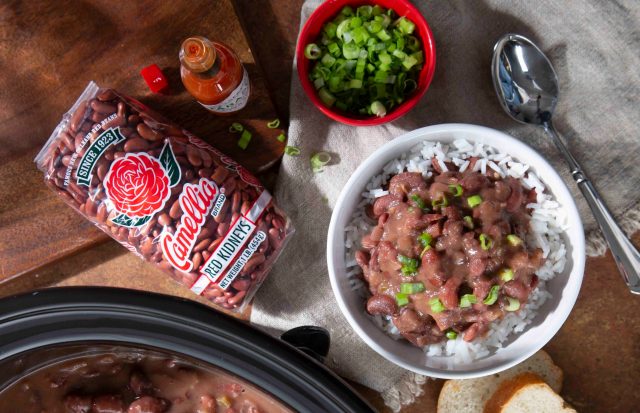 If you're looking for ways to increase the amount of protein in your diet, look no further than your favorite Monday meal – red beans and rice. This nutrient-packed dish is undeniably high in plant-based protein. Why? A 1-cup serving of cooked red beans (even before adding other sources of protein) clocks in at 15 grams of protein, and a typical bowl of red beans and rice clocks in at almost 30 grams of protein.
Of course, if you're a meat eater, flavoring your red beans with cuts of pork such as bacon, ham hocks, or sausage is a tasty way to add even more protein to the dish. But if you're looking for other options, check out the suggestions below.
Bone Broth
Lots of red bean fans like to simmer their beans in chicken broth or stock, as opposed to water. And while that works well to add flavor, a way to add even more protein is to use bone broth.
While regular chicken and beef broth offer 1-3 grams of protein per serving, most brands of bone broth offer 7-10 grams of protein per serving, with some bone broth protein powders featuring upwards of 20 grams of protein per serving.
Bone broth is made with similar ingredients to regular broth (meaty bones, aromatics, and water), with the addition of cider vinegar, which draws the nutrients out of the bones, cartilage and tendons. Both are simple to make, but the main difference is that bone broth is slow simmered for a much longer period of time — about 12-24 hours. This makes it more flavorful and increases the protein in the broth.
You'll find lots of bone broth choices on grocery store shelves, but make sure to read the nutritional labels, because the protein per serving varies.
Rice & Whole Grains
White rice – The classic sidekick to red beans is white rice, which contains 4.25 grams of protein per serving.
Brown rice – An unprocessed whole grain that features a hearty texture, brown rice offers micronutrients, high fiber, and 5.5 grams of protein per serving — making it a higher protein replacement for white rice.
Farro – Another healthy option is farro — a plant-based protein and fiber-rich whole grain that's also rich in nutrients, minerals and antioxidants. Like brown rice, farro has a nutty, chewy texture that holds up well to cooked beans. And with 7 grams of protein per serving, you'll be increasing your protein intake in a delicious way.
In fact, when beans and rice or whole grains are eaten together, they're considered complete proteins. Since beans are lower in methionine (an essential amino acid which rice contains) and rice is lower in lysine (an essential amino acid which beans provide), when eaten together, they each provide what the other lacks. So if you're looking for even more plant-based protein, look no further than delicious beans and rice.
Quinoa – A third option is quinoa, which is rich in protein, fiber, vitamins and minerals. It's a whole grain that's a complete protein, which means it contains all of the essential amino acids in the necessary amount, and boasts 8 grams of protein per serving.
Check out the protein totals for a few different combinations below. No matter how you combine the ingredients, red beans and rice is a great way to add a healthy dose of plant-based protein to your diet!
Red Beans and Rice Protein Combinations
Red Beans and Rice w/ Broth – 29.25 Grams of Protein
Red beans: 15g per serving
Broth: 2g
Smoked sausage: 8g per serving
White rice: 4.25g
TOTAL: 29.25g
Red Beans and Rice w/ Bone Broth & Brown Rice – 36.5 Grams of Protein
Red beans: 15g
Bone broth: 8g
Smoked sausage: 8g
Brown rice: 5.5g
TOTAL: 36.5g
Red Beans and Rice w/ Bone Broth & Farro – 38 Grams of Protein
Red beans: 15g
Bone broth: 8g
Smoked sausage: 8g
Farro: 7g
TOTAL: 38g
Red Beans and Rice w/ Bone Broth & Quinoa – 39 Grams of Protein
Red beans: 15g
Bone broth: 8g
Smoked sausage: 8g
Quinoa: 8g
TOTAL: 39g