Jazz Fest's "Red Bean Queen" Judy Burks Is Still Cooking — 50 Years Later
The New Orleans Jazz and Heritage Festival is full of tough acts to follow. And when it comes to the red beans and rice served at Jazz Fest, legendary restaurateur Buster Holmes was perhaps the toughest act of all. But Judy Burks did just that, taking the reins from Holmes in the early 1970s and cooking up an empire built on Camellia beans that is still going strong today.
At his namesake French Quarter restaurant, Holmes served his renowned red beans to everyone from Preservation Hall jazzmen to Louis Armstrong, Vincent Price, and Woody Allen. So he perhaps viewed his red-beans gig at the then-tiny Jazz Fest as just a sideline. He told organizers he would only cook 100 pounds.
Enter Judy Burks and her then-boyfriend Albert Sabi. The pair had worked the 1973 Jazz Fest serving up Cuban black beans based on a recipe from Sabi's mother. However, as astonishing as it sounds today, the black beans were a hard sell, even as the couple doled out free samples on small plastic spoons. There were "not a lot of adventurous eaters in New Orleans" at the time, Burks recalled. "That looks like mud," one fest-goer told her.
In the early '70s, only about 20 food booths were operating. When Holmes made it clear that 100 pounds of his famous red beans was all he was going to provide, Jazz Fest organizers wanted more. They approached Burks and Sabi about changing their beans from black to red. The couple agreed. Though Holmes eventually bowed out of the festival, he continued with his unquenchable gusto for life until 1994, when at age 89 he received a jazz funeral send-off worthy of red-bean royalty.
Camellia: "Always Good, So New Orleans"
Fifty years later, Burks is the Jazz Fest's reigning queen of red beans. Locals and tourists alike feast on her definitive recipe at what has become the most famous music festival in the world. Burks has tinkered with the ingredients over the decades, but she says there has "always" been one constant: Camellia red beans. "No rocks, no mess, always good, so New Orleans," Burks said of the product. She buys Camellia's 25-lb. sacks and goes through an astounding 1,200 pounds every Jazz Fest!
With roots in the Tangipahoa Parish town of Amite, as an eighth-grader Burks moved with her parents to the New Orleans suburb of Metairie and attended East Jefferson High School. She majored in art at Southeastern Louisiana University in Hammond and later earned master's degrees from UNO and Tulane in English and fine arts, respectively. Over the years she has worked as a teacher and arts-program coordinator in the New Orleans public school system, and her paintings have been on display at local galleries.
Burks was headed off to Europe with boyfriend Albert when she got her first taste of Jazz Fest in 1973. Bitten by the bug, she and Albert realized that cooking at the fest could be a pretty decent part-time gig. In the early days, when the festival was only a single weekend, it was easy to run the booth. In later years, as Jazz Fest grew to encompass successive extended weekends, she managed to take time off without pay from the school system to work the fest.
It was during her job as visual-arts coordinator at the New Orleans Center for Creative Arts (NOCCA) that she managed to find the perfect sausage for her beans. Using the teachers lounge as a forum for a blind taste test, she rounded up several different brands and laid them out in tiny cups. The winner: Richard's links from the Cajun town of Church Point, the brand she still uses today.
Years of Practice Yield "Perfect" Recipe
Burks feels that her recipe has been "perfect" for at least the past 10 years. On the road to perfecting her Platonic dish, over the years she's learned a few tricks, including the power of white pepper. It's "aromatic and blends well," Burks said. She uses about five times as much white pepper as black pepper.
As for rice, she now uses a parboiled product to avoid a "glutinous mess of overcooked rice." For many years, following the advice of "some little old ladies from LaPlace," she stored the rice in small individually prepared Ziploc bags to keep it fresh — until a fellow food vendor convinced her to switch to 5-gallon buckets for convenience's sake.
For French bread accompaniment, her go-to brand is Leidenheimer of New Orleans. Burks also sells her own blackberry cobbler pie, and in earlier years, she offered iced tea.
Vegetarian fest-goers from around the world rejoiced in the 1990s when Burks made a major breakthrough: a meatless version of red beans. Many customers simply can't believe that she conjures up such a robust flavor without using meat. Her secret: adding extra canola oil to enhance the dish's creaminess. She now sells about one pot of vegetarian beans for every three pots of sausage beans.
Family: The Essential Ingredient
Over 50 years at Jazz Fest, Burks has witnessed and weathered many changes. On a personal level, her original partner in the business, Albert, passed away in 1987. "I did the '87 festival by myself," Burks recalled.
Burks & Douglas Is Born
But serendipity soon struck when she encountered a former student from her first year as a teacher. "He started out coming to help me in the kitchen, then he'd help out in the booth. Now Morris Douglas and his sister, Pam, are full-time partners," Burks told The Times-Picayune in 1999.  The business is now known as Burks & Douglas.
You might say that family is another key ingredient to Burks' red beans. Burks' life partner, a sculptor, also helps out at the booth, specializing in the blackberry cobbler. And partners Morris and Pam Douglas have several relatives active in the business.
"My partner's son basically grew up in the booth," Burks said. "I can remember when he was 8 years old, saying, 'Can I work here?' And I said, 'No, 'cuz your head isn't above the counter. But when your head is above the counter, maybe we'll think about it.' Well, now he's an adult and he works in the back cooking the rice and just basically knows the whole thing inside and out. … Everybody along has the same thing. People that I knew who had little kids who were young couples are now relying on their children and grandchildren to stir the pots and carry the things."
Burks also has a corps of volunteers who help out in exchange for free Jazz Fest tickets, including a couple returning this year from Paris, France, for yet another tour of duty. "Seeing the same people is so much fun," she said.
Those "same people" include her fellow vendors, especially those from Food Area 1. The kickoff organizational meeting each year is like an extended family reunion, with hugs abounding as Jazz Fest perennials like Creole sausage prince Vance Vaucresson, Angelo Brocato's owner Arthur Brocato, spinach-artichoke casserole purveyor Peggy Miranda, and Jamaican chef Cecil Palmer all reappear. "I still know everyone we started with," Burks said. " We run into each other occasionally at other times during the year. But for the most part, we see each other here, and it's like old home week."
1993: "The Fair Grounds in Flames"
Burks had the business swinging effortlessly along like a crack jazz band — until tragedy struck. On Dec. 17, 1993, a seven-alarm fire destroyed the Fair Grounds' historic clubhouse. Burks remembers exactly where she was the moment she learned the devastating news. And appropriately enough, red beans were involved.
"I was eating red beans at the St. Charles Tavern when I looked up at the TV and saw the Fair Grounds in flames and I thought that was it," she recalled. "Where are we going to have the festival now? It's all over. … I thought they'd never pull it together in time for the festival the next year but they did. They didn't miss a beat. They put all that tent stuff together and kept on going."
The cavernous kitchen in the original building, with its massive pots and walk-in coolers and freezers, had been essential to Burks' cooking operations. The clubhouse and its kitchen eventually were rebuilt and reopened in 1997, but for a few lean years Burks and her crew had to rough it. "It's such a fancy kitchen since they rebuilt after the fire," she told The Times-Picayune. "And such an improvement on how we've had to do it for the past few years. We've worked out at Delgado (Community College) and had to truck the stuff over to the grounds, and for a couple of years we worked in a tent. This is better."
Post-Katrina Jazz Fest: "We Pulled it Together"
Things were better until Aug. 29, 2005, when the federal levees failed during Hurricane Katrina and New Orleans flooded. As a resident of Uptown's "sliver by the river," Burks mostly escaped the physical devastation inflicted on other parts of the city. And like most locals, she was determined to go on, and that meant firing up the city's most beloved comfort food once again at the Fair Grounds.
"My thought about it was there's probably not going to be a lot of people when we came back from Atlanta; there were a lot of people not here. And there are not going to be a lot of people who can work for us. But no matter what, I'm going to open even if we don't have any customers. If the festival goes on, we're going on too. It's important that we do that. Whatever we could do to try to resume a life here was something that I wanted to do. We pulled it together and went back at it."
"The crowds were small the first year after Katrina. That was really interesting going to see a lot of — the crowds were so small that I could go and actually hear music — and so I went out with a friend and listened to the Bruce Springsteen concert. And what was amazing was that you could stand in front of the Acura Stage without touching anybody. Put your arms out [like this] and there would be space all around you because there weren't that many people. Never got to do that again."
"I'm Going to Stay as Long as They'll Let Me"
Like a good pot of red beans, Burks just improves with age. Asked how long she plans to keep on stirring the pot, Burks insists she still gets a thrill from the annual ritual.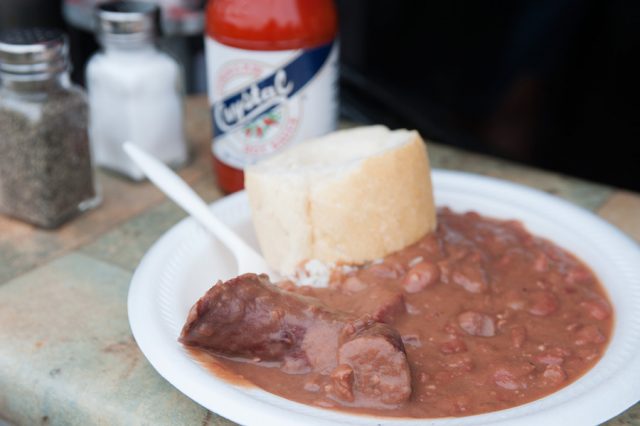 "I don't feel like quitting," she asserted. "I really don't. And the fact that my partner used to be my student means that he's younger than me, and he's still cooking. So we haven't talked about quitting. And then he has his nephew, Pam's son, working out in the booth a lot, so we just keep using younger people to do harder things. I guess I'm going to stay as long as they'll let me because I enjoy it. It's sort of like an essential part of my life at this point. This is year No. 50, so even though it's just a couple of weeks of the year, it's a touchstone throughout those years."