King Cakes – You've Come A Long Way, Baby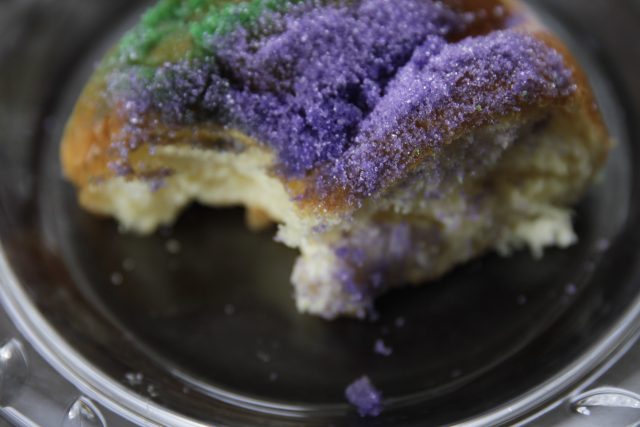 Call it a habit, a hobby, maybe even a sport; many of us are on a mission to sample as many king cakes as possible during Mardi Gras. And whether we're interested in the inventive newcomers to be discovered at bakeries and pop-ups across New Orleans, or the traditional childhood favorites we love returning to again and again, there's no shortage of sugar and carbs out there for anyone who can't seem to get enough.
Back in the day, if we wanted a king cake in New Orleans during Carnival season, we had only a few choices – namely Gambino's, Haydel's and McKenzie's – and they were basic rounds of brioche dough topped with sugar crystals and the occasional maraschino cherry. But over the years, the variety of dough, flavors, fillings, stuffings, and toppings has reached a fevered pitch, and the creativity and imagination involved never cease to surprise and delight. Can you tell we're giddy from a sugar high?
Any way you slice it, ask a dozen New Orleanians which king cake they like best, and you'll get a dozen different answers. We all have our favorites, of course, (and some of us keep lists of the ones we want to try before the season ends).  So in the name of pure fun, let's take a look at an unscientific sampling of king cakes around town — and what makes them special.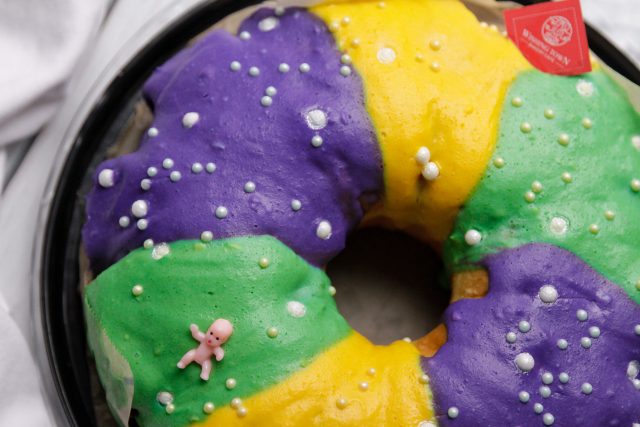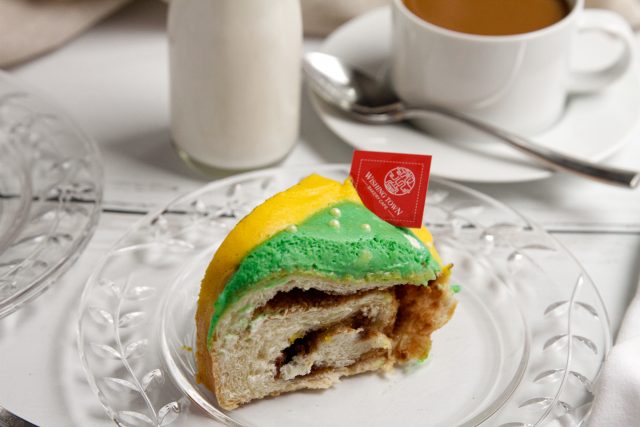 Wishing Town is a bakery and a café in Metairie — with an Uptown location opening soon — offering everything from noodle soups and dim sum to beautiful whole cakes and tarts. And now, their own Instagram-worthy king cake, too. (I don't know how they create the nearly fluorescent glaze colors, but wow, what a swipe-stopper.) Made with Asian milk bread style dough and your choice of coconut, pumpkin, or sweet red bean paste fillings, it's decorated with a house made cream cheese glaze. With a super light and fluffy texture, Wishing Town's king cake is not nearly as sugary as you might expect. So, if you don't have a huge sweet tooth and want to try something totally unconventional, this could be for you.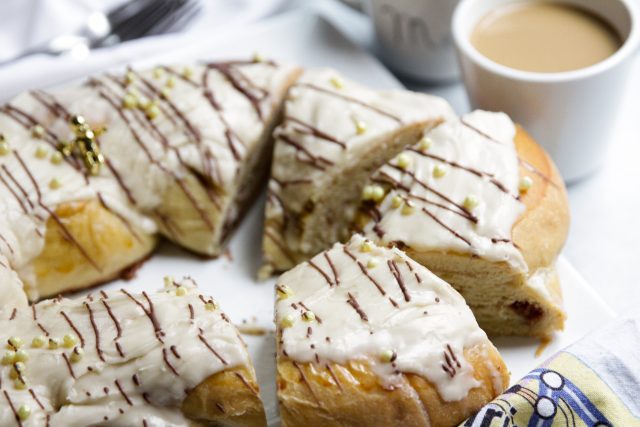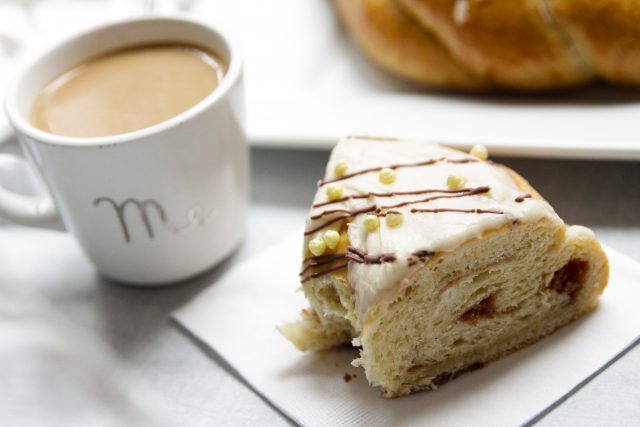 Like other restaurants, Brennan's jumped on the king cake bandwagon in 2021 — when we were all attempting to make up for a lack of Mardi Gras parades with an abundance of king cake. This year, the legendary Bananas Foster dessert that was created at the restaurant in the 1950's has been re-invented in king cake form. Featuring a creamy, banana liquor-flavored filling inside a cinnamon and brown sugar dough, the outside is decorated with a boozy icing made with butter rum, drizzled chocolate, and a sprinkle of crunchy golden spheres. It's worth noting that the banana flavor is mild — and my krewe actually tasted more of the vanilla extract, cinnamon, and rum. Beautiful to look at and an interesting riff on their famous dish!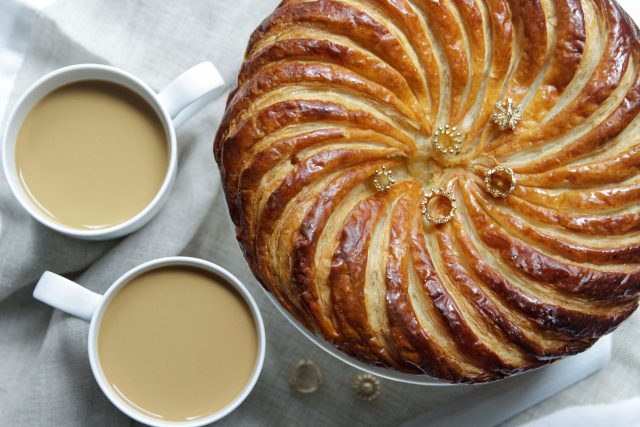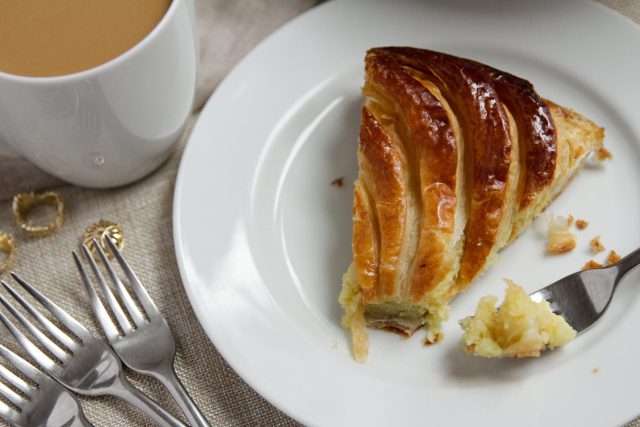 Celtica French Bakery is an exciting Parisian-inspired café and bakery in Lakeview, the latest venture from the former chef of La Boulangerie on Magazine Street. And on the average day, Celtica's croissants steal the show. (It's truly difficult to drive by the airy, modern spot without stopping in for a quick Pain au Chocolat.) But its traditional French king cakes, or galette des rois, are a beautiful sight to behold and a wonderful way to celebrate the season. With delicate flaky layers and a frangipane filling (also known as almond cream), this is one of the prettiest French king cakes I've ever seen, and a delicious alternative to the sugar-laden brioche styles around town. Pro tip: get a whole cake, or buy it by the slice.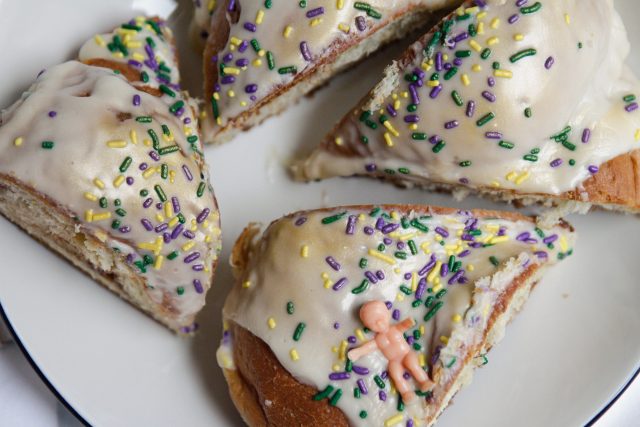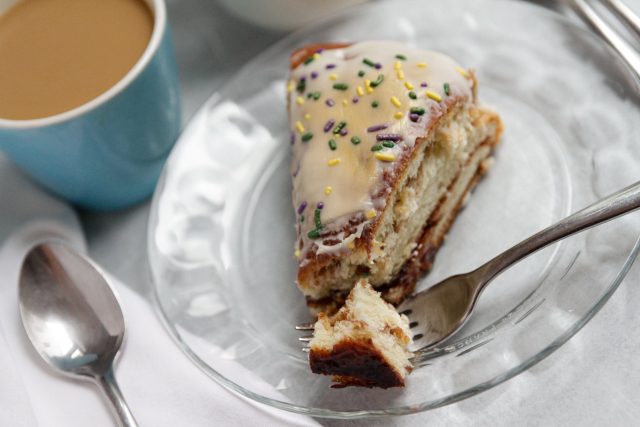 A military veteran who went to culinary school and then worked as the corporate baker at Brennan's, Kelly Mayhew struck out on his own several years ago. And now, you can find his Mayhew Bakery in Mid-City at the corner of Orleans Ave. and N. Rendon. His king cakes offer iridescent icing (and lots of it), colorful sprinkles, and several flavors and fillings. We went for the traditional cinnamon version (a must-try) and couldn't leave without also snagging a multigrain sourdough bread.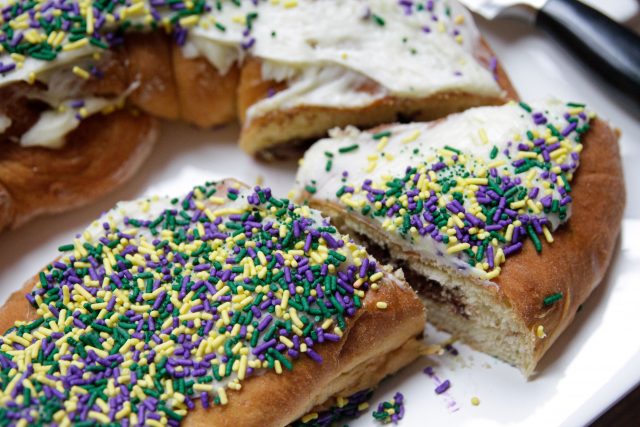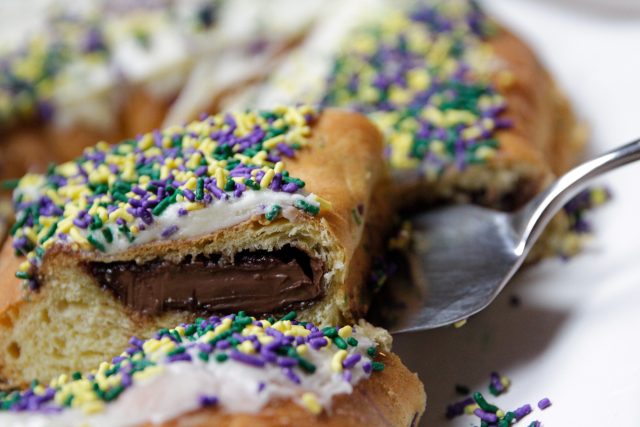 The King Cake Hub, a one stop shop that sells roughly 60 varieties of king cake from 15 different bakery partners, is a godsend for king cake lovers. And the Epiphany King Cake, a special collaboration with Gambino's, offers up a little bit of the old and the new. Only available at the Hub, the Nutella Epiphany is a traditional brioche style king cake filled with the ever-popular hazelnut cocoa spread, iced with a generous schmear of white frosting, and dusted with purple, green and gold sprinkles. Chocolate lovers will unite on this one, for sure!
This king cake has a storied history, a cult following, and hails from a beloved bakery chain that's no longer in business. Supposedly the original Mckenzie's king cake recipe was sold to Tastee Donuts, whose area stores trot it out only during carnival season. The aroma brought back childhood memories as soon the bag was opened, but the texture was not exactly as we remembered it. It seemed more doughy, less brioche-like. With no cinnamon or fillings running through the cake and no icing on top, this cake goes the minimalist route with simple coverings of tri-colored sugars. For those who revere history and tradition, this one's for you.
While I was hoping to buy Manny Randazzo's Pecan Praline version of its king cake, which won the 2012 Times-Picayune/NOLA.com King Cake Crown, the only flavor left in the bakery was the traditional Cinnamon version. (This place really churns 'em out. Every time I've been there, there's a line out the door.) Thankfully, the Cinnamon king cake did not disappoint. It runs through a very moist braided cake, which is topped by colored sugar, lots of gooey icing and purple, green and yellow sprinkles. Their philosophy seems to be 'more is more', so if you live by that credo as well, treat yourself to this one. And if you're willing to pay the price, you're in luck, because you can order online and get the traditional Cinnamon version or their Cream Cheese version shipped anywhere in the US.
A French Vietnamese bakery at the eastern edge of the city, in the New Orleans East neighborhood, Dong Phuong is a hike for those who live closer into town. But now you can get a Dong Phuong King Cake without making the trip, as they've partnered with local retailers across town (details are here). Featuring a horseshoe shape and a delicious brioche dough that's rolled in shortening to create layers, the Dong Phuong king cake tastes like a flaky croissant with cinnamon threaded through it. Slathered with cream cheese icing and a sprinkling of house-colored sugars, its beautiful golden brown edges will make you want to dig in. Don't miss this one.
Another Vietnamese bakery called Hi-Do, located in Gretna on the West Bank of New Orleans, makes a traditional brioche king cake with a sugar glaze (no icing) and house-colored sugars. It's available plain or with your choice of a long list of fillings. But because the woman at the register told me that the half cream cheese/half Bavarian cream combo is their best seller, that's what I chose. Developed by the bakery's owner in order to emulate McKenzie's original recipe, their recipe has McKenzie's beat with a richer, more tender crumb. So yes, it's worth the trip across the Mississippi River bridge. And if you order ahead, you can choose from an array of cake shapes like a crawfish, crab, or fleur de lis. Be forewarned – they take cash or checks only.
An artisanal bakery making a national name for itself in magazines like Travel and Leisure and Food and Wine, Gracious offers a chocolate-filled king cake made with a sweet dough that's glazed and sprinkled with purple, green and gold decorative sugar. And you can tell from the taste that the chocolate is the high quality stuff. This one is deliciously light and flaky, through and through – and quite pretty, too. It's pricier than the average king cake, but considering the flavor and texture, many will believe it's worth it. The conclusion? It's a real winner. It's worth noting that in addition to the chocolate-filled king cake, Gracious now offers a daintier "queen" cake flavored with almond paste, plus occasional one-off flavors for limited time periods. Order online, and get the chocolate-filled version shipped anywhere in the US.
Do you have a favorite king cake? Tell us – we want to know!
Written by Julie K. – food lover, proud New Orleanian and creator of the donut day blog