King Cakes – You've Come A Long Way, Baby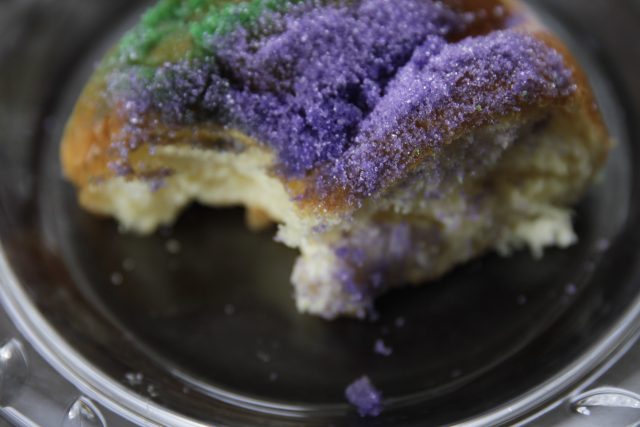 30 or so years ago, if you wanted a king cake in New Orleans during Carnival season, you had only a few choices – namely Gambino's, Haydel's and McKenzie's. Back then, they were basic rounds of dough topped with sugar crystals and the occasional maraschino cherry. But today, there is a plethora of king cakes to choose from – whether you're talking about bakeries, flavors, fillings, toppings, prices and more.
So who makes the best king cake? Ask a different New Orleanian, and you'll get a different answer. We all have our favorites, of course – and so, in the name of pure fun, let's take a look at an unscientific sampling of interesting king cakes around town.
This king cake has a storied history, a cult following, and hails from a beloved bakery chain that's no longer in business. Supposedly the original Mckenzie's king cake recipe was sold to Tastee Donuts, whose area stores trot it out only during carnival season. The aroma brought back childhood memories as soon the bag was opened, but the texture was not exactly as we remembered it. It seemed more doughy, less brioche-like. With no cinnamon or fillings running through the cake and no icing on top, this cake goes the minimalist route with simple coverings of tri-colored sugars. For those who revere history and tradition, this one's for you.
While I was hoping to buy Manny Randazzo's Pecan Praline version of its king cake, which won the 2012 Times-Picayune/NOLA.com King Cake Crown, the only flavor left in the bakery was the traditional Cinnamon version. (This place really churns 'em out. Every time I've been there, there's a line out the door.) Thankfully, the Cinnamon king cake did not disappoint. It runs through a very moist braided cake, which is topped by colored sugar, lots of gooey icing and purple, green and yellow sprinkles. Their philosophy seems to be 'more is more', so if you live by that credo as well, treat yourself to this one. And if you're willing to pay the price, you're in luck, because you can order online and get the traditional Cinnamon version or their Cream Cheese version shipped anywhere in the US.
A French Vietnamese bakery in New Orleans East, Dong Phuong is a hike for those who don't live out that way, but one that's worth the trip. A wholesale supplier of wonderful French bread to area po-boy makers, this bakery offers everything from Asian treats to banh mi sandwiches. And if you go around lunchtime, be sure to grab lunch at their restaurant next door before picking up your king cake. Featuring a horseshoe shape and a delicious brioche dough that's rolled in shortening to create layers, it tastes like a flaky croissant with cinnamon threaded through it. Slathered with cream cheese icing and a sprinkling of house-colored sugars, its beautiful golden brown edges will make you want to dig in. Don't miss this one.
Another Vietnamese bakery called Hi-Do, located in Gretna on the West Bank of New Orleans, makes a traditional brioche king cake with a sugar glaze (no icing) and house-colored sugars. It's available plain or with your choice of a long list of fillings. But because the woman at the register told me that the half cream cheese/half Bavarian cream combo is their best seller, that's what I chose. Developed by the bakery's owner in order to emulate McKenzie's original recipe, their recipe has McKenzie's beat with a richer, more tender crumb. So yes, it's worth the trip across the Mississippi River bridge. And if you order ahead, you can choose from an array of cake shapes like a crawfish, crab, or fleur de lis. Be forewarned – they take cash or checks only.
An artisanal bakery making a national name for itself in magazines like Travel and Leisure and Food and Wine, Gracious offers a chocolate-filled king cake made with a sweet dough that's glazed and sprinkled with purple, green and gold decorative sugar. Yes, chocolate-filled! And you can tell from the taste that the chocolate is the high quality stuff. This one is deliciously light and flaky, through and through – and quite pretty, too. It's pricier than the average king cake, but considering the flavor and texture, many will believe it's worth it. The conclusion? It's a real winner. It's worth noting that in addition to the chocolate-filled king cake, Gracious now offers a daintier "queen" cake flavored with almond paste. Order online, and get the chocolate-filled version shipped anywhere in the US.
Do you have a favorite king cake? Tell us – we want to know!
Written by Julie K. – food lover, proud New Orleanian and creator of the donut day blog