Mardi Gras Doubloons

The Doubloon Debuts
For New Orleanians of a certain age, the metallic clink of a doubloon hitting the pavement is one of their fondest childhood memories of Mardi Gras. The excitement of watching a shower of the brightly colored coins arc through the air, and the dives, grabs, and stomps that claimed the treasure as your own, were matched only by the thrill of collecting and trading the doubloons of your favorite krewes with your friends.
Doubloons were first thrown first by the Rex organization in the 1960's. Soon after other krewes adopted the throw, with each group customizing the coins with a krewe insignia and parade theme.  Commemorative editions were often made for as extra special collectibles or keepsakes for krewe members or honorees.
Doubloons hit their height of popularity in the late 1970s and 80s, with kids from five to ninety-five chasing down the shiny trinkets as they hit the sidewalk, or begging personally for collectable versions from krewe leaders.  Groups, krewes, and individuals traded, sold, and hoarded coins in order to collect a complete set from each krewe. "Doubloon Shops" popped up in almost every neighborhood- where doubloons could be bought and sold  for collectors- and where one needed the official doubloon price guide for guidance.
Once the most coveted catch – the multicolored coins handed out by horseback captains, kings, queens, and royalty of Mardi Gras have fallen out of favor with parade goers; but why?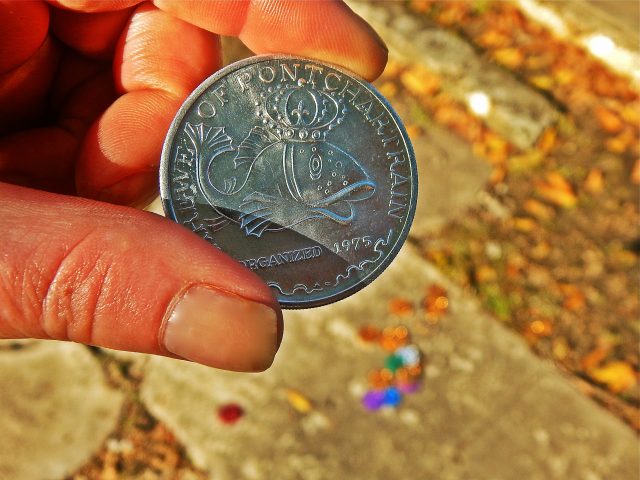 Still A Sentimental Favorite
New throws began to capture the imagination of Mardi Gras revelers, and the doubloons proved too costly for krewe members to produce.  "As new beads and new more flashy throws that blink and glow became available, it became too costly for members to spend money on the doubloons," Mardi Gras historian Arthur Hardy said.  "It was simply a case of supply and demand." While values have plummeted, fans of the shiny tokens remain loyal.  After Hurricane Katrina, many collections were lost, resulting in a renewed interest and value placed upon the remaining mementos. "The values have started to go up a little in recent years," Hardy notes. "They will never again be what they were, but many will always have a special place for the doubloon in their carnival treasure."