Mother's Restaurant: Where The Red Beans and Rice Flavors Meld to Perfection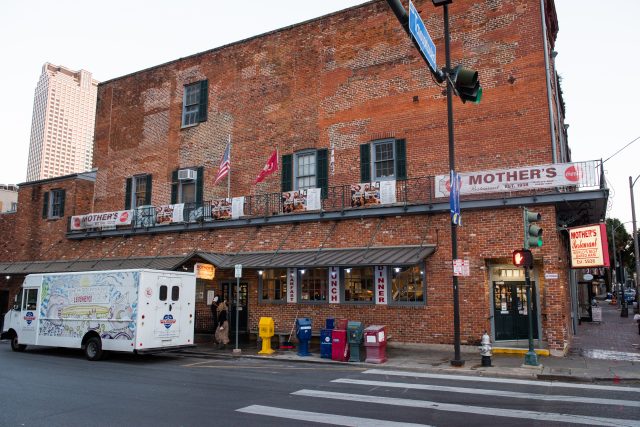 It's a bustling scene inside Mother's Restaurant. Visitors simultaneously look around, taking in this old school New Orleans eatery, while perusing the menu and trying to make a decision about what to order. Should they get the restaurant's Famous Ferdi Special, a combination of ham and roast beef "debris" with its juices unabashedly soaking into the po-boy bread and down the sides? Perhaps Jerry's Jambalaya, named after the late owner Jerry Amato, or the signature red beans and rice. Regulars go straight to the always-in-motion serving/deli line to get their favorite dish. Tables are overflowing with Mother's food and those who enjoy it, a testament to the enduring popularity of this restaurant.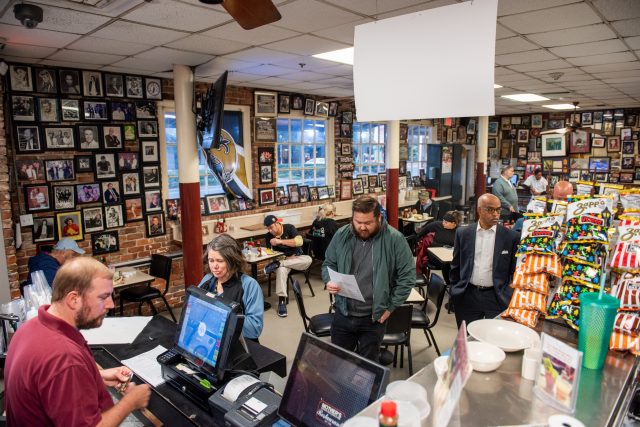 Much of that has to do with brothers Jerry and John Amato, who bought the restaurant in 1986. And much has to do with the staff — such as Miss Pat, who has been there for more than 30 years and has done a little bit of everything.
It's family. It's New Orleans. It's about the relationships between people, as well as with food.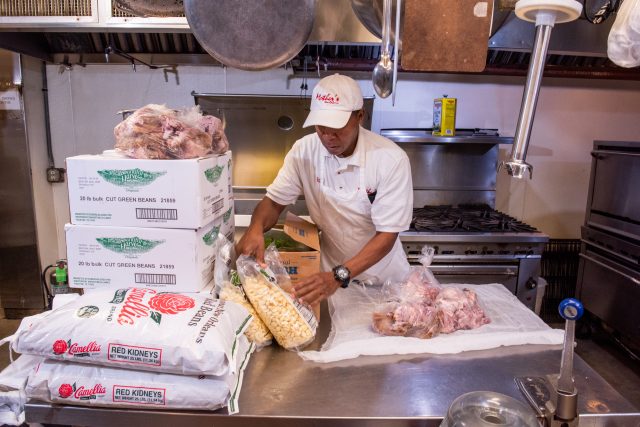 A Recipe is Born
It was Jerry – with culinary training from previous hospitality jobs, studies at Delgado Community College and The Culinary Institute of America – who had an innate sense of what tasted good and which flavors worked together. He was always able to take traditional New Orleans dishes and elevate them.
"Jerry really brought a culinary take on it," says Charles Pizzo, who does public relations and social media marketing for the restaurant, about the food at Mother's.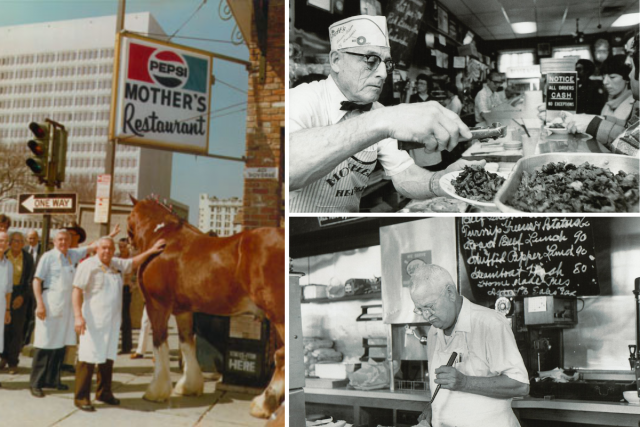 An example is the red beans and rice.
The origin of the red beans and rice recipe at Mother's starts with the founders, Simon and Mary "Mother" Landry, who opened the business in 1938 on Poydras Street. It was there where they fed the neighborhood's longshoremen, warehouse workers, and others looking for po-boys and hearty New Orleans dishes.
Years later, Chef Odie Mae Peters refined the red beans and rice recipe.
"She tweaked the recipe a little bit," says Pizzo. "She added more ham because Mother's cooks its own ham."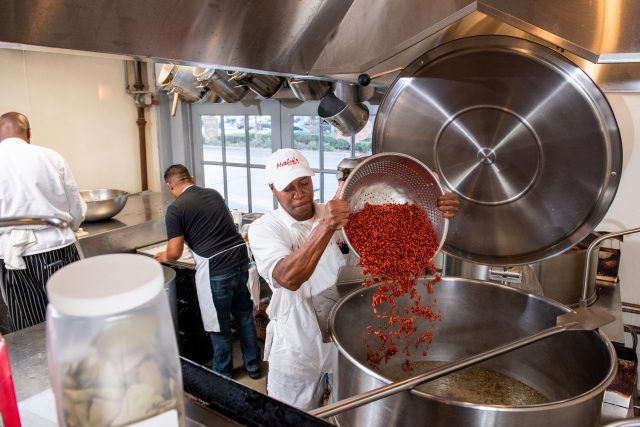 When Jerry arrived on the scene, he saw all the leftover ham fat as the result of trimming, and realized it could be used in the red beans, among other dishes.
"It is a secret ingredient to a lot of Mother's old-time dishes," shares Pizzo.
Chef Roland Swazy agrees: "Though it's no longer fashionable, it's fat that makes the red beans taste good. And Mother's happens to have a lot of ham trimmings available."
After the ham fat is rendered, then the vegetables — onions, green onions, bell peppers and garlic — for the red beans are cooked in it.
Mother's ham is cooked at the restaurant. "We only use Chisesi Brothers ham," says Alex Salas, daytime manager, who has been at the restaurant for 16 years.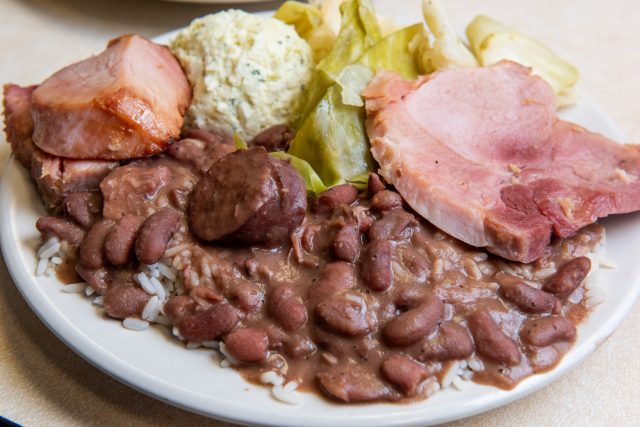 In addition to cooking the vegetables in the rendered ham fat, the ham bones, which are cut in half, are boiled with the red beans.
Pizzo notes that the ham is not salted. The flavor is enhanced by Mother's secret sauce, a glaze that covers the ham when it is cooked. Ham chunks are also used in the red beans recipe, as is smoked sausage from Creole Country that is made to Mother's specifications.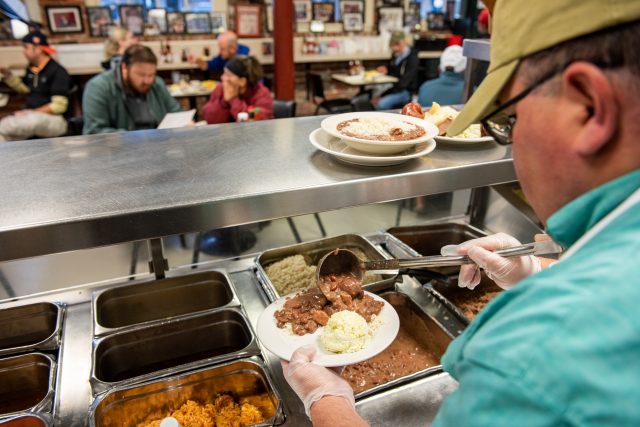 Mother's uses Camellia Red Kidney Beans. The beans are not soaked, but instead, they're put through a few rinses to help release the starches. (The restaurant also has specialized equipment so it can cook the beans low and slow at a controlled rate.)
The beans are then boiled in half chicken stock and half beef stock, a.k.a. "debris gravy." The stocks are made in-house.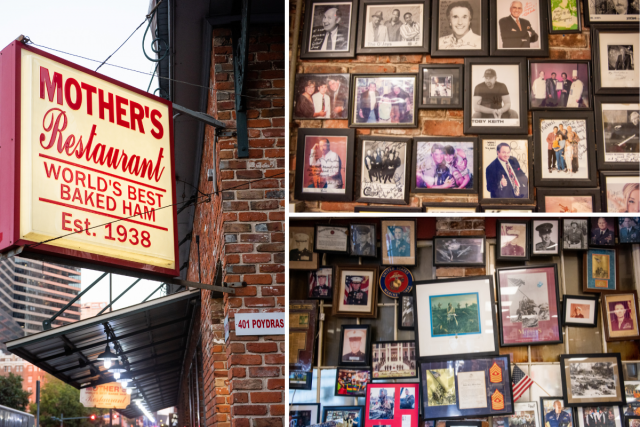 The Legacy Continues
Chef Swazy has been put in charge of carrying on the restaurant's culinary traditions. Swazy started as a dishwasher in 1987 and worked his way up to become head chef, learning what made Mother's so special along the way.
"Chef Jerry Amato, who mentored me, was big on the need for consistency. Regulars come to Mother's Restaurant year after year, and they want and expect everything to taste the same," says Swazy. "While some restaurants try to be cutting edge, Mother's aims to be traditional. We've seen adult children bring their elderly parents in to eat," he added. "These are folks who worked in what were once office buildings along Poydras Street, such as the Lykes Building or One Shell Square. They tear up and get emotional, telling us 'Your food tastes exactly like I remembered it.'"
And that's why Mother's Restaurant remains beloved.
Mother's Restaurant, 401 Poydras Street, mothersrestaurant.net, (504) 523-9656. Hours: 7 days 7 a.m.-10 p.m.