Red Bean Essentials: Fried Chicken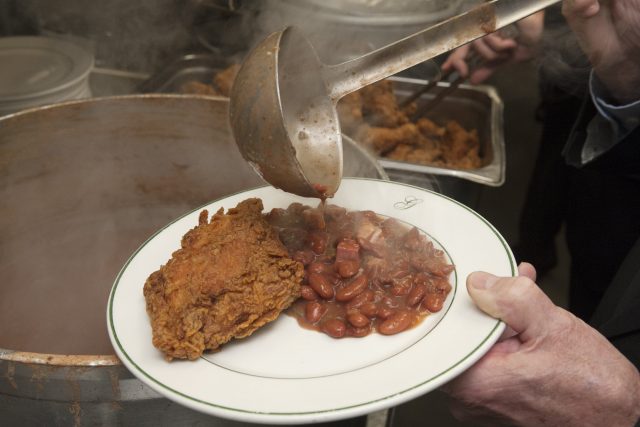 Another Southern Tradition
When it comes enjoying a big steaming bowl of creamy red beans and rice, there are those who subscribe to the "more is more" philosophy. For example, in addition to the smoked sausage or ham hock or pickled pork that adds meaty flavor to red beans, many enjoy the additional meaty southern tradition of fried chicken alongside their beans. There's just something about the creaminess of the beans combined with the crunchiness of the fried chicken that makes it a winning taste sensation.
A Favorite Combination at Restaurants and More
In fact, fried chicken is probably the most common treat paired with red beans and rice at favorite eateries, with the ubiquitous combo found at chains like Popeyes, as well as at mom and pop restaurants in New Orleans like Café Reconcile, Dunbar's, and Willie Mae's Scotch House. Interestingly, though it's not on the public-facing menu, fried chicken and red beans & rice is one of the most popular secret suppers served to staff at upscale Galatoire's. And according to Chef Anthony Scanio of Delmonico, "Of course, red beans and rice are a staple at New Orleans get-togethers; surely, fried chicken…is more than likely to be part of the pot luck." Even Lolis Eric Elie, a New Orleans master storyteller, journalist, documentary filmmaker, and cookbook author, declares, "I love red beans and fried chicken as a combination."
Finally, when asked "What's the secret to your red beans?", one loyal fan put it this way:
"Pickled meat, garlic, bay leaf, onions, and let them simmer on top of the stove! Serve over rice with a little hot sauce, fried chicken, and fresh French bread!"
Daphine J.