Red Bean Hall of Fame: Buster Holmes, Red Bean King
Clarence "Buster" Holmes: "I'm Not a Chef. I'm a Cook."
If you are a New Orleanian of a certain age, you might have heard of Buster Holmes' restaurant and bar, which opened at its Burgundy Street location in the French Quarter in 1960, during the Civil Rights era. It was a unique and important communal dining spot for people of all races, classes, and origins – a place where wealthy businessmen and lawyers, university professors and jazz musicians sat cheek to jowl with college kids, dock workers, cabbies and hotel chambermaids, all united in hunger for Holmes' renowned home cooking. (In 1960, you could get a big plate of red beans at Buster's for 16 cents!) Modest to a fault and friendly to everyone, Buster refused to call himself a chef, priding himself on serving everyday home-cooking that happened to be about the best there was anywhere.
King of Red Beans
Hailed as the undisputed "King of Red Beans," the Plaquemines Parish native downplayed the unique nature of his signature dish. "My red beans are really nothing different," he said in 1981. "But they are cooked right. I put in all the seasonings – onions, garlic, bell pepper – at once and let the whole thing cook down. In terms of spice, Buster wielded a light touch, preferring to let his diners season their beans to their own tastes.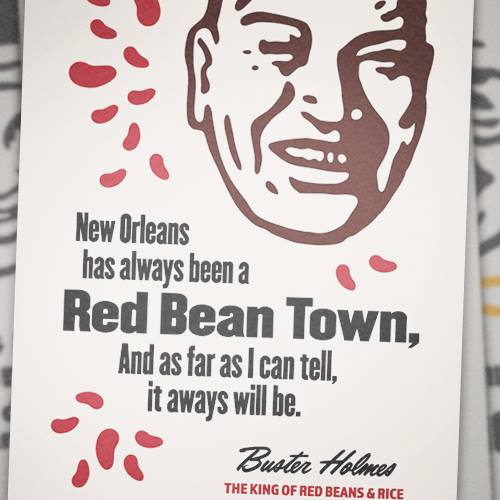 Jazz Was Always on the Menu
Holmes' restaurant was an informal clubhouse for musicians and served as a magnet for second-line parades and jam sessions and as a place to hustle gigs and relax after performances. Regulars included jazz legends such as Louis "Satchmo" Armstrong, George "Kid Sheik" Cola, Alcide "Slow Drag" Pavageau, Matthew "Fats" Houston and Harold Dejan, to mention just a few. In 1970, Buster sold his red beans from a truck at the very first New Orleans Jazz & Heritage Festival, prompting a New York Times review of his restaurant that set mouths watering worldwide for a taste of Holmes' soulful cooking. After that, you were likely to run into tourists and celebrities at Buster's place, too, including Woody Allen, Vincent Price and too many rock 'n rollers to count. 
Returning the Favor
Holmes also made room for the poor and homeless of all ages, often giving away food or selling it at cut-rate prices. " 'Course I feed 'em when they come in here and tell me they're hungry," Holmes told The Times-Picayune in 1979. "God's been good to me, and I'm just returnin' the favor." As musician, author and journalist Tom Sancton, author of the memoir Song for My Fathers, recalled, "Buster was someone that welcomed everyone. He brought together people of all walks of life … through music and food."
See Buster's Famous Red Beans and Rice Recipe
Keeping it Old School
Red beans weren't the only home-cooking on Buster's menu. He served garlic chicken, pork backbone with turnips, shrimp creole, trout amandine, crab soup, oyster stew, shrimp & okra gumbo and many more classic New Orleans dishes – most of which can be found in the iconic Buster Holmes Restaurant Cookbook, first published in 1980 and featuring a forward by New Orleans food writer and historian Poppy Tooker.
Holmes' family was from the country, and he grew up hunting and cooking wild game (they'd been driven from their home in the swampy town of Ironton to New Orleans, displaced by the infamous 1927 Mississippi River flood), and his country roots are well represented in his cookbook, which features recipes for possum, dove, raccoon baked with sweet potatoes, broiled squirrel, nutria sauce piquante and garfish balls. Buster Holmes passed away in 1994 – on a Monday, the traditional day to serve red beans and rice – but he lives on in the red beans lore of New Orleans.
The King of Red Beans in the Red Bean Hall of Fame
Buster Holmes also has a place of honor in the Camellia Red Bean Hall of Fame exhibit at New Orleans' own Southern Food & Beverage Museum.