4 Types of White Beans: What's the Difference?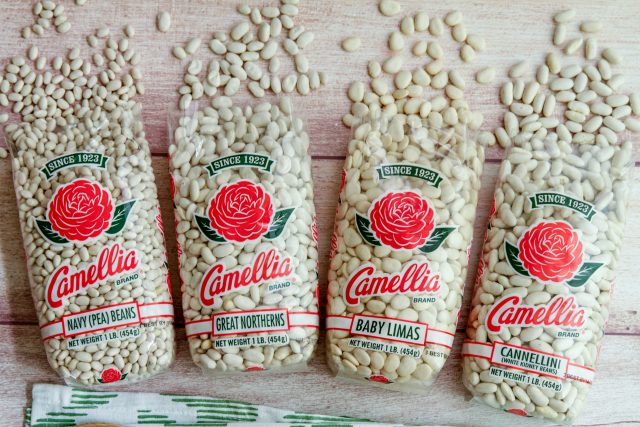 Have you ever seen the term "white beans" and wondered if it was referring to Navy beans, Great Northern beans, Cannellini beans, or Baby Lima beans? Well, it could be referring to any and all of them. And since there are so many varieties of white beans, it's easy to be confused by what differentiates one from another. Let's break it down:
Navy (Pea) Beans
Also called pea beans, Navy beans are small, oval-shaped, and quick-cooking. Because they get creamy when cooked, they're perfect for mashing against the side of the pot, pureeing in dips, and thickening soups, stews, ragouts, and more. They have a mild flavor and are the bean of choice for classic Boston baked beans, Navy Bean Chowder, and quintessential South Louisiana-Style White Beans & Rice. Interestingly, the Navy bean name comes from its use as a food staple by the U.S. Navy in the early 1900s. While all beans are high in fiber, Navy beans have the most — 19 grams per cup!
Great Northern Beans
Larger than Navy Beans but smaller than Cannellini beans, medium-sized Great Northern beans are known for their mild, nutty flavor and firm flesh. Great in soups and stews, they hold their shape better than Navy beans, take on the flavors of the foods they're cooked with, and are commonly used in French cassoulets.
Cannellini Beans
Cannellini beans are the largest of the group and because of their traditional kidney shape, they can also be referred to as White Kidney Beans. Meatier than Navy or Great Northern beans, they have a nutty, earthy flavor and tender flesh, and are often used in Italian dishes like Minestrone. They retain their shape and texture well, so they're perfect to use in salads, soups, stews, and chili.
Baby Lima Beans
Also called "butterbeans", Baby Lima beans are small, smooth, and creamy with a rich, buttery texture. They're starchier than other beans and are often used in soups, stews, succotash, and casseroles, or just cooked simply with herbs and spices. In the south, they're often cooked with ham or bacon and served over rice.
Substituting One Variety for Another
The reality is that even though the different varieties have slightly different flavors and sizes, (and everyone has their personal favorites), they're often used interchangeably in recipes. So, for example, if a recipe calls for Cannellinis, and you only have Great Northerns on hand, your dish will still come out fine and taste delicious. So try them all to see which you like best, and enjoy.