A New Orleans Food Influencer with a Red Beans & Rice Obsession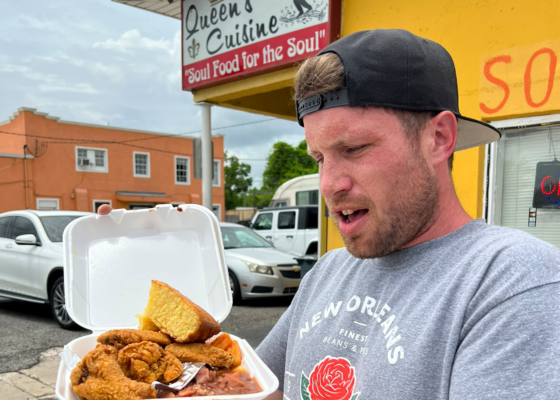 While in college at LSU, Devin Snow's Monday crockpot stand-by called for Camellia red beans simmered with Manda smoked sausage, a couple of onions, and a ham hock. Though he still loves red beans & rice, he says, "I don't cook anything anymore. I'm just eating everyone else's food. And I'm completely content with that."
With his signature "RB&R" Days, Devin is making a name for himself as a food influencer. And he's building a pretty large social media following for what he calls an "underdog dish".
"Nobody respected going out to eat for red beans. Everybody was like, I can just make them at home."
But after seeking out and eating red beans & rice at a wide range of interesting and quirky takeout places, corner stores, and hot plate lunch spots, Devin is on a roll – recently reaching RB&R Day #160.
RB&R Day 160
Jackson, MS Experiment pic.twitter.com/TsAwjke5cG

— Hold The Mayo (@snowlikejonn) June 5, 2023
How It All Started
A lover of comedy and stand-up, Devin started a blog in June of 2019 based on homegrown New Orleans humor. Six months later, he quit his job as a car salesman, cashed in his 401K, and never looked back. His first video foray involved Facebook Live shows five nights a week; then the pandemic hit, and because so many people were at home on their computers, he got some traction. Stumbling on the idea of doing RB&R Days, Devin explains, "It's not like the first one blew up. But I told myself, if I do this 100 Mondays in a row, it's gonna be a hit."

RB&R Days: One Monday at a Time
When asked how he picks the red beans & rice spots that he'll visit, Devin claims, "I don't even think about it till Monday morning. There's no preparation whatsoever. Which makes it better and more authentic. I'll go look at my followers' messages or comments and whatever sounds the most interesting is where I'll go. Nobody knows I'm coming, and I don't want anybody to know I'm there."
Devin doesn't play favorites, either. He says it's all about his genuine reaction to the experience and his own opinion. He explains it this way: "I'm not going to rank them; it's unnecessary. That would just open up an argument. But some of the best places are the ones with the best experiences."
He cites Queen's Cuisine in Kenner, LA as a great example:
RB&R Day 106
Greatest Queen in the pic.twitter.com/DMiCjCgljL

— Hold The Mayo (@snowlikejonn) May 23, 2022
On his blog, Devin says, "First person you gonna see is the person who owns the place, Queen. Lol, wow what a vibe. Within seconds it feels like you've known her for years. Instant conversation and there is zero, I mean nothing not to like about this sweet woman." 
Another noteworthy spot Devin appreciates is a bowling alley that packs folks in at lunchtime on Mondays for their red beans & rice. "Nothing but people over 70 years old – that was an experience," he deadpans.
And then there are the inexpensive joints, where he's indulged in huge plates of food for as little as $6-$8 per takeout container. "A lot of places are beat-up looking and don't strike the eye as beautiful – those are beautiful to me."
Finally, there are the places like Frady's in the Bywater, where Devin does a little eating and a lot of neighborhood exploring:
RB&R Day 155
Frady's One Stop Food Store (Bywater) pic.twitter.com/wWuR7FkstP

— Hold The Mayo (@snowlikejonn) May 1, 2023
What's Next for Devin Snow
Devin now sells his own branded t-shirts and hats (a hugely successful side gig) and has racked up sponsors such as Camellia Beans, Abita, and Blue Plate Mayo. When asked what's next, he says, "I'm 30 and will have to throw my ass up on a stage and do stand up at some point. It's something that I know I'll be able to do. Right now, I'm cool with what I'm doing."