Frady's One Stop: A Neighborhood Gem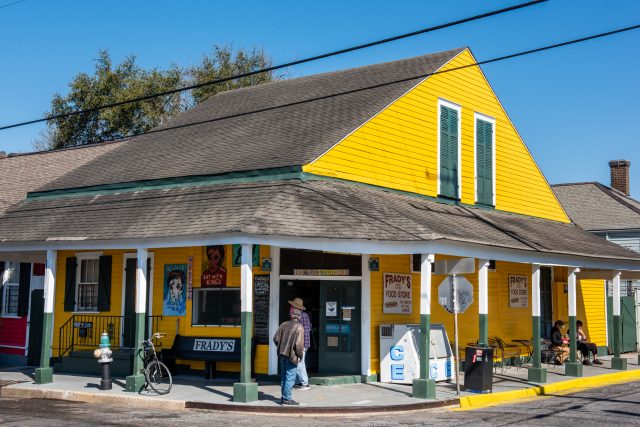 In the middle of the ever-changing Bywater neighborhood in New Orleans, there is an unassuming yellow store front at the corners of Dauphine and Piety streets. Take one step inside the small grocery store and it's like you are stepping back in time to the early 1970s.
The building that houses Frady's One Stop has been around for more than a hundred years. Before Joseph Frady bought the going-out-of-business Flick's Meat Market in 1972, it was an open-air fruit stand. Frady bought the meat market with two goals in mind: to turn it into a corner grocery store and to serve the best cold drinks and sandwiches. 
After Frady's One Stop opened and word spread around the neighborhood about the food, locals began to ask for more than just sandwiches. To accommodate the customers, Frady had a small kitchen installed behind the counter with deep fryers and a stove and began to serve hot lunches and daily specials. Year after year, the list of po-boy sandwiches and daily specials could be found scrawled across the black chalkboards that decorate the interior.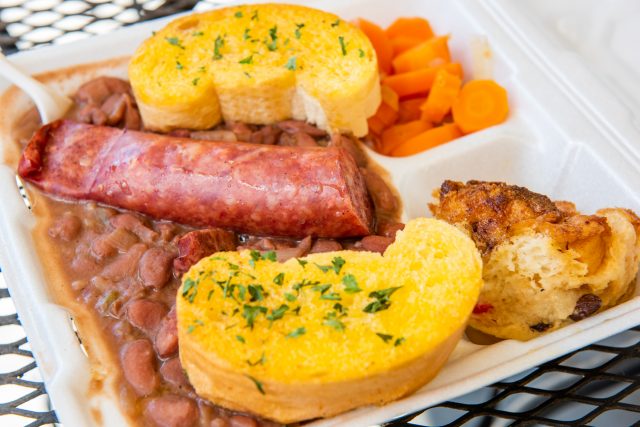 A red beans tradition.
"Right away my father started to serve red beans and rice on Mondays because they were coming in and asking for it," said Kirk Frady, who now runs the food store. "My dad was born and raised in New Orleans and grew up like that with my grandmother. Monday was wash day, and red beans and rice. People came into Frady's and expected that."
You'll not only find packages of Camellia Beans being offered for sale on the grocery store shelf, but it's also a Monday 'lunch special' that is served to-go with either smoked sausage or chicken, a vegetable (such as mustard or collard greens) and a dessert (bread pudding or a cobbler) for a price that has had loyal locals and in-the-know tourists coming back for decades.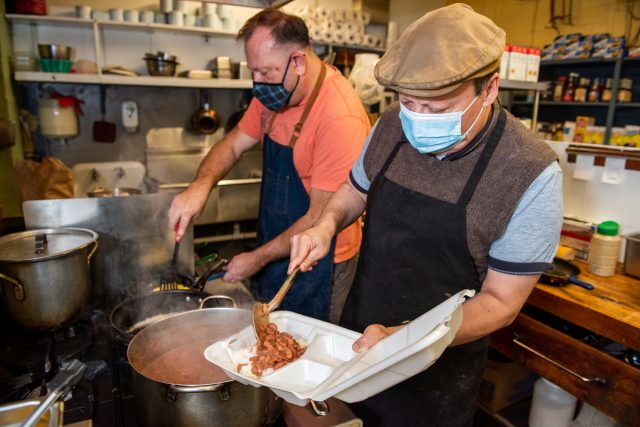 "I don't know where the recipe came from."
"We usually cook four to five pounds of Camellia Red Beans every Monday," Kirk Frady said. "I don't know where the recipe came from. My dad hired a cook, an older lady, and she lived next door. She would soak the beans overnight, then she would come in and cook them. And it's still the recipe we're using today."
To make the beans extra creamy, Kirk Frady says to use lots of butter along with mashing the beans in the end. To get that extra depth of flavor, besides onions, bell pepper, and garlic, he recommends using lots of celery. "We're big on celery," he said.
"We've always used Camellia. They have always been here and are established in New Orleans."
Frady's One Stop has established itself as a mainstay in an old neighborhood that is rapidly evolving around it. Away from the colorful residential streets that are lined with rows and rows of double shotgun houses and Creole cottages, the industrial spaces are being reclaimed and transformed as artists and musicians move in. Bed and breakfasts are sprouting up to meet the demand of tourists visiting this quirky, laid-back part of New Orleans.
"It's a working-class neighborhood. We get a lot of carpenters and electricians, who are working on these old houses, come in to eat with us because it is an easy meal," Kirk Frady said, "but with the Bywater being such a destination now, we're selling a lot more groceries, like beans and hot sauces in little gift baskets because they want to take them back to where they are staying or send them back home. Even though they did not grow up with wash day and soaking beans, they know the drill and they want to take Camellia red beans and a Barq's with them."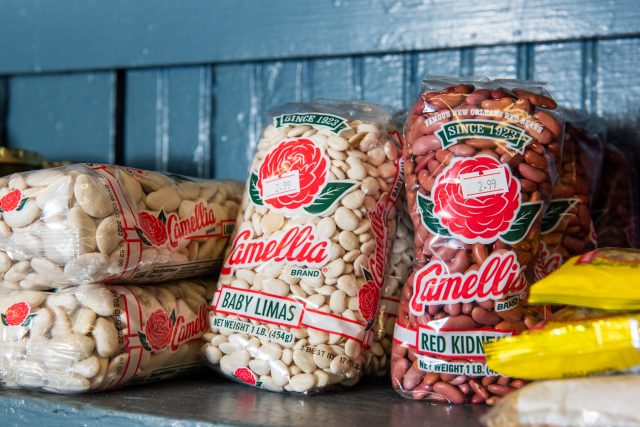 "No Wifi at Frady's. Sit and talk."
At its core, Frady's One Stop is still an old-world type of neighborhood grocery store, but deep down it's one of the best spots to grab a bite to eat in New Orleans. While a small portion of the menu changes daily, the list of the sixteen po-boys offered along with the selection of breakfast that is served all day remains a fixture, just like the sign that reads "No Wifi at Frady's. Sit and Talk." So take your red beans and rice to go, sit outside on one of the colorfully painted benches, enjoy the charming neighborhood and know that no matter how much the area changes around you, the folks at Frady's know what it means to be New Orleanians.
Written by Eric Olsson