Adding Meatless Flavor to Vegetarian Bean Dishes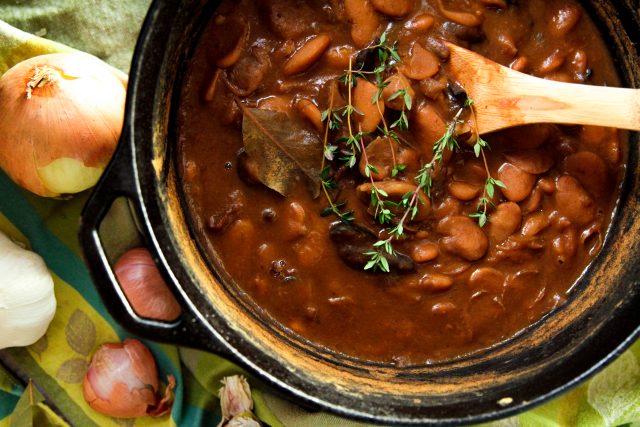 Red beans and rice is an essential dish of Louisiana cuisine. Folks flock to New Orleans and stand in long lines for a taste of this fantastic vegetarian dish.
Wait, vegetarian?! Yes. Unfortunately, we often forget the famed dish, (and truly any bean dish), can be made meatless and delicious — when using the right spices and seasonings. In addition, the bean is an amazing source of protein, a great iron source, and when served with a grain (think rice), it's a complete protein.
As a culinary dietitian hailing from Louisiana, I recommend red beans and rice as a healthy dish for all my weight loss clients due to its fiber and protein content (read more about the health benefits of dried beans).
Want to try other kinds of beans but don't know how to season them? Or maybe you have leftover beans you're not sure what to do with? How can you add a new spin to a classic bean dish, or re-purpose leftovers into a completely new dish?
No fear! I consulted with my dietitian friends from around the U.S. to find out their favorite ways to spice up beans and lentils. Get inspired with their tips, and hit the kitchen. You just might add their suggestions to your weekly menu rotation, right alongside red beans and rice.
Here are simple tips to spice up plain cooked beans from three incredible dietitians. Linda Bojman, RD, enjoys thyme with her beans, while Amber Pankonin, RD, states, "If I am in a rush, I add a can of diced tomatoes and chiles to cooked black beans. It is delicious!"
Christy Wilson, RD, says, "I love to add fresh lime juice, cumin, paprika, canned or fresh tomatoes, and pepper to black beans for a quick weeknight supper."
Can't get enough black beans? Amy Gorin, MS, RDN, offers this: "I love adding garlic or onion powder to black beans while they're cooking. The powder packs in a lot of flavor, and then I mix the beans with onions and bell peppers sautéed in low-sodium vegetable broth."
Are lentils more your style? "Lentils pair well with Indian spices such as cumin, turmeric, and mustard seeds," claims Sharon Palmer, RD. She also loves red beans. "My family loves a hearty chili featuring red beans and chili powder, tomato sauce, a bit of brown sugar, and vinegar."
Elizabeth Ann Shaw, MS, RDN, CLT, says, "My husband hands-down loves my red lentils with habaneros, tomatoes, and red onion. We enjoy spicy foods, so anytime I use hot peppers and infuse them into beans and lentils, we both are satisfied! Bonus – he'll even forget the ground meat and top his nachos with an extra helping of lentils!"
Looking for more of a Colombian style dish? Ximena Jimenez, RD, gives this tip. "In Colombia, we prepare beans with a tomato and onion sauce, called guiso, similar to sofrito. We add onions, tomatoes, scallions, finely chopped aji dulces, chopped cilantro, salt, ground black pepper, minced garlic cloves, and Worcestershire sauce.'
For a Puerto Rican style dish, take the suggestion of Betsy Ramirez, RD. "We add Sazon and sofrito to our beans. You can easily find it in the Latin section of the grocery store."
Christy Wilson gives us a final tip for using leftover pinto beans. "I simply mash leftover cooked pinto beans with a little milk and spread on tortillas. It's amazing!"
Do you have a favorite tip? Tell us, how do you spice up or repurpose your beans, lentils or peas?
Our friend Shelly Marie Redmond, MS, RD, LDN, is a culinary dietitian and founder of Skinny Louisiana.  Be sure to friend her on Facebook at Skinny Louisiana. For questions, email Shelly at shelly at skinnylouisiana.com. She goes for the classic red beans and rice!