Camellia Beans on Display at the Smithsonian National Museum of African American History & Culture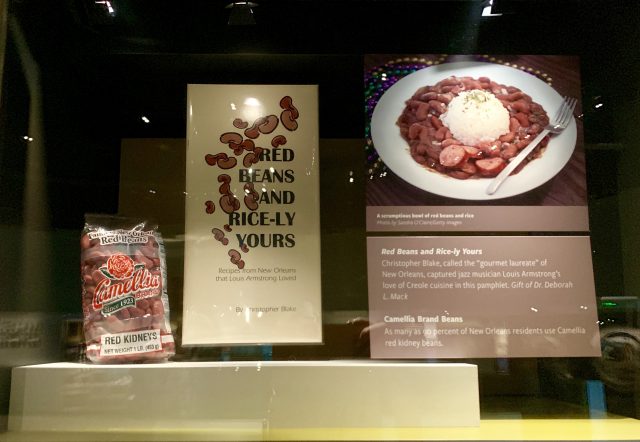 We're thrilled to announce that a Camellia Brand red beans & rice story is part of the Cultural Expressions permanent exhibit at the Smithsonian National Museum of African American History & Culture. Cultural Expressions is a circular, experiential, introductory space to African American and African diaspora culture, and its Foodways gallery explores the magnitude of the African American hand in the food and foodways of the United States and beyond. Profiles of chefs and restaurant owners (including beloved Chef Leah Chase) accompany explorations of different cuisines, cookware, and tools used in the procurement and service to food. The museum re-opened to the public on May 14, 2021.
Red Beans & Rice is a Dish of the Diaspora
Explains Museum Curator Joanne T. Hyppolite, Ph.D., "In the Foodways gallery, there's a story about red beans and rice. And we talk about the fact that red beans and rice itself is a diasporic food or foodway – because it's made from all of these confluences of different cultures that landed in Louisiana – the French, the Spanish, and the Caribbean. We know the beans themselves probably arrived from Haiti, we know the spices had a lot of Spanish influence, the sauces have a lot of French influence, and then of course you have the African hand cooking all of that and mixing it all together and creating this entirely new cuisine we now know as Creole cuisine."
A Monday "Washday" Tradition
Caribbean recipes for beans and rice were brought to New Orleans in the late 1700s by French-speaking Haitians and were quickly adapted by locals, who appreciated the thrifty, convenient practice of tossing meaty ham bones leftover from Sunday suppers into simmering pots of red kidney beans. Because the beans could be left to cook, undisturbed, over a low flame for hours, local housewives and housekeepers cooked them on Mondays — while simultaneously tackling the Monday drudgery known as "laundry day." Despite the modern convenience of washing machines and dryers, the Monday red beans tradition continues to this day. In fact, several washday paintings by Clementine Hunter are on display at the Smithsonian National Museum of African American History & Culture.
Proud to Be a Part of Creole Cuisine
In the Foodways gallery, a bag of Camellia Brand Red Kidney Beans is featured alongside a cookbook called Red Beans & Ricely Yours – Recipes from New Orleans that Louis Armstrong Loved by Christopher Blake, and a photo of our beloved Monday meal. The exhibit also notes that as many as 90% of New Orleanians use Camellia Brand Red Kidney Beans.