Heard Dat Kitchen's Red Beans and Rice Started with a Contest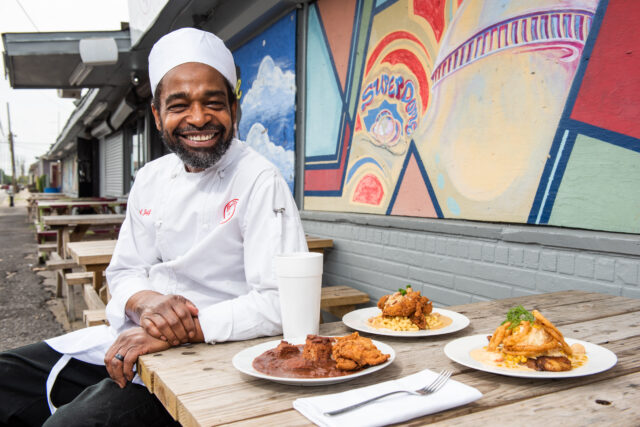 When owner and chef Jeffrey Heard opened the doors to his restaurant on March 2, 2015, his wife made the red beans and rice.
"She had always cooked them for me at home," Heard says. "So I let her cook them here."
But when he entered the Krewe of Red Beans "Bean Madness" contest in 2017, he decided to take on the challenge himself. Working from the memory of his mother's red beans and rice recipe, he made a batch and had his oldest brother do the taste-testing. His brother proclaimed them "marvelous."
Heard's red beans made it to the final eight contenders out of 64 in the competition, but in trying to make more batches, he wasn't able to cook the beans long enough. "They didn't have enough time to break down right," he says, and they didn't make it to the final four.
Despite that, Heard was hooked on making red beans and rice.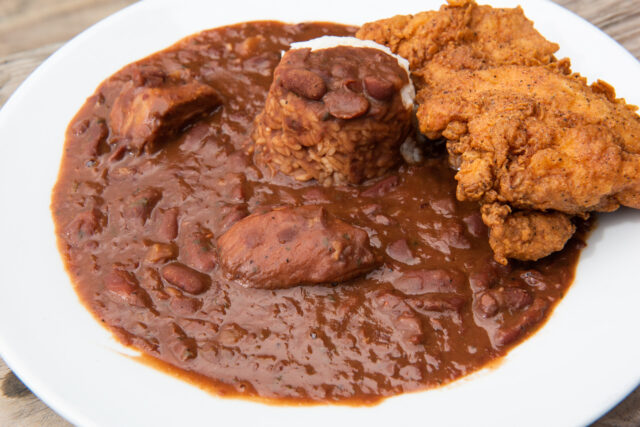 Precision: The Key to Heard's Red Beans
The process for making everything he serves at the restaurant is precise — including the red beans and rice.
"What I do now is soak them in water overnight. Then, the next day, I cook them on a high fire for about eight hours," he says.
"And then after that, I simmer them on a real low fire for about 12 hours. I don't put any seasoning or anything in it. I'm just trying to get them broken down."
Once they reach the consistency Heard likes, if he doesn't need them right away, he separates the red beans into portions and puts them in the refrigerator or freezer. Heard then sautés onions, peppers, and pork sausage and puts that aside, divided into portions, as needed. His dry seasonings, including garlic and onion powder, are all ready in a Ziploc bag, again, divided into portions.
Most of the prep takes place on Saturdays, so when Mondays roll around, "I'll just put it all in the pot, so with that process, it takes me about an hour to an hour and a half to finish cooking."
His secret? Don't rush the beans. "I found slow cooking them on that real low fire is what really will make them creamy." His preferred bean is Camellia Red Kidney Beans. "It's just something my mom always used. It was like it was a rule and the only kind we had in the house, actually," he says.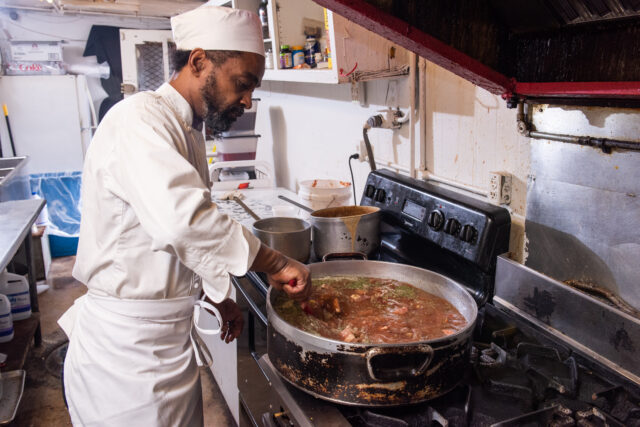 From Front of House to Back of House
Heard was born and raised in New Orleans, the second oldest of six boys. He worked in the hospitality industry for more than 30 years, serving in a variety of front-of-house positions, including waiter, operations manager, and banquet captain at places such as Restaurant August and the Crowne Plaza/W Hotel/Le Méridien on Poydras Street.
Though Heard didn't work in the kitchen during that time, he watched and learned from chefs such as Michael Gulotta, Michael Stoltzfus, Brian Landry, John Besh, Alon Shaya and Agnes Bellet. And he credits learning the importance of how to plate food so it looks appetizing to his time at Restaurant August.
While working at these establishments, he would often be asked where to find authentic New Orleans food – "I want to go where you eat," people would say to him. No one knew better than he did, so when the opportunity came along to open his own restaurant, he took it.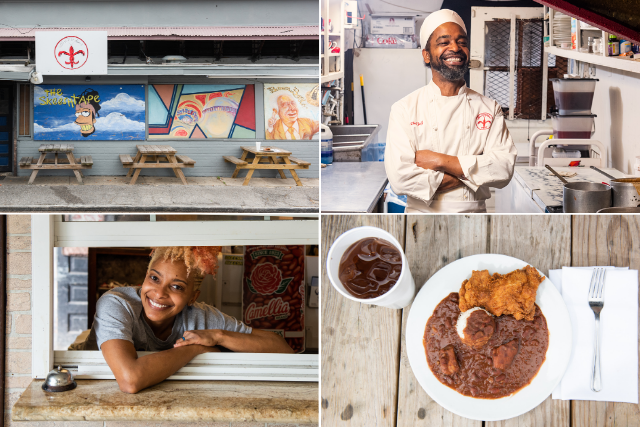 A Restaurant of His Own
Heard's family members are his main collaborators: son, Jeffrey Heard Jr. and daughters Tia'Nesha Heard-Dorset and Angel Heard.
The restaurant's Audrey Mae's Catering is named after his mom. Heard was catering before he opened the restaurant at the corner of Magnolia and Felicity streets, in a building with historic roots. Built by Johann Heinrich Keller of Keller Southern Soap Works, it housed the largest manufacturer of soap products in the South in the late 19th century, with products distributed to the eastern U.S., Mexico, and Central America. The front of the building still has the Keller name on it. Before the COVID-19 pandemic, it accommodated a food store and the restaurant's dining area, but neither the food store nor the inside dining area have re-opened.
Heard Dat Kitchen's menu is available for take-out or can be eaten outside at the picnic tables, but Heard is hoping the owner will soon re-open the building. He'd like to use the larger kitchen and offer inside dining again.
"It would be a perfect spot for coffee, as the neighborhood doesn't have a coffee shop," says Heard, who prefers to wear a t-shirt proclaiming, "Exceed Expectations," a phrase based on Ephesians 3:20.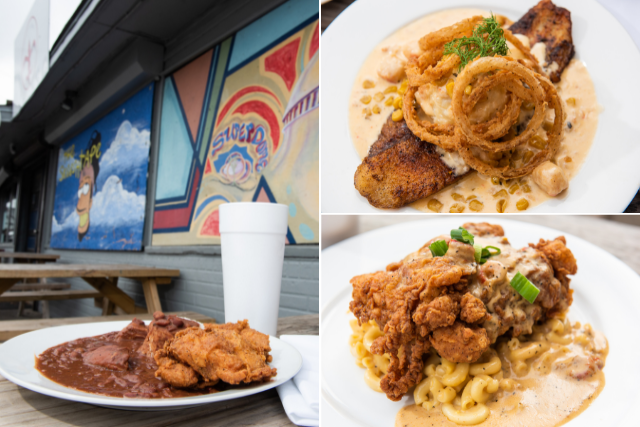 The red beans and rice do live up to the promise of the t-shirt's expression; served with a choice of fish or chicken that's blackened or fried, it is a popular menu item. (Heard points out the blackened chicken works well with the red beans.) Two other signature menu items include the Superdome — a blackened fish dish in a lobster cream sauce with fresh corn and crispy onion rings, and Bourbon Street Love — a baked macaroni dish topped with fried chicken and a crawfish cream sauce.
Heard Dat Kitchen is both a neighborhood spot and a place people seek out – for the food, the experience, and for Jeffrey Heard himself.
Says Chef Gulotta, "I worked with Jeffrey years ago when we had to execute massive private dinners together, and he was unflappable through countless high stress situations – and his knowledge and love of great wine is also unmatched. When I tried his food at Heard Dat Kitchen, he floored me again."
"My biggest motto is, I tell people that I'm in the memory-making business," says Heard.

Heard Dat Kitchen, 2520 Felicity St., (504) 510-4248, @_hearddat_ on Instagram, heardatkitchen.com. Hours: Mon. – Sat., 11 a.m.- 8 p.m.