The Red Beans Parade
Red Beans Parade The Red Beans Parade – a Lundi Gras celebration of Red Beans and Rice in New Orleans! Come join us on Monday, February 28, 2022 at 2pm.

Posted by Camellia Beans
From Plate to Parade: The Red Beans and Rice Krewe Turns Beans into Art
What inspires a group of grown adults to glue beans on their clothes and strut down the street? Like everyone else who has visited New Orleans, Devin DeWulf fell under the city's spell. DeWulf first created a bean-adorned costume for Halloween in 2007. "I was looking for a good Halloween costume idea and I wanted to link it to New Orleans on a cultural level,"  he said. With the city's devotion to red beans and rice in mind, and inspired by the meticulous detail of the Mardi Gras Indian suits, an idea was born. DeWulf spent over 40 hours completing his first outfit and it was wildly popular with the Halloween crowds he encountered around town.
They "Know What It Beans"
Thus inspired, DeWulf started the Krewe of Red Beans in 2008. Incorporating some of the elements of a second line and the Mardi Gras Indian tribes, it is a walking parade which takes place – naturally – on a Monday. Monday has traditionally been the day New Orleanians cook red beans and rice, so Lundi Gras was a natural fit. The first parade in 2009 consisted of about 20 members, but today the krewe boasts more than five times as many.
We Know Where You Got Those Shoes!
It's a loose group of natives and recent arrivals, and the krewe's philosophy is simple. It's about meeting and socializing with other creative types while celebrating New Orleans' quirky culture. Members meet on Monday nights to work on their costumes, have a drink, and eat red beans. The elaborate costumes are a point of pride to the group.
Each member makes his or her own costume, and although members do work on their costumes individually at home, the communal costume-making sessions are an important part of the group dynamic. This practice resembles that of the Mardi Gras Indians, who also often work in groups, though the Red Beans Krewe favors tongue-in-cheek themes, with a "Beanior Citizen," "Audrey BeanBurn," and "Bean-once Knowles" having marched in past parades.
Riding "Red Beans & Ricely"
One of the most prized possessions of the krewe is its "Beanmobile," a vintage Volkswagen Thing that's covered from roof to rim with bean designs that famously feature, among other things, a likeness of New Orleans' most celebrated red beans and rice lover, jazz legend Louis Armstrong. It's a mobile piece of folk art, a labor of love, and a tribute to a city that celebrates its culture through cuisine – and Carnival parades. It's an icon for everything this krewe's "bean" about since 2008.
On February 20th, the 2023 Red Beans Parade Kicks Off at 2 PM Sharp at the Marigny Opera House at 725  St. Ferdinand Street.
The parade, led by a local brass band, passes local gathering places such as Buffa's, the Friendly Bar, the Candlelight Lounge and Tremé's Petit Jazz Museum, which makes them great places to catch the parade. Got kids? Bring them along! The spectacular homemade costumes might just inspire them to start their own beans-and-rice beading artwork.
But the Krewe of Red Beans doesn't stop at one Lundi Gras bean Parade. Their partners in all things beans, known as the Krewe of Dead Beans, launches their own parade from the Pitot House on Bayou St. John at 2pm and meanders through mid-city before meeting up with the Red Beans Parade at about 4 PM at the Backstreet Cultural Museum in Tremé.
And now a third group has joined the ranks. Debuting in 2020 and inspired by Cajun and Brazilian culture, The Feijão + Green Beans Parade is yet another off-shoot. This walking krewe starts at 2pm at Bud Rips Bar at Piety and Burgundy streets and meanders through the Bywater, eventually meeting up with the Red Beans parade at the Marigny Opera House.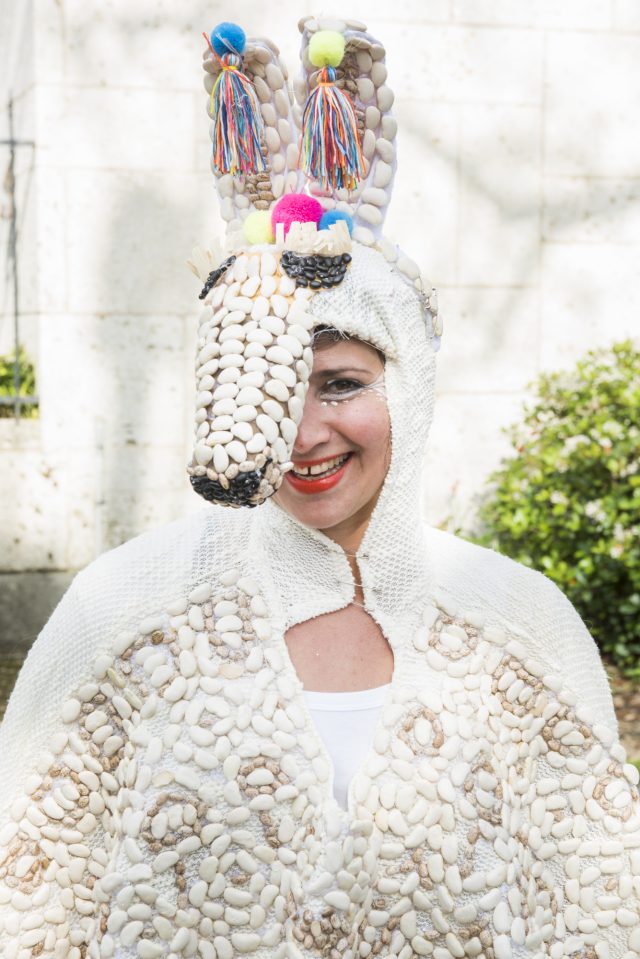 See the Red Beans Parade along its traditional route:
And check out the Dead Beans Parade route: