How Do You Red Bean Emily Shaya?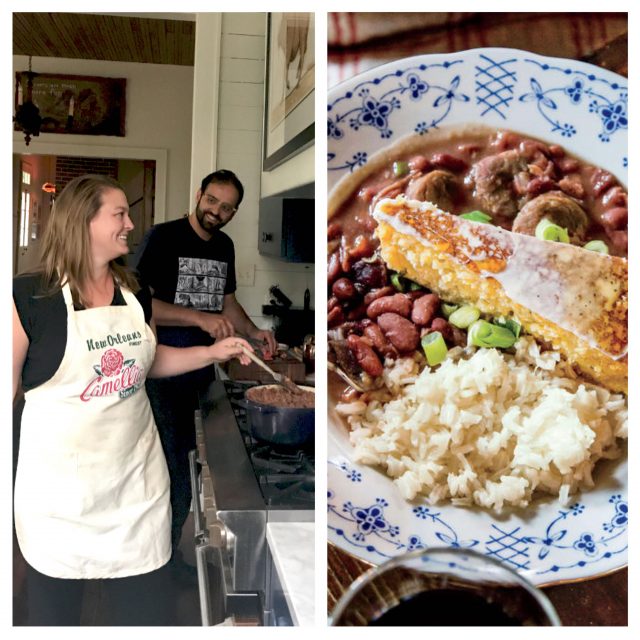 Come Monday in the Shaya household, James Beard award winning Chef Alon Shaya hangs up his apron and his wife Emily takes the reins to cook her famous red beans & rice. Emily Shaya (whom Chef Shaya refers to as The Red Bean Queen) is well known for her taste on a number of levels, and her red beans are no exception. Amidst running restaurants, writing a cookbook and other businesses, the couple has hosted this regular New Orleans Monday ritual at their home with friends and family since they were wed. The two share a love of New Orleans tradition and find this regular gathering grounds them and keeps them connected to the ones they love.
Beyond the kitchen, Emily is founder & owner of a New Orleans-based event rental company Pret a Fete a collection of chic antique, vintage, and unique furniture and accessories. We like to think of her as a mover, a shaker and we now know – she's a soaker. So, how does The Red Bean Queen do it? Read on.
1. What are your secrets to perfect Red Beans & Rice?
I always soak my red beans, even if it's just for a few hours.  Some people may disagree, but I think it helps ensure they are nice and creamy by suppertime.
2. Do you put any unique ingredients in your pot of red beans?
I always use the best cajun meats I can find.  We will go on a road trip to Scott or Eunice Louisiana and stock up on tasso, andouille sausage, or smoked ham shanks.  The folks out there are preserving their local traditions making spectacular meats and I want to support them.
3. What do you eat with red beans and rice?
I usually make a salad with in season ingredients with a tart dressing to accompany the red beans and rice.  Right now, since it is summer, we are making a local peach and heirloom tomato panzanella at home, it is delicious!
4. What does red beans and rice mean to you?
We invite the same group of people over to our house every Monday for red beans, so for us, red beans means community & family.  We have celebrated our friends birthdays, engagements, business and personal successes, and even mourned over beans.  It's such a hearty and comforting food, the dish really fits all occasions.
5. What's next for you (both)?
We take on life one red bean Monday at a time, haha!  Seriously, we are excited about Alon's new cookbook debuting next spring.  It was a labor of love for both of us, because the entire process took place in our kitchen, from recipe testing to photography.  I styled the book as well, so the book even reflects my style that I've honed over the years while running my specialty event rental business Pret a Fete.
Get Emily Shaya's famous Red Beans & Rice recipe here.