How do you Red Bean, Jay Ducote?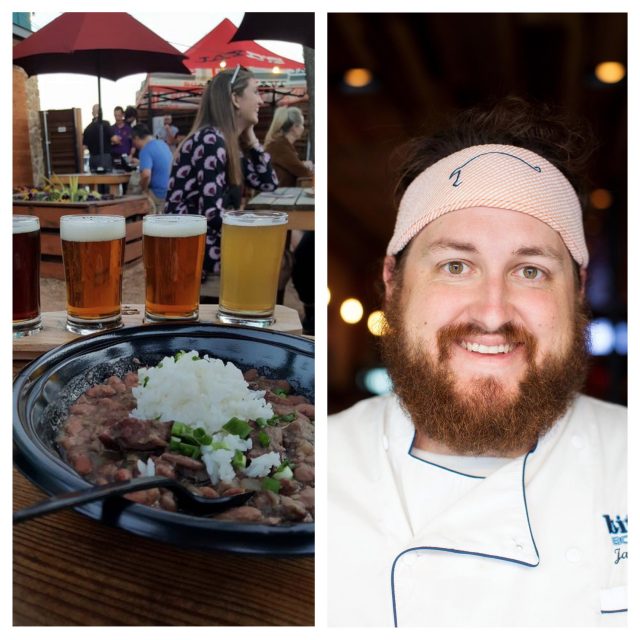 Recently, we caught up with Chef Jay Ducote about his two-week Red Beans & Rice Tour through Texas. Along with his culinary crew, he cooked up over 250 lbs. of authentic Louisiana-style Red Beans & Rice with pop-up events at favorite breweries and restaurants across the state.
Jay Ducote is a chef, writer, speaker, entertainer and hugger based out of Baton Rouge, LA. He's got a long bio, but to keep it short, he was a finalist on Food Network Star in 2015 and does big things in the food and beverage world. He runs a culinary media company called Bite & Booze and pretty much eats and drinks for a living.
What are your secrets to perfect Red Beans & Rice?
I love cooking red beans and rice outside in large cast-iron cauldrons. That's how my cousin Travis taught me to do it at LSU tailgate parties. We soak the beans overnight, then cook them in the water that we soaked them in — to make sure there's even more bean flavor in the finished product. The keys are: a good smoked sausage (we got ours for the trip from City Pork in Baton Rouge), a nice seasoning (we used Slap Ya Mama Cajun Seasoning, plus some kosher salt), and some herbs like bay leaves, sweet basil and sage.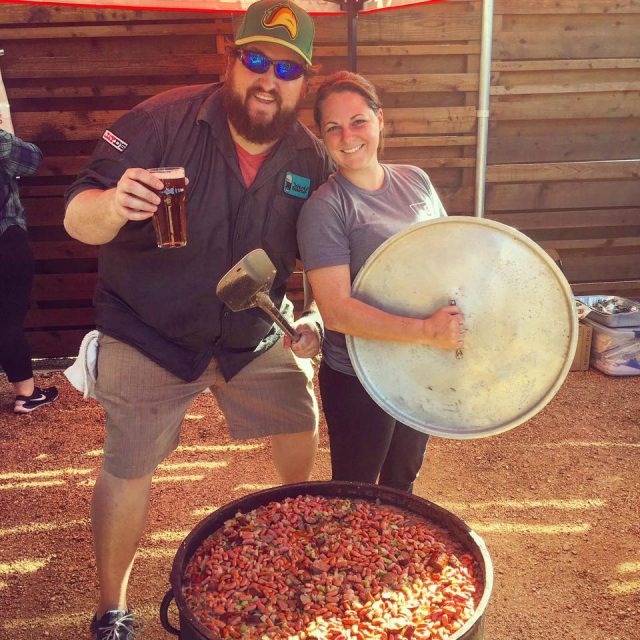 I've got to give a shout out to Chef Aimee Tortorich, who is the future executive chef of Gov't Taco which I'm opening in Baton Rouge this summer, as well as my Bite & Booze culinary director. She took the lead on cooking each pot of red beans throughout the trip and did a marvelous job. It's nice because we really both cook ours the same way, so we feed off of each other's cooking really well.
For Louisianians, making and eating red beans & rice is a ritual, and is often paired with must-have seasonings and go-to sides. What are yours?
I find that red beans need a little hot sauce. The vinegar gives a little acidity that the earthy beans need. We brought Slap Ya Mama's Cajun Pepper Sauce on the tour with us, and people loved it. Of course, you also need a good Louisiana rice to serve red beans over. We use Supreme Rice out of Crowley, Louisiana. Their long grain white rice is perfect for red beans, gumbo, or any other dish you're serving over rice. I also love a little corn bread with my red beans, too!
What was your favorite part about Jay D's Red Beans & Rice Tour of Texas?
Making friends with all the people that I got to meet along the way! I met so many new people in each city, and I'm really glad I got to be out and about throughout so much of Texas. I also really liked being able to connect with old friends from my high school and college days who are scattered around Texas now!
What did folks like best about the tour?
It seemed like the red beans themselves were one of the biggest hits from our tour. People gobbled them up at every stop. It was nice to bring some authentic Louisiana flavor to deep in the heart of Texas. We met people who were eating Louisiana red beans for the first time and people who grew up on red beans but hadn't had them in ages. It was nice to see their reaction as they tasted a part of their childhood again.
What's next for Jay Ducote?
What's next is always a good question! I'm giving a TEDxLSU talk on March 11th about my Single Origin Coffee project with beans from a small community in the Dominican Republic. We're also working on launching my first restaurant concept, Gov't Taco, which will be a modern American taco shop in White Star Market in Baton Rouge, opening this summer. I'm always hoping to have more travel and TV appearances in the future, so hopefully some big things will happen there, too! It's a pretty crazy journey that I'm on. If anybody wants to follow along, you can find me at jayducote.com, Twitter, Instagram and Facebook!