Liuzza's on Bienville, Where Red Beans Meet Cajun Smoked Meat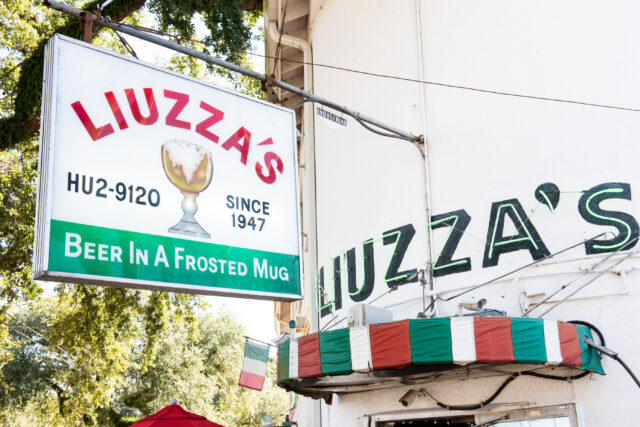 When an Iconic Restaurant Changes Hands
It isn't easy to open a restaurant, so imagine what it's like to buy an established New Orleans neighborhood eatery where the regulars expect their favorite dishes in an atmosphere that is the same as it was when they originally walked through the doors. Which may have been 50 years ago.
"It's both very exciting and daunting," said George DeCastro, who bought Liuzza's on Bienville in fall 2022 with Erin Clark and two partners in Miami.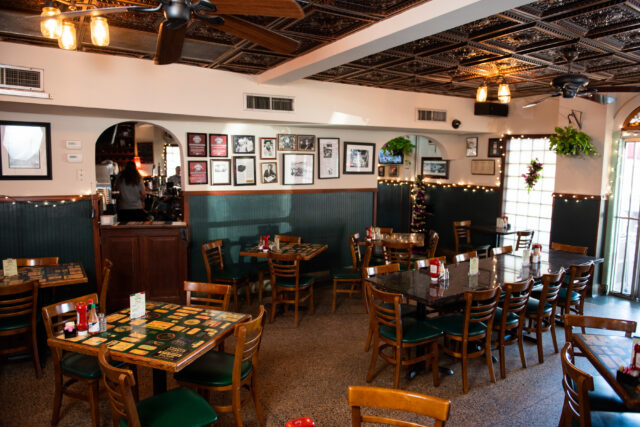 "I have the opportunity to step into an iconic New Orleans restaurant and serve food to diners who have been coming here for generations," he said. "To carry that torch and still be a part of the fabric of New Orleans culture carries great responsibilities." DeCastro is mainly in the kitchen/back of house, while Clark runs the front of house.
They are familiar with the city: Clark and DeCastro were part of the crew that opened Finnegan's Easy in the French Quarter. Both relocated to New Orleans when they bought Liuzza's business, building, and recipes.

Liuzza's Keeps it Old School with its Red Beans and Rice
Among the original recipes was red beans and rice.
"I found out when I came to New Orleans that locals are very particular with the food products they know and love," said DeCastro. "They are a very knowledgeable group when it comes to traditional cuisine."
And, of course, there was no changing up the recipe when it came to using Camellia Red Kidney beans.
In keeping with the Liuzza's red beans tradition, the beans are rinsed, not soaked. They are put in a large kettle to which assorted meats such as homemade tasso and smoked sausage are added, as well as the "trinity" (onion, green peppers and celery), Creole seasoning, garlic and other ingredients.
"We just keep on tasting it to see if it's the cleanest consistency that we want," DeCastro said. "It usually comes out the same every time."
The red beans are made in a large batch, then frozen in portions which are taken out as needed.
"Once it goes into the freezer, all the flavors and everything that goes into it condenses," DeCastro said.
He emphasized that when they heat up the red beans, they don't microwave them, but put them in a small double boiler.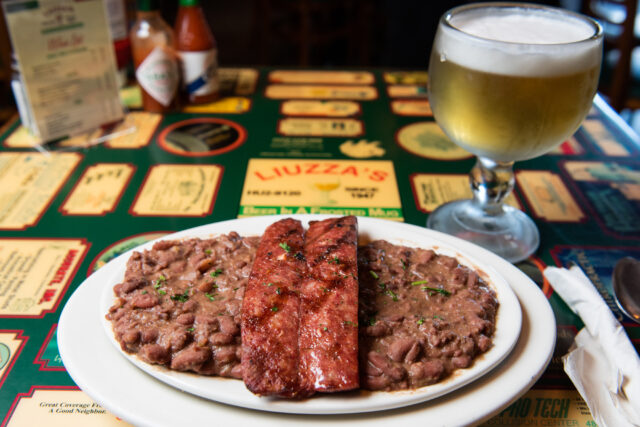 What the Future Holds: A Delicate Balance of the Old & the New
Many like to enjoy the red beans and rice alongside the restaurant's signature 18 oz. goblets of frosty cold beers — or an Abita root beer. Other signature recipes include the Frenchuletta (Muffuletta on French bread) and shrimp and oyster beignets.
While committed to the restaurant's traditional recipes, DeCastro said that he is also looking to "explore a lot of other Louisiana foods." Sounds a lot like Vincent Liuzza, who founded the restaurant in 1947, and like his successors, blended Sicilian foods with Creole and Cajun flavors.
"I want to grow as a brand but walk the line that stays true to what Liuzza's is to the local community," said DeCastro. "Being a flag-bearer of a 70-year-old [plus] tradition is a great responsibility that so far, our guests have enjoyed."

Liuzza's Restaurant and Bar, 3636 Bienville St., New Orleans; liuzzas.com; Hours: Mon. 11 a.m. – 8 p.m., Tues. Closed; Weds. 11 a.m.-9 p.m., Thurs.-Sat.11 a.m.-10 p.m.; Sun. 11 a.m.-7 p.m.