Pickled Pork and Ham Hocks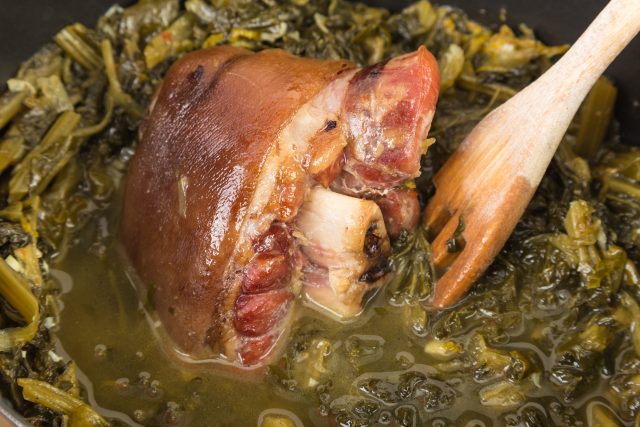 Like so many delicious Southern culinary traditions, the use of both ham hocks and pickled pork came to be as a result of hard times.
While the wealthy viewed knobby, gelatinous ham hocks as undesirable, laborers in the fields and cities gladly used the marrow-rich bones and meat to flavor and enhance the beans, vegetables and broths they fed their families. Hocks were often smoked; other bits and scraps were often pickled in a brine of water, salt, sugar, vinegar, and herbs or spices. Both preparations served to enhance flavor while preserving shelf life.
Southerners have come to a universal appreciation for the richness of flavor and mineral-rich nutrition that these "seasoning meats" and bones impart at a thrifty cost. The practice of including some form of smoked or pickled pork as a flavoring agent continues today with many iconic Southern dishes—red, white and lima beans; field and blackeye peas; collard, mustard and turnip greens; and all manner of stewed vegetables.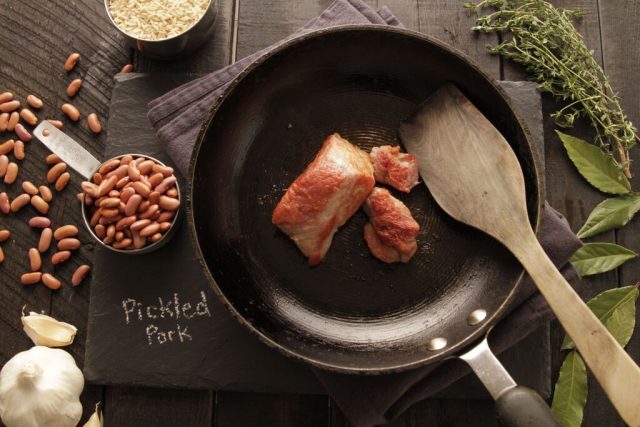 Butter Beans with Pickled Pork or Smoked Ham Hocks
1 pound Camellia Brand Large Lima (Butter) Beans
2 tablespoons vegetable oil
1 pound pickled pork or smoked ham hocks
1 large onion, chopped
4 cloves garlic, chopped
2 quarts water
2 bay leaves
Salt, pepper and/or hot sauce, to taste
Hot cooked rice
Hot buttered French bread
Sort beans, removing debris and broken pieces; place in a large bowl and rinse beans under running cold water until water runs clean. Cover beans with one inch of cold water; let stand at least 8 hours or until needed (do not soak longer than 24 hours). Completely drain beans before cooking.
Heat oil in a large pot over medium-high heat. If using pickled pork add to pot; sauté 5 minutes or until browned. Add onions, and garlic; sauté 15 minutes. Add 2 quarts water, bay leaves and smoked ham hocks, if using; bring to a boil. Add soaked beans; stir well. Return to a low boil; cover with lid, reduce heat to low and simmer 2 to 2 1/2 hours or until lima beans are soft and creamy in texture, stirring occasionally.
Taste; adjust seasoning with salt, pepper and/or hot sauce. Serve hot over hot cooked rice with hot buttered French bread. Makes 8 servings.
Seven Day Pickled Pork
1 (6 ½-pound) pork shoulder roast
½ cup brown sugar
½ cup kosher salt
1 teaspoon cayenne red pepper
3 cups apple cider vinegar
5 cups water
2 large onions, sliced
1 head garlic, separated, peeled & crushed
4 tablespoons mustard seed
4 bay leaves
Trim pork roast of excess skin and fat. Cut roast in half along the bone; remove bone and reserve it for other uses. Cut pork into 2-inch pieces; score a 1/4-inch slice into the surface of each piece. In a large bowl, whisk together brown sugar, salt and red pepper. Dip each piece into the brown sugar mixture; rub seasoning well into meat and shake off any excess. Divide pork chunks into 2 large zip-top freezer bags; let stand at room temperature 2 hours.
Combine remaining brown sugar mixture, apple cider vinegar, water, onion, garlic, mustard seed, bay leaves and peppercorns in a large saucepot (not aluminum) over medium-high heat; bring to a boil. Simmer 5 minutes. Remove from heat and let cool to the touch.
Divide cooled brine evenly into each zip-top bag, squeeze to remove air and seal. Refrigerate at least one week, turning each bag once daily.
Remove pork from brine; freeze or use within two weeks.