Red Beans Essentials: Butter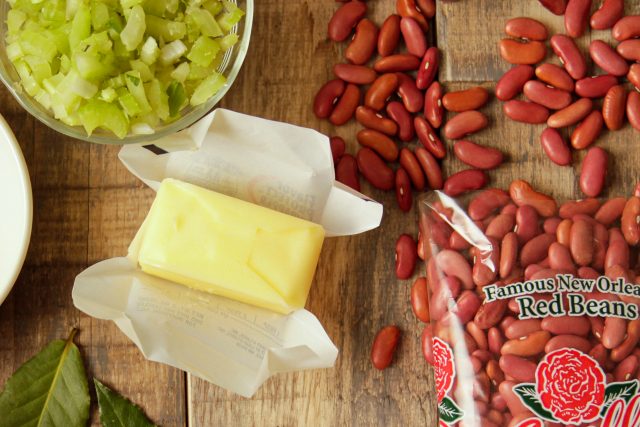 A delicious fat for your red beans
Fat is a key component in making red beans creamy and flavorful. And if you love cooking red beans, you probably have a favorite kind of fat that adds the dimension, flavor and creaminess you can't live without. For many, it's butter — with its rich, creamy dairy flavor, it feels good in your mouth and makes other flavors taste better, too.
Butter acts as a creamy flavor carrier
Real butter is made from milk fat and has a delicious, smooth texture. Interestingly, it has a melting temperature of 98.6° F, which happens to be the temperature inside your mouth. And it works well as a flavor carrier for spices and other ingredients; for example, when you begin the process of making red beans by sautéing the trinity in butter, all the flavor from the onions, celery and bell pepper will be carried by the butter into the rest of the dish – complementing and enhancing the flavor of the beans.
Another way to experience the creamy mouth-feel of butter in your red beans is to add it at the very end of the bean cooking process, as a finisher. By adding butter at this point, you're increasing the buttery flavor and ensuring wonderful creaminess, right before serving the beans. In fact, red beans & rice fans have spoken when it comes to their secret ingredients, and quite a few swear by the addition of butter – throughout the cooking process, as well as at the end. The exact amount varies from cook to cook, but when in doubt, you can't go wrong by adding a little more. Like they say, everything tastes better with butter.
Try one of our favorite red bean recipes that features butter. These fans love it:
"The woman who taught me to make red beans when I lived in New Orleans added a whole stick of butter…delish!"
Karen K.
"I use a little file and a little butter." Harvey H.
"A stick of butter….and making a roux first."
James S.
"Garlic and butter." Patrick S.
"A ham hock from heavenly ham or one of those ham stores
and half stick butter per pound!"
Maria C.
"A stick or 2 of butter."
Michael B.
"Add about a tablespoon of butter just before serving."
Ruth H.