Saint John Honors Tradition But Puts Its Own Spin on Traditional Dishes

When You Really Love Red Beans
How much does Saint John Chef Daren Porretto love red beans?
He has a tattoo of one on his finger.
For this New Orleans-born and-raised chef, the city and its food are his passions, and he shares them at the French Quarter restaurant. Through those passions, Saint John customers get a culinary awakening — a conversion, perhaps — of Southern and Louisiana food that goes beyond tradition.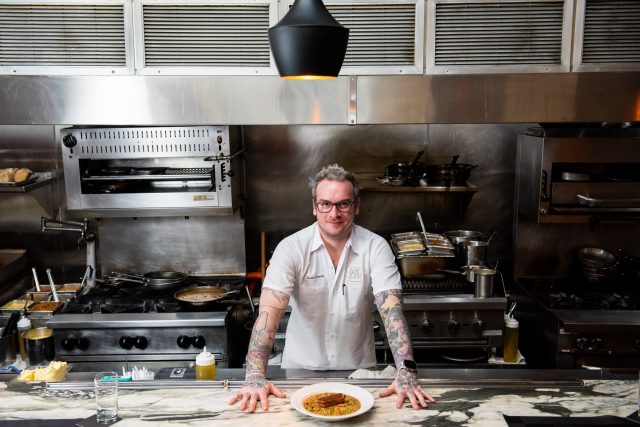 The proof? The moment a waiter places the pork belly cassoulet down on a table, there is a pause: Take a photo, inhale the heavenly aroma, or just dive into the flavor? Most people do all three, as simultaneously as they can, when it comes to this brunch favorite.

A Cassoulet Made with Camellia Beans
Making the cassoulet is a two-day process that starts by soaking Camellia Great Northerns overnight. Then, it's time to render the meat (Andouille sausage, tasso and ground pork belly), throw into chicken stock, and add vegetables including the trinity (onion, bell peppers, celery), plus garlic, bay leaves, salt and pepper. 
"All the usual suspects," Chef Porretto says, cooked to the right balance, so the mixture is buttery and smooth.
Finally, the pork belly is braised in root beer and topped with a cornbread crust.
A combination of flavors, the cassoulet creates a historical connection between its French origins and Louisiana, with beans as the common denominator.

 And Porretto wouldn't use anything other than Camellia Beans.
"I feel like I don't have a choice to use anything else," says Porretto jokingly.
Camellia Beans is what his grandmother relied on when the two of them cooked together. And when Porretto worked in New York City for a year, she made sure he was well-stocked. Her care packages included at least three different types – usually white beans, red beans, and one other.
"New Orleanians stick to our roots," he says. "It's like if you go to the grocery store, and there's no Camellia Beans, you go to another store to find it. It's something ingrained in my DNA."
It's that DNA — along with a dedication to Southern and Louisiana food — that Porretto and restaurant owner Eric Cook are bringing together in a modern, updated cuisine that never forgets its roots.

Hoppin' John Oyster Salad
Another example of their culinary philosophy is the Hoppin' John oyster salad, a fresh take on the New Year's Day Southern tradition of serving cabbage or greens (symbolizing money, or dollar bills), with blackeye peas (symbolizing prosperity, or coins), and cornbread (symbolizing gold) – all with the goal of starting the new year with good luck.
Instead of cabbage, the salad features Bibb lettuce topped with crispy fried Gulf oysters. It is then ringed by a combination of crumbled bacon, chopped red peppers, and slow-cooked, smoky blackeye peas, "which bring a great flavor and texture to it," says Porretto. Dressed with a green remoulade — not the traditional pinkish-hued version — it is a light, flavorful combination that melds Louisiana and Low Country traditions.
Red Beans and Rice
And what about the red beans and rice? The classic dish was added back to the menu — Mondays only, as per New Orleans' custom — with Porretto putting just as much thought into it.

 However, he is keeping that favorite more traditional, as any New Orleans native would.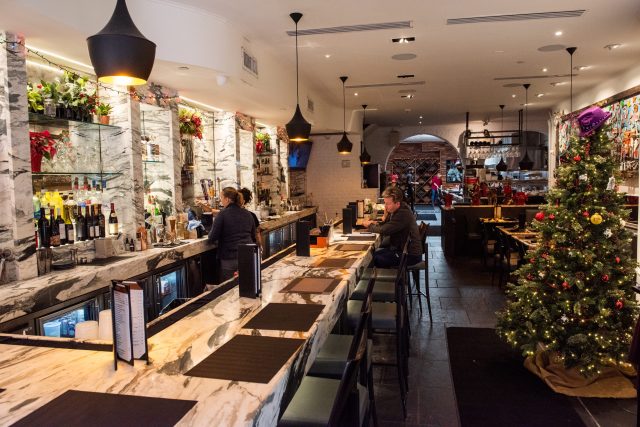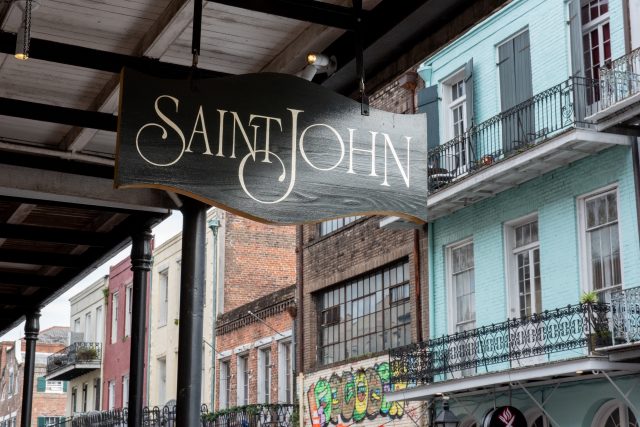 Saint John, 1117 Decatur St., (504) 581-8120, saintjohnnola.com, on Instagram; 
Hours: Brunch and dinner, Weds.-Mon.