The Dead Beans Parade: A Skeletal Spinoff of the Red Beans Parade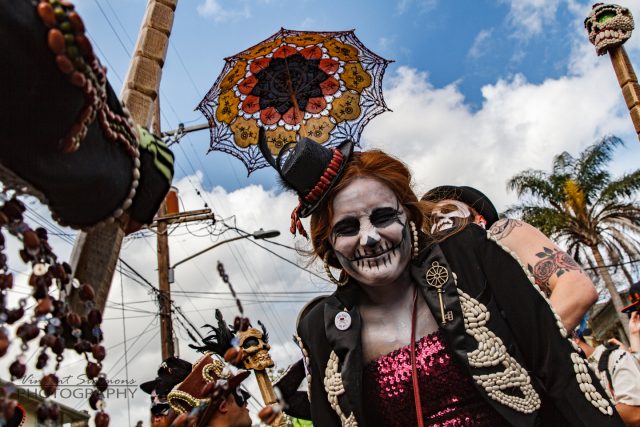 Just in time for Lundi Gras 2018 (Feb. 12th), the Red Beans Parade — which celebrates the importance of red beans & rice and carnival — is proudly launching its new offshoot called the Dead Beans Parade in celebration of its 10th anniversary. Devin Meyers started the Red Bean Parade in 2008; incorporating elements of a second line and Mardi Gras Indian tribes, it's a walking parade which takes place – naturally – on a Monday. Monday has traditionally been the day New Orleanians cook red beans and rice, so Lundi Gras was a natural fit. The krewe's philosophy is simple. It's about meeting and socializing with other creative types while celebrating New Orleans' quirky culture. Members – known as "beaners" – meet on Monday nights to work on their bean-adorned costumes, have a drink, and eat red beans. The elaborate costumes are a point of pride to the group. The first parade consisted of about 20 members, but today it boasts about five times as many.
Introducing The Dead Beans Parade
The fact is, the bean-costume-lovin' group has always had marchers who costume as skeletons — also known as "Dead Beans" — as well as those whose costumes are tributes to celebrities who've died in the preceding year. So in order to grow the popular 100-member krewe in a way that keeps things small and intimate, it made sense to create a separate group called the Dead Beans. The Dead Beans will second line from the Bayou St. John area, meander through Mid-City, and meet up with the Red Beans Parade in Tremé.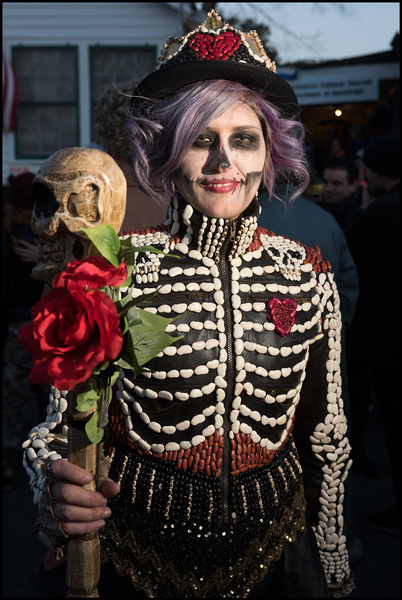 This year's Dead Beans parade will be led by the Panorama Jazz Band, Bon Bon Vivant band, and other special guests. Starting at 2 pm at Bayou St. John, it will make pub crawl stops at Pal's Lounge, Club Caribbean, Kermit's Mother-In-Law Lounge, and The Candlelight Lounge. And taking a cue from the Red Beans Parade Beanmobile, a 1969 Cadillac hearse will be lovingly coated in unique bean designs for all to see.
Check Out the Dead Bean Parade Route: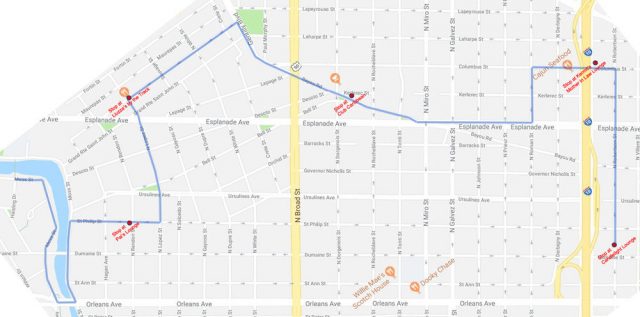 And see the Red Beans Parade along its traditional route: