When You Know You're Not In Texas Anymore: Louisiana Style Creole Pork & Red Bean Chili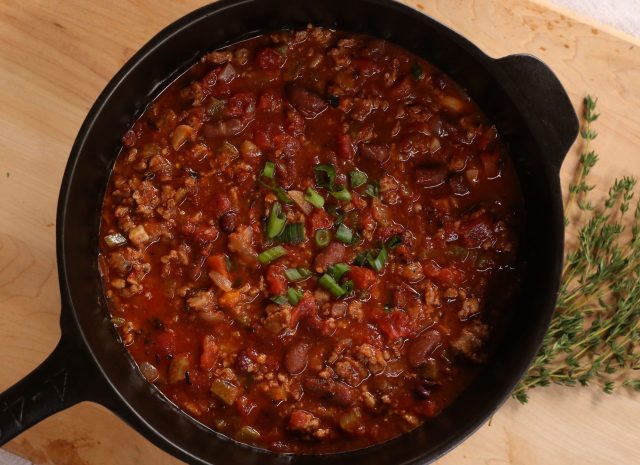 Myths and tall tales abound when it comes to the origin of chili. One legend pegs the beginnings of the zesty stew to the early 1620s and the divine apparition of a Spanish nun, Sister Mary of Agreda, who appeared to Jumano Indians of what is now central New Mexico and West Texas and imparted to them the first recipe for chili, a concoction of chili peppers, venison and onions. Another holds that immigrants from the Canary Islands brought a recipe for chili with them when they settled in what is now San Antonio, Texas, in the early 1700s. The word "chili" comes from the Spanish chile con carne, meaning "pepper with meat," and any chili purist will be quick to tell you that chili is made with beef.
"Chili Queens" of San Antonio
By the 1800s, cattle was king in the American West, and chili had evolved into a beef-based dish – a hearty, satisfying one-pot meal enjoyed by cowboys and hard-working city folk alike. In the 1880s a market in San Antonio featured chili stands from which chili or "bowls o' red" (with no beans or tomatoes) were sold by women who were called "chili queens." Chili became popular nationally following the 1893 Chicago World's Fair, where Texas represented with its San Antonio Chili Stand. By the 1920s, cookbook recipes introduced beans, a tasty, inexpensive means of adding protein. By the 1940s tomatoes, the acid of which would effectively cut through the fatty meat to lighten things up a bit, were also a common ingredient.
California Embraces Chicken Chili
White chili made with chicken, mild green chilies, and white beans first surfaced in California kitchens in the late 1980s when health concerns associated with diets heavy in red meat led people to eat more poultry. Chili traditionalists, still squabbling over whether or not beans were an acceptable ingredient, were outraged but contemporary food writers embraced and pushed the new stew as a welcome example of a fresh brand of Southwestern cooking and a departure from the heavier red meat version. In the 35 years or so since white chicken chili was introduced, much of the fervor has died down, and outraged chili sticklers mostly shrug and disregard it.
Tex-Mex Meets Creole in Louisiana
In Louisiana, you might have to set aside your ideas about chili, because things can be quite different here. We might catch some heat from chili purists across the border in Texas for our Louisiana Style Creole Pork & Red Bean Chili, but we are ready. Allow us to explain how we arrived here.
The Holy Trinity of Creole Chili
French Catholic settlers started moving into the Louisiana Territory during the French Era of Enlightenment when the culinary arts became as significant to French cultural identity as the performing, written, auditory and visual arts. With this sensibility intact, early French settlers brought their culinary customs with them when they settled the new territory. The foundation of French cuisine is the French mirepoix, an aromatic mixture of onions, celery and carrots. But there were no carrots in their swampy new home. The French settlers substituted bell peppers for carrots, creating "the Trinity", the foundation of Creole cuisine. When garlic, called "the Pope" for its visible likeness to the papal bonnet (the hat the Pope wears), joins the party, the Trinity becomes "the Holy Trinity".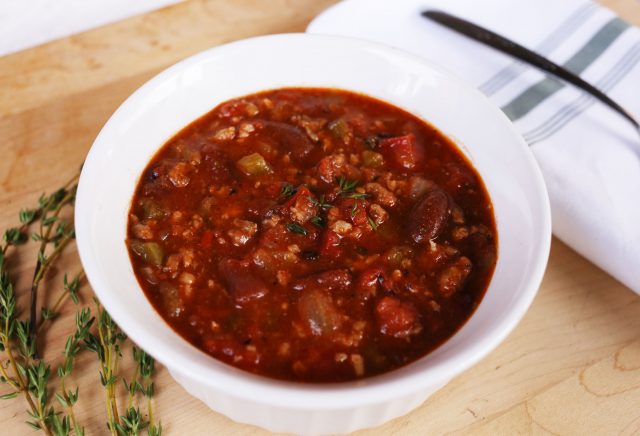 Creole Pork Sausage, Kidney Beans and Tomatoes
While Texas is big on land, Louisiana is big on swamp with less land to spare for cattle. Hence, the proteins most commonly associated with Louisiana's Creole and Cajun cuisines are seafood and pork. Our Creole-style chili features pork sausage – specifically chaurice, a style of hot, fresh pork sausage made by Vaucresson Sausage Company of New Orleans, operated by a family of sausage makers and butchers dating back centuries to France. The red kidney bean has been a mainstay on the New Orleans table for as long as we can remember, and as such, this chili includes red kidney beans. Creole cuisine is heavy on fresh tomatoes, which grow abundantly in our rich alluvial soil, particularly in Plaquemines Parish, home of the vaguely sweet, meaty, low-acid Creole tomato, and you'll find no shortage of tomatoes in our Creole chili.
In Louisiana, we're nothing if not different – and different can be delicious!