A Three-Bean Lundi Gras with Legume-Loving Marching Clubs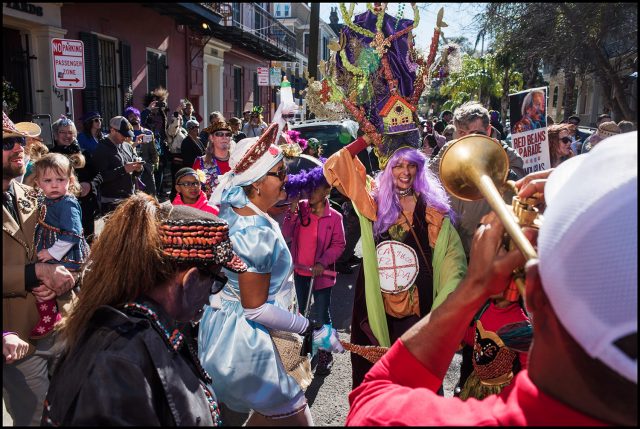 First there was the Red Beans Parade – that legume-loving marching club that celebrates the importance of red beans & rice and carnival every Lundi Gras. And then there was the first offshoot, the Dead Beans Parade. Now, a third group joins in the eclectic and eccentric fun — the Feijão + Green Beans Parade.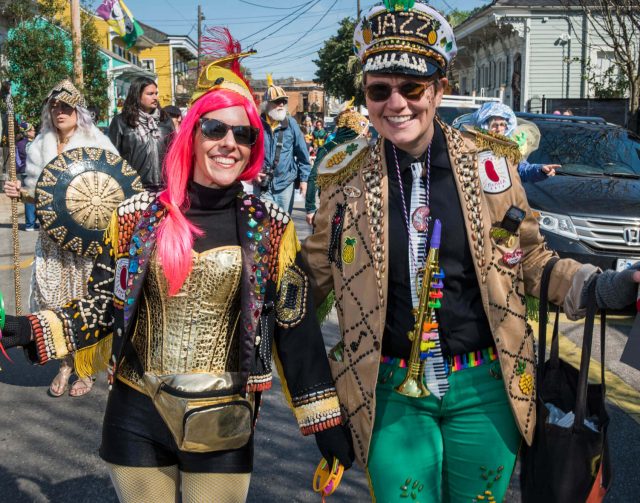 Devin DeWulf started the Red Bean Parade in 2008, incorporating elements of a second line and Mardi Gras Indian tribes into a walking parade which takes place – naturally – on a Monday. Monday has traditionally been the day New Orleanians cook red beans and rice, so Lundi Gras was a natural fit. The krewe's philosophy is simple. It's about meeting and socializing with other creative types while celebrating New Orleans' quirky culture. Members meet on Monday nights to work on their bean-adorned costumes, have a drink, and eat red beans. The elaborate costumes are a point of pride to the group.
The parade, led by a local brass band, proceeds through the Marigny and ends up in Tremé, passing local spots such as Buffa's, the Friendly Bar, the Candlelight Lounge and Tremé's Petit Jazz Museum.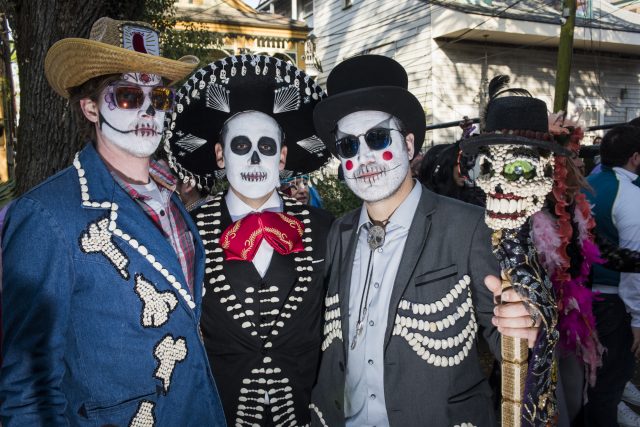 The Krewe of Red Beans has always had marchers who costumed as skeletons – also known as "Dead Beans" – as well as those whose costumes are tributes to celebrities who've died in the preceding year. So in order to grow the popular krewe in a way that kept the marches small and intimate, it made sense to create a separate group called the Dead Beans. The Dead Beans second line from the Bayou St. John area, meander through Mid-City, and meet up with the Red Beans Parade in Tremé.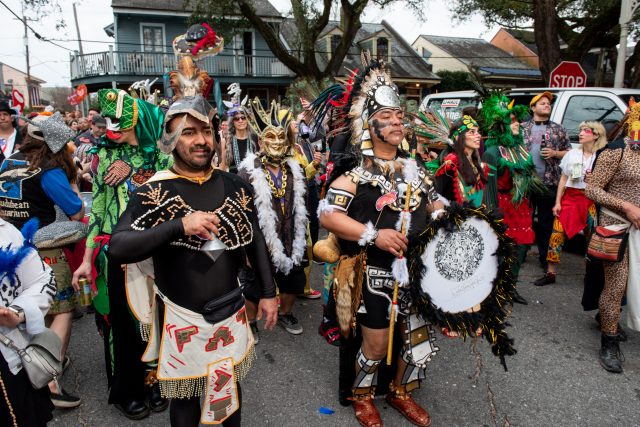 Debuting in 2020 and inspired by Cajun and Brazilian culture, The Feijão + Green Beans Parade is a third off-shoot. This walking krewe starts at Bud Rips Bar at Piety and Burgundy streets and meanders through the Bywater, eventually meeting up with the Red Beans parade at the Marigny Opera House. Featuring both a samba-style marching band and a Cajun band, the parade celebrates the diversity of different cultures in the Crescent City.
Got kids? Bring them along! The spectacular homemade costumes showcased in all three parades might just inspire them to start their own beans-and-rice beading artwork.