Beans: Packed with Legacy & Lore in Appalachian Cuisine

A Force in the Deep South and in Appalachian Kitchens
Growing up in the mountains of Eastern Kentucky—and having lived across the Southeast the majority of my life—beans have never been too far from any table where I've broken bread. I've scarfed down red beans and rice by the spoonful religiously each Monday in New Orleans, soaked butterbeans to serve alongside catfish in Memphis, and helped myself to more than my fair share of lima bean-heavy Brunswick stew along the Georgia coast.
And while beans are an omnipresent force throughout both Deep South and Appalachian kitchens, in the mountains, they often come even more tightly packed with generations of family legacy and lore than just about anywhere else. (Hard to imagine, I know.)
Family Beans
For starters, many devoted seed savers and bean-lovers in the region claim to be able to trace certain varieties of beans back to their own family plots (sometimes, even down to the row in which they were first planted) or their community-at-large. In legendary heirloom-bean-hero Bill Best's 2013 book, Saving Seeds, Preserving Taste: Heirloom Seeds in Appalachia, Best outlines how these mythical family tales about bean origin reinforce just how crucial beans themselves—not just the dishes they help create—have long been to creating identity across the region.
"[The] tradition of 'family beans' marks one of the important ways Appalachian beans have been preserved or developed. A lifetime of experience suggests to me that many, if not most, of such family beans came about by mutant beans, usually called 'sports,' showing up in bean patches," Best writes. "Seeds would be saved from the mutant bean and grown the following summer to see whether they bred true and were tender and tasty. If they were of good eating quality, they became part of that family's seed stock to be kept, even cherished, and shared with kinfolk and others in the community as well."
From Preacher Beans to Lazy Daisy Beans
Plus, these localized beans—whether family-based or community-based—have some pretty amazing names. There are tobacco worm beans and lazy daisy beans; turkey craw beans and case knife beans; and there are beans named after their sources: the Grandpa Bishop bean, the preacher bean, the Fox Family bean. But the heirloom bean I most enjoy seeing snaked around my garden trellises each summer are the Lazy Wife greasy beans, which I picked up from Mr. Best when my daughter was only a few weeks old on her first major trip out of the house. (Start them young on becoming a bean-lover, I always say.)
For those outside Appalachia, "greasy beans" might sound, well, a little unappetizing, given that their name connotes a texture that's more slimy than fresh. But that couldn't be further from the truth. A string bean that deliver a nutty and protein-packed crunch, greasy beans are a deeply-rooted Appalachian tradition whether eaten fresh in the summer or preserved as "shuck beans."
Preserving and Drying Beans
"'Leather britches' or 'shuck beans' refers to the method of preserving certain types of green beans by drying them in their pods. Rehydrated and cooked, the skins take on the texture of silk and nearly dissolve on the tongue, while the beans are tender, rich, and velvety," writes James Beard Award-winning author Ronni Lundy for Smoky Mountain Living Magazine. "Beans were preserved this way to provide much-needed protein through the long mountain winters…[and] mountain people universally embraced the dish…long past the need for preserving every morsel from the garden to get through the winter. Many folks like to do it the old way with the ristra-like strings of beans hung on an enclosed porch, in the attic, or in an out-of-the-way corner. You can also dry beans the way many do apples, by spreading them on a large screen or sheet strung taut between sawhorses."
A Source of Meals Through Long Appalachian Winters
This focus on beans as a source of hardy, filling and energy-providing meals through the long Appalachian winters when the (already limited) growing conditions completely dry up is a hallmark of the region's embrace of beans, and sets it apart from its—much warmer, less cold-weather-challenged—neighbors to the South. Which brings us to what is perhaps the central legume-based dish of Appalachian cuisine: soup beans.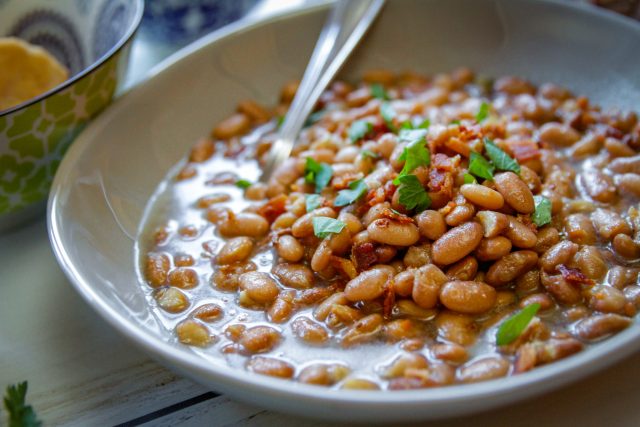 No, not bean soup (never call it bean soup!), but soup beans: a pinto bean-based dish where the broth (or potlikker) becomes so rich and slurpable, the "soup" and the "bean" deserve equal billing in the dish's name, like in this recipe. Made by cooking down dried pintos with a salty, rich hunk of ham-hock or fat-back and maybe a little bit of onion (if you're feeling fancy), this culinary staple of the region is delicious, affordable and always served with a side of fresh cornbread for sopping up any leftover broth. Its deep simplicity and accessibility means you'd be hard-pressed to find anyone from the foothills of Eastern Kentucky to the hamlets of West Virginia who doesn't have a spin on the dish passed down through their family, and after your first bite, you'll be more than happy to snack on a big pot of leftover soup beans for days. (Much like a good chili, many people swear it gets better as it rests.)
Exploring the diversity and richness of America's bean heritage is a journey not only in delicious history, but in gaining a deeper understanding about the people who are guardians of tradition for their families and communities. And whether you're plating up the white beans and rice you first devoured in South Louisiana or stringing up a row of Appalachian shuck beans, these meals can deepen our sense of connection to both place and one another.
Written by Sarah Baird, a writer and editor based in New Orleans. An award-winning former restaurant critic for the city's alt-weekly and seasoned tippling enthusiast, her work appears regularly in print and online for Lucky Peach, Food52, AFAR, Pacific Standard, Saveur, The Atlantic, Eater, The Village Voice, PUNCH, The Guardian, GOOD, Liquor.com and beyond.