Li'l Dizzy's: Home to the City's Culinary Heart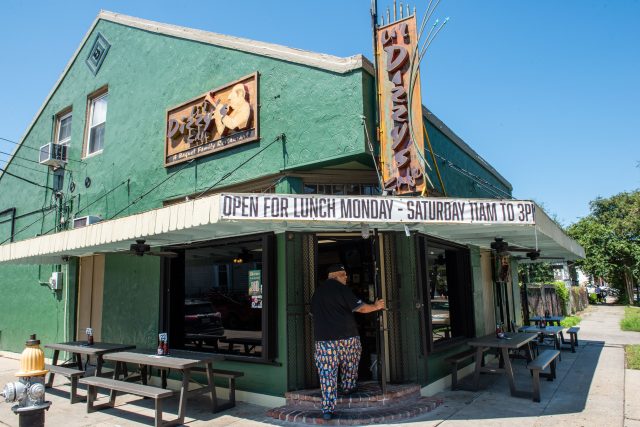 Arkesha Baquet is a busy woman. It's just a half-hour before opening at Li'l Dizzy's in Tremé, and menus must be reviewed, supply deliveries confirmed, and she needs to peek in the kitchen to check on the Creole-Soul food favorites this beloved eatery is famous for.
If a restaurant can embody a city's culinary history, traditions, and heart — as well as its past, present and future — then Li'l Dizzy's is it.
Arkesha, and her husband Wayne Baquet Jr., are second-generation owners of the restaurant founded by Wayne's father, Wayne Baquet Sr., in 2004.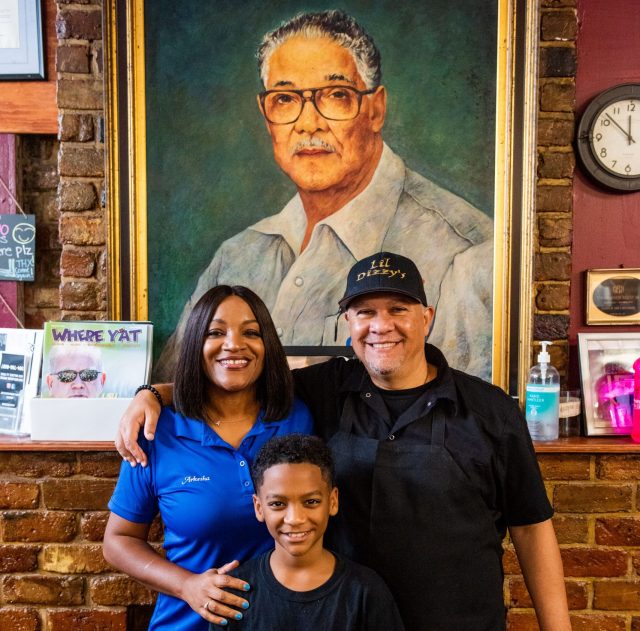 The Baquets and Their Long-Standing Culinary Legacy
The family has a long, rich culinary legacy in New Orleans. Before Li'l Dizzy's, there was Zachary's on Oak Street, and before that, Eddie's in the Seventh Ward, run by Wayne Sr.'s father, Eddie Baquet Sr. Eddie learned the business working for his aunt and uncle, Ada Baquet Gross and Paul Gross, at their restaurant, Paul Gross Chicken Coop. The Chicken Coop opened in the mid-1940s and was among the first Black-owned restaurants in the city.
Li'l Dizzy's is the last of the Baquet family restaurants that's still in operation today, and Arkesha and Wayne Jr. took it over in February 2021, after Wayne Sr. retired during the pandemic. (Those who are curious will appreciate this tidbit: the café was named after Wayne Sr.'s grandson Zachary, who played the trumpet at St. Augustine High School and was nicknamed Li'l Dizzy after famous trumpeter, Dizzy Gillespie.) Says Arkesha, "It's a family business where a lot of people like to come with their families."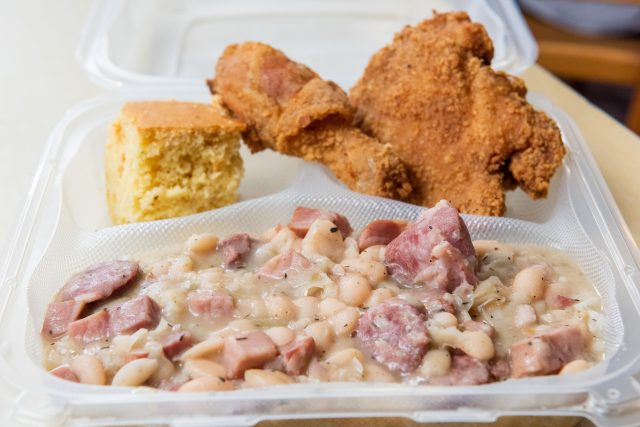 Some Things Have Changed, While Others Have Stayed the Same
With Arkesha and Wayne Jr. at the helm, only a few things have changed: the restaurant just serves lunch, the buffet has been removed, and service is now tableside and take-out. Food is served in take-out containers for the ease of both customers and staff.
What hasn't changed are the recipes. Those have been part of the Baquet family lore for generations. Wayne Sr.'s wife, Janet Jourdain Baquet, created the recipes. A few are by his mother, Myrtle Romano Baquet.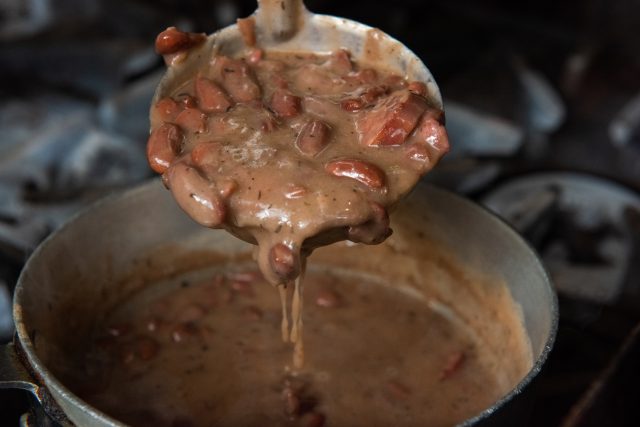 The red and white bean dishes, credited to Janet, are legendary, and the recipes can be found in "The Baquet Family Cookbook".
The two recipes are the same, except for the beans used, but as Arkesha learned early on, the white beans better be Camellia's Great Northern beans – and not lima beans.
"People will have a fit," says Arkesha. "Because, I'm telling you, when we first opened up (post-pandemic), and we started selling white beans, the question almost every customer asked was, 'What kind of white beans are these?' They did not want those lima beans."
Arkesha was asked this question so many times, that she even called Wayne Sr. about it.
"He said, 'If you give them something else, they're not going to be happy,'" says Arkesha.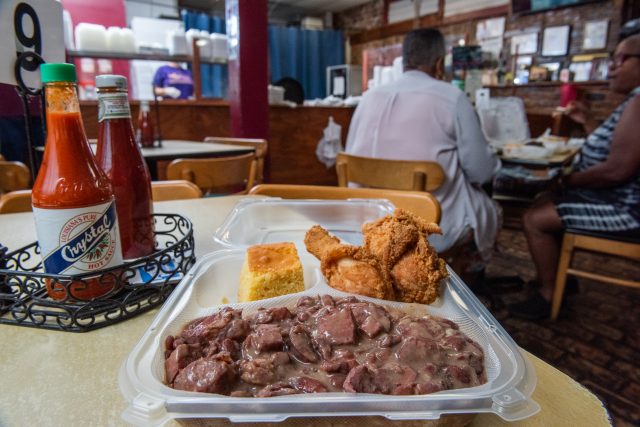 Soaking the Beans and Secret Ingredients
Some additional things that haven't changed are the way the red and white bean dishes are made — using Camellia Beans — and soaking the beans overnight.
"My mother said that it's sacrilegious not to soak your beans," Arkesha says. "I don't know how you would get away with them being good. That's what would scare me; are they going to be hard?"
One ingredient that gives the bean dishes a special kick is the notable hot sausage the Baquets make in-house. The hot sausage can also be served alongside the beans, or customers can choose options like smoked sausage or fried chicken.
The red beans are served only on Mondays and usually sell out, while the white beans are served only on Tuesdays, and are just as popular.
Customers can thank head chef John Cannon (who some may know for playing the tuba in the Stooges Brass Band) and lead cook Lawrence Miller: Cannon makes the red beans, and Miller makes the white beans.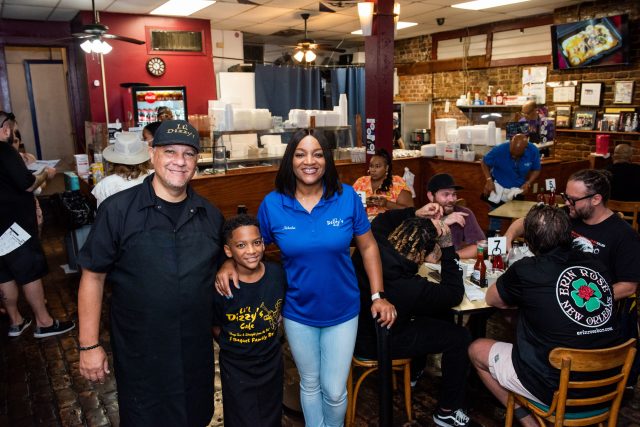 Li'l Dizzy's Third Generation
Li'l Dizzy's third generation includes Arkesha and Wayne Jr.'s children, Jene and Jace, who can be found helping out on Saturdays. Wayne Jr., who is the president of a wholesale company, is there, as well.
"We're all here on Saturdays," says Arkesha.
And they're dedicated to keeping the Baquet culinary legacy alive.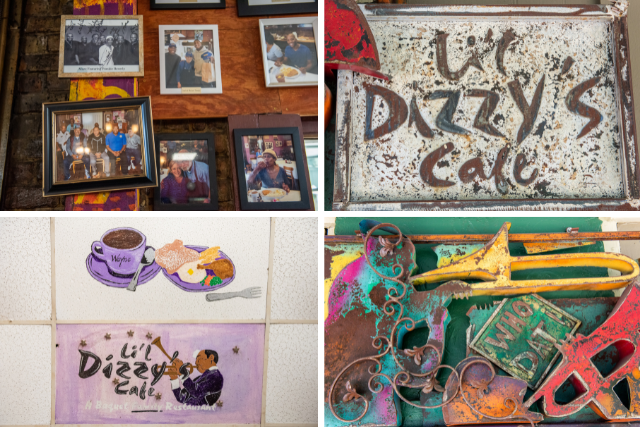 Li'l Dizzy's, 1500 Esplanade Ave., lildizzyscafe.net; on Instagram; (504) 766-8687; Mon-Sat. 11 a.m. – 3 p.m.