Lola Brings Home The Bacon For Red Beans And Rice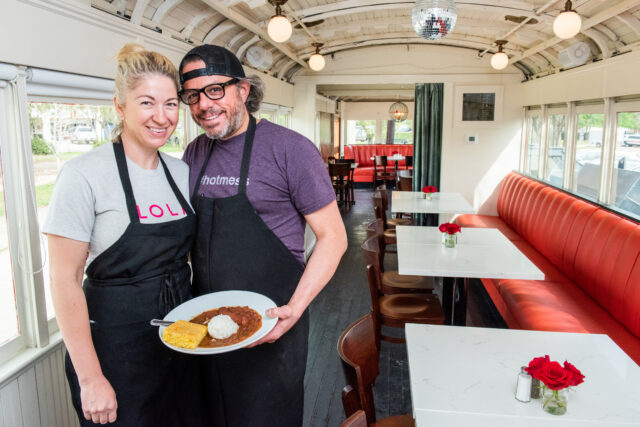 Nestled in a restored 1920s-era train depot in downtown Covington, Lola is a place where you will run into your neighbors, co-workers, family and friends — anyone who has a hankering for what co-owner Chef Keith Frentz says is "simple Southern fare."
That's because for the past 17 years, Keith and his wife, co-owner Nealy Frentz, have hit on a comfy alchemy of food and atmosphere that has made Lola a success.
The duo, who both went to Johnson & Wales University culinary school in different cities, met just before Hurricane Katrina when they were sous chefs at Brennan's. Keith was born and raised in Covington; Nealy is originally from California. 

The Lola Menu
The menu — featuring an assortment of Southern-inspired dishes with a focus on seafood — is what brings customers back. Another highlight is the restaurant's charming set-up; it conjures up the small town-feel of Covington during the 19th and early 20th centuries, when it served as a transportation and commerce hub for the Northshore.

The brick-walled main dining room is part of the original depot and features a large painting of a pig by Simone Burke. (Keith says he won't ever sell it, even though he has had offers.) Also on the walls are the daily specials – listed on a brown Kraft paper "poster."
What's fascinating is that the kitchen and an adjacent dining room are fashioned out of railroad cars. Of note is "The Doodlebug" – a Model 75 Gasoline Engine Driven Rail Car commissioned on Nov. 24, 1925 by the Columbus & Greenville Railway Company and built by the J.G. Brill Company. After years in service, it was retired in 1948 and went into private ownership, eventually moving to downtown Covington. Refurbished in 2017, the car's exterior was painted the same green as that of New Orleans streetcars.

Red Beans and Rice, Made the Lola Way
Red beans and rice, which figures prominently as a Monday special, is one of Keith's favorite things to make, though he admits gumbo is up there, too. (Both were big sellers for take-out during the COVID-19 pandemic.)
As it turns out, Keith didn't grow up eating or even making red beans.
"I never experienced red beans until I was working at Brennan's, and one of my old friends, cook Kenney Riley, taught me how to make them," says Keith.
Riley instructed, "One pound of beans, one pound of butter, 10 pieces of bacon, and the trinity [onion, celery, bell pepper]." Keith remembered thinking that was a lot of butter for one pound of beans; but, after Riley added the sausage, Keith realized it was the best thing he had ever tasted. 
The red bean bug had bit, and Keith proceeded to develop the recipe he now uses at the restaurant.

Keith's Secret Ingredients
Now, some may think that the butter would be the secret ingredient, but for Keith it is bacon fat. 
"I always cook bacon for my sandwiches, so I always have at least eight sheet pans of bacon made on Monday," he says. "The excess bacon juice goes into the beans."
Another must-have ingredient is Camellia Beans, which Keith says are the only ones he will use.
"I don't soak them because they cook really fast," says Keith. "They are going to reduce down and smash each other. Once I get them to a boil, I put them on low because unfortunately, I have burned a lot of red beans."

Mondays at Lola
Keith's Monday morning routine is this: "First thing I do when I arrive is put my pot of water on, then add the butter, all the dry seasonings such as paprika, salt and pepper, cayenne, dried parsley, garlic, and thyme, then red beans, and I let it boil for a while," he says. "Next, I will add the trinity and smoked sausage. When the bacon is done, I will add the bacon fat."
When completed, the red beans and rice is served with cornbread.

And on Tuesdays…
The red beans and rice often sells out on Mondays, but when it doesn't, Keith will make red bean hummus or red bean succotash on Tuesdays. His red bean succotash is a variation on part of a dish that earned him the title of King of Louisiana Seafood in the 2012 Louisiana Seafood Cook-Off. The full award-winning dish was a cornmeal-dusted wild Des Allemands catfish with Camellia red bean & local crawfish succotash, braised collards, and house-made tartar sauce.
Has Keith ever used red beans in other dishes? Yep, in a red bean gumbo. "And it was good!" he exclaims.
Here's hoping to find that dish on the Lola menu soon! But if not, red beans and rice will remain a well-seasoned favorite at Lola.
Lola, 517 N. New Hampshire St., Covington; (985) 892-4992; http://lola.kitchen/; on Instagram @lolacovington; Hours: Mon.- Fri. Lunch, Dinner Fri. and Sat.