Slow Cooker Jambalaya: Step By Step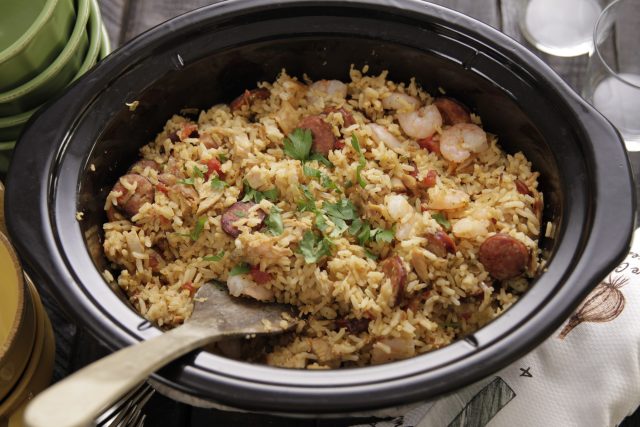 While cooking a big, steaming pot of jambalaya might seem like too much work for a busy weeknight, our Jambalaya Cajun Seasoning Mix takes all the fuss out. Easy to prepare, with just the right seasonings and spices incorporated into the mix, all you need to do is add a few fresh ingredients and simmer in your slow cooker or on the stovetop. And the recipe is on the back of the bag, so you can pick up whatever else you need while you're at the grocery store. And before you know it, dinner will be on the table.
This mix is so versatile, you can add any kind or combination of pre-cooked meats you and your family prefer – from chicken to sausage to shrimp to ham and more. And with just two pounds of meat and 5 cups of water, you're actually good to go. Or, to customize it and add a little more flavor, it's optional to add any of the following – chopped onion, green pepper, celery and diced tomatoes.
For those who rely on a slow-cooker for ease of prep and the convenience to do other things while dinner's cooking itself, you'll especially love this recipe. While the stovetop version takes just 35 minutes, the slow cooker version lets you set it and forget it, keeping dinner warm till you're ready to sit down at the table; so here's a step-by-step how-to that'll help you get dinner done in no time.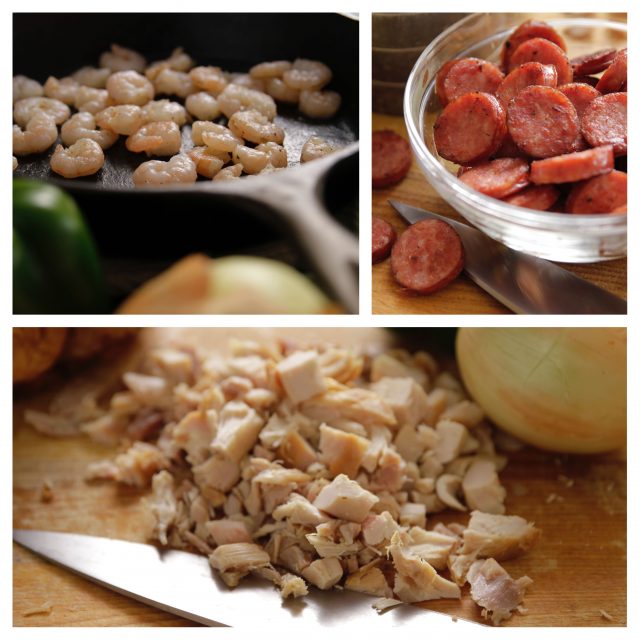 1. First up, since the recipe calls for pre-cooked meats, chopping up a rotisserie chicken from the deli department is the quickest way to go. Then, if you're looking for some variety, sauté some fresh shrimp in a little butter (this takes less than 5 minutes), or slice up pre-cooked sausage like turkey, smoked, andouille, etc. As long as your total protein comes to about two pounds, any combination will work.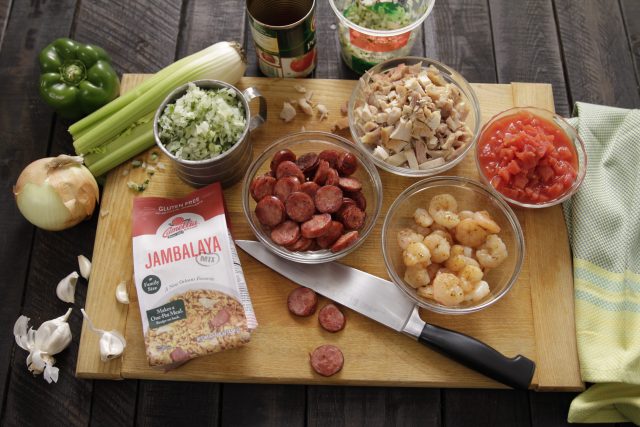 2. Next, if you'd like to add chopped onion, celery and green pepper, using pre-chopped trinity will also save time and effort. And the same goes for a can of diced tomatoes vs. fresh. Remember, it's all going in the slow cooker, so convenience is key. Maybe some extra garlic thrown in for good measure, and you've got your building blocks for a delicious jambalaya.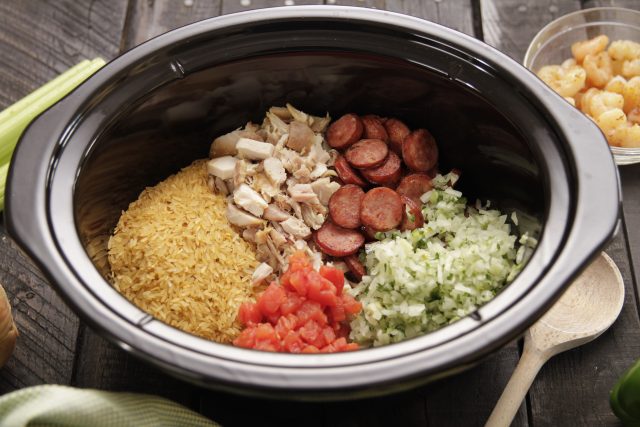 3. Add the pre-cooked meats, the package contents of the Jambalaya Cajun Seasoning Mix, plus the optional chopped trinity and diced tomatoes to the slow cooker. (Note: if you're using shrimp, don't add it until there's only 15 minutes left of time left on the slow cooker. You don't want your shrimp to be overcooked.)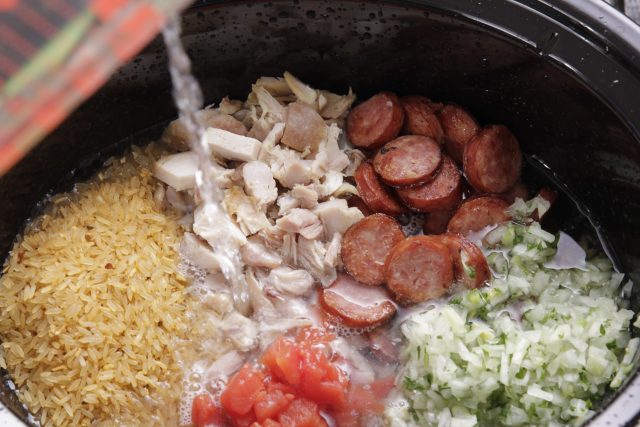 4. Then add 5 cups of water, mix all ingredients together, and set the slow cooker for 3 1/2 hours on High, or for 8 hours on Low.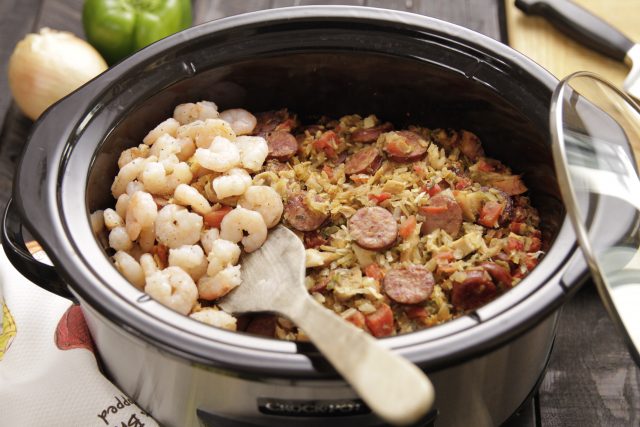 5. When there's 15 minutes or so left of cook time, add the pre-cooked shrimp on top. Cover and finish cooking.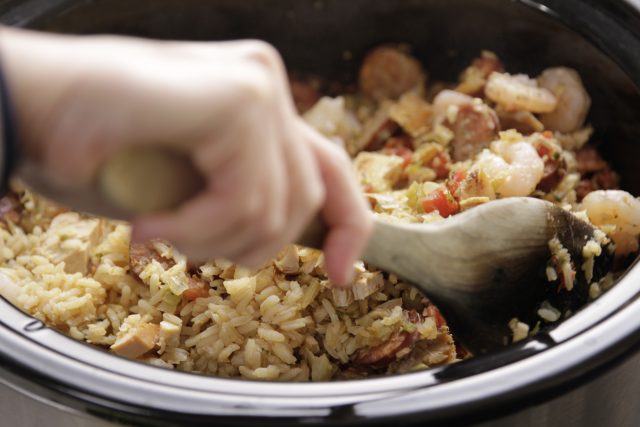 6. When finished cooking, stir contents to evenly distribute shrimp.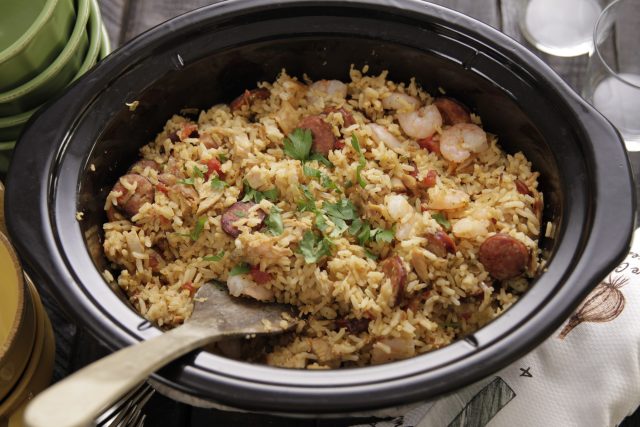 If desired, add a little fresh chopped parsley, serve hot and enjoy! The deep flavors of this mix are not too spicy but not too mild, so be sure to serve with your favorite hot sauce and let everyone season to taste.