Mena's Palace: The Hero of This Odyssey Stayed For the Red Beans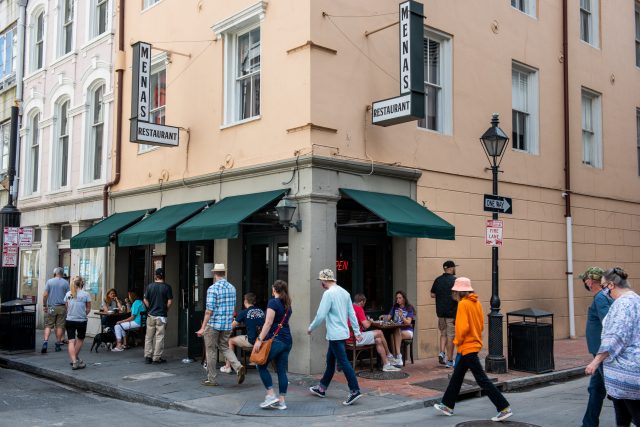 Forty-five years ago, Leo Christakis decided to purchase Mena's Palace in the French Quarter as a way to move back to Greece. When he learned that the restaurant was for sale, he told his brother, Leo, "Let's buy it, make some money to save up, and move back to Greece." His brother agreed. But as the years went on and the business continued to thrive, Christakis and his family began to build relationships and friendships with those who lived around the restaurant. "In my culture," he said, "you go to a friend's house, and they ask you what do you want to eat? What do you want to drink? Then, we sit around and talk, and drink, and eat. That is how we do it here, that is how we take care of our customers."
"He refuses to buy any other brand than Camellia."
"It's all he's ever cooked with," said Leo's daughter and restaurant co-owner Ellie Christakis, referring to her dad. "One time, an order came in for lima beans. Our supplier had sent a different brand and we had used them because we had to make some lima beans. He tasted it. 'No. These aren't Camellia,' he said. 'Don't order anything but Camellia.' And we definitely learned our lesson. The color was different. The taste was different. It's amazing what a difference Camellia makes."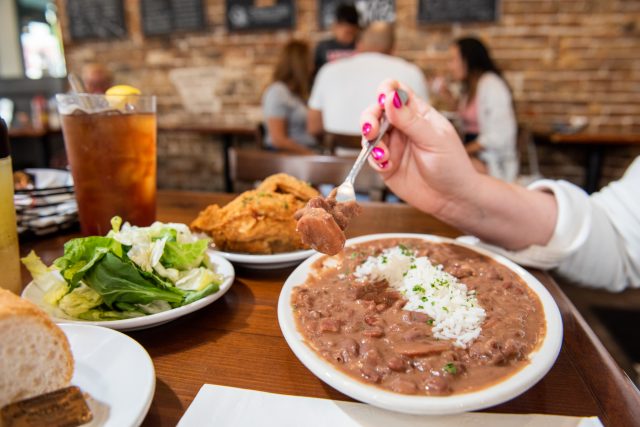 Start with the trinity.
At Mena's they start their red beans with the trinity (onions, bell peppers and celery). They sauté it down and add smoked sausage as the seasoning meat. Once the red beans are added, they cook them for a long time to get to that creamy texture and serve them with fried chicken or smoked sausage on the side. Ellie Christakis explained that the family uses Camellia products at home, too. She makes the Greek soup 'Fakes' with Camellia lentils. The soup (pronounced 'Fah-kehs') is traditionally made with lentils, water, red onions, garlic, bay leaves and a tomato puree (if you want it reddened) and served with an added drizzle of extra virgin olive oil and lots of vinegar. "There's another one called a 'Fasolada' and it uses a Great Northern Bean. And we only use Camellia," Ellie Christakis said of the soup that many consider to be one of the national dishes of Greece.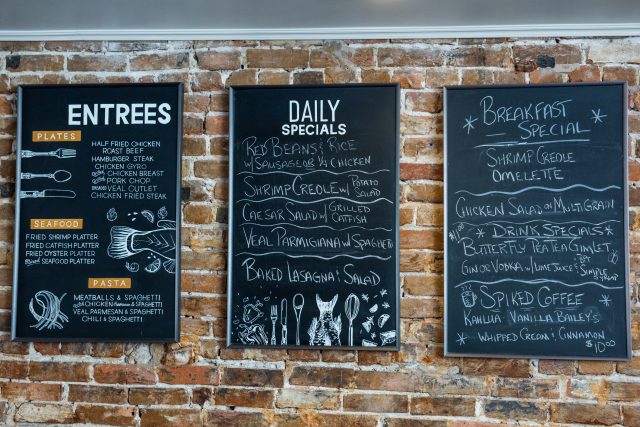 Here for the community.
One thing that has been certain about Mena's Palace and the Christakis family is that they have always put the needs of the neighborhood first. Whether it was coming back from Hurricane Katrina or riding out the pandemic, their top priorities have always been to treat everyone like family, keep prices low, serve big portions of high-quality food, and remain consistent. "We appreciate our customers and the relationships and friendships we have with them," Ellie Christakis said. "New Orleans is such a nice city, especially in the French Quarter. There are so many good people. A lot of warmth and love."
New Orleans is home.
"I wanted to move back to Greece, but never did," said Leo Christakis reflecting on his decision to stay in New Orleans and continue operating Mena's Palace with his family. "You get to understand the people, and I loved that. I wanted to see the customers happy and the rest took care of itself. I am 77. I'm still working, and I still like it."
Written by Eric Olsson