New Orleans Tradition of Red Beans and Rice on Mondays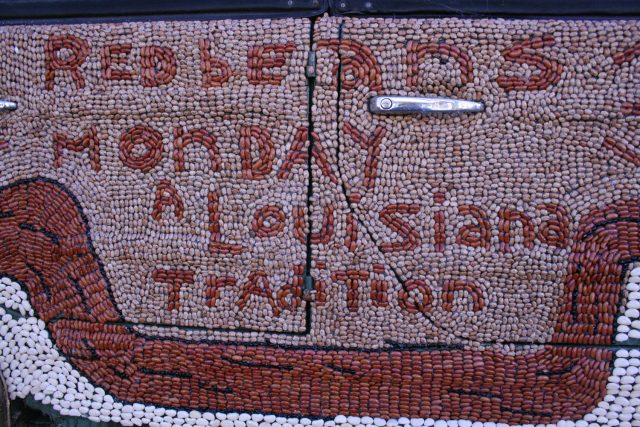 Old habits die hard. New Orleanians continue, with ritualistic fervor, to consume red beans and rice on Mondays. Spicy Caribbean recipes for beans and rice were brought to the city in the late 1700s by French-speaking Haitians fleeing the revolution in Saint Domingue (modern-day Haiti).
Local housewives and housekeepers quickly adapted the thrifty, convenient practice of tossing meaty ham bones leftover from Sunday suppers into simmering pots of red kidney beans that could be left to cook, undisturbed, over a low flame for hours – leaving them free to engage in the arduous Monday drudgery that was "laundry day." Despite the modern convenience of washing machines and dryers, the Monday red beans tradition continues today, often in a slow cooker while the cook is at the office.
Those disinclined to cook the Monday staple themselves need only walk a block or two to a local eatery; red beans and rice is one of New Orleans' few iconic dishes to be commonly cooked both in people's homes and in restaurants.
Red beans are great when cooked down with meat, and modern cooks are as apt to season their pots with smoked sausage (preferably andouille), pickled pork, or a store-bought smoked ham hock as they are the leftover ham of Sunday suppers gone by. Restaurants frequently offer grilled sausage, a fried or grilled pork chop, or even fried chicken alongside the traditional plate of red beans and rice.