Red Bean Essentials: Pickled Pork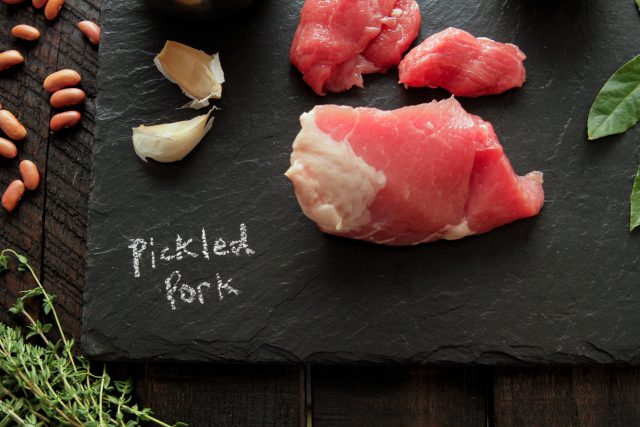 Red Bean Essentials: Pickled Pork
Southerners love the richness that seasoning meats like pickled pork add to pot of red beans. Before refrigeration, preserving foods was a challenge, and every culture developed some version of pickling or preserving in a salty brine or vinegar. Herbs and spices, such as mustard seed, garlic, cinnamon or cloves, were often added. Pickled pork, a.k.a. pickle meat, was born of this process, providing seasoning while also preserving shelf life. And because it adds such unique flavor, the practice of including pickled pork is still beloved today – whether you're cooking red beans or other iconic Southern dishes like butter beans or stewed vegetables.
Pickled pork is rendered supremely tender from its brine and can be relied upon to break down and saturate the other ingredients in the pot with its delicious flavors. So when you cook with it, you'll want to hold off on adding salt before tasting the cooked beans — because the salt released from the pickle meat should be plenty to season the pot. It also adds a tang or vinegary taste that many fans love.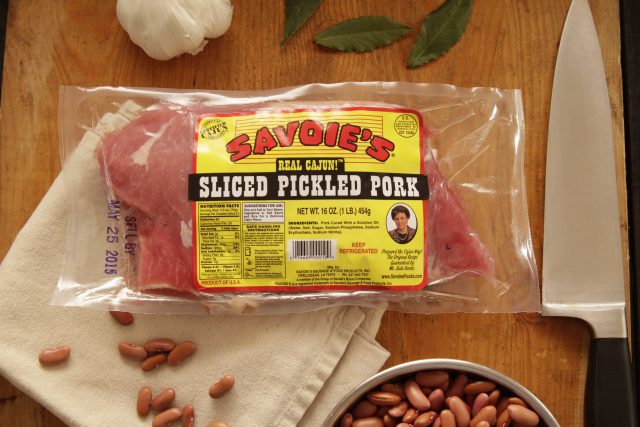 At most Louisiana grocery stores, pickled pork is readily available in hunks, smaller chunks, or slices from brands such as Richard's and Savoie's — both of which call themselves "Cajun" — and Vaucresson's, which claims Creole as its heritage. No matter the brand, the aromatics and spices used in the brining process are all about the same. If pickle meat is unavailable where you are, you can buy it online, or easily make it yourself with a pork shoulder roast and seasonings.
Check out our recipe for Pickled Pork.
Try a few Red Beans & Rice recipes that feature pickled pork: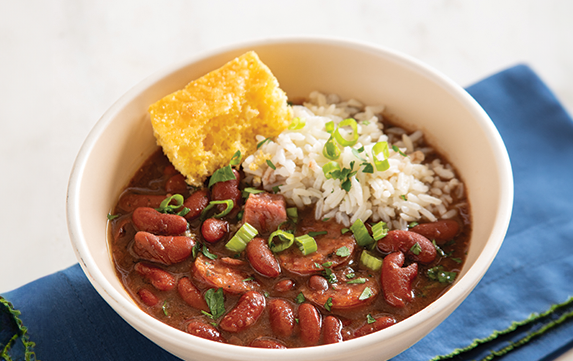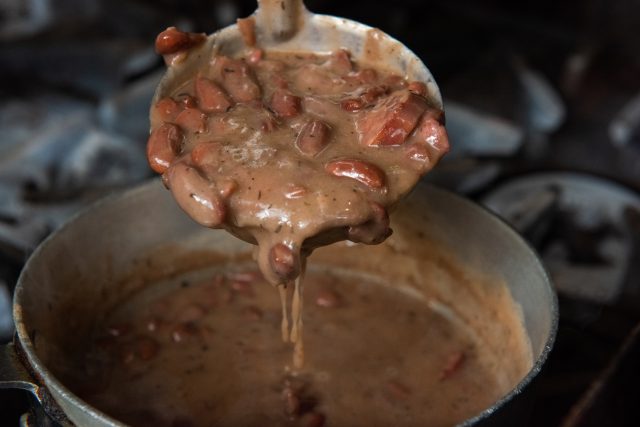 See how some cooks use it alongside other ingredients to get the best-tasting red beans around:
"Andouille, diced pickled pork, garlic, Tony's, and a really good blend of other seasonings."
Liz X.
"Bacon grease-sauté onions-pickled pork, Tasso, little roux, ham base, low and slow till they cream, green onion tops at the end!"
Jimmy Y.
"Pickled meat, garlic, bay leaf, onions and let them simmer on top of the stove! Serve over rice with a little hot sauce, fried chicken, and fresh French bread!"
Daphine J.
"Soak and rinse them. Put them in the crockpot with some onions, garlic, celery, boiled pickled meat, kitchen bouquet, and brown gravy powder."
Adia H.
"I use hickory smoked bacon! The grease from the bacon will make the beans creamy and flavorful!! But I can't forget the smoke sausage, pickled meat, and ham hocks!!!"
David H.