95 Years and Still Cookin'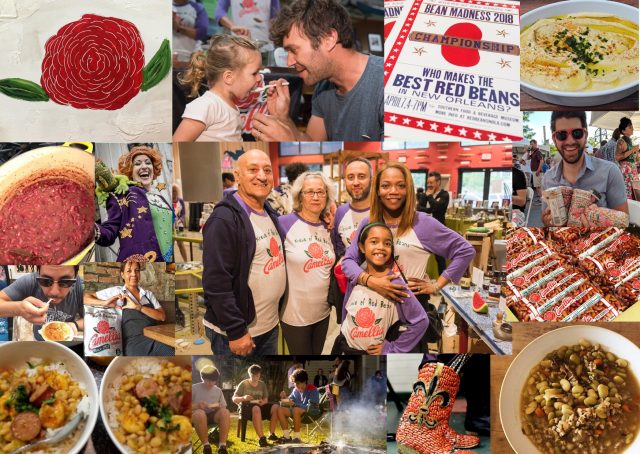 Making Memories & Enjoying Family Meals
Camellia Brand has been bringing people together to make memories and enjoy family meals for almost a century. We've always delivered the best beans around, so that you can cook your favorite dishes to creamy perfection for the people you love most. At Camellia, we put our heart and soul into our products, and that's a recipe that's kept us going for 95 years and counting.

It All Started in 1923
In 1923, our founder L.H. Hayward started selling red beans at the Old French Market in New Orleans. His son, Gordon Hayward, trademarked "Camellia Brand" after his mother's favorite southern flower. Around 1940, he came up with the revolutionary idea to package beans in individual cellophane bags. And to this day, those bags remain a staple in kitchens across New Orleans and across the country. In fact, Camellia now packages 19 different varieties of beans, peas & lentils, with something delicious for everyone. And we're proud that all of our legumes are grown in the USA, non-GMO certified, and rank above the highest USDA grade for quality and freshness.

Loyal Fans & Camellia Bean Culture
But over the years, the most important ingredient to our success has been our customers and loyal fans. Like a dish that's been slowly simmered and lovingly tended to, the best things in life take time, and our fans are the reason we're the iconic favorite today that they've relied on year after year. From those who strut their stuff in elaborate, homemade bean costumes in the Red Bean Parade and Dead Bean Parade, to those who cook their best red beans & rice dishes in the annual Bean Madness competition, our devotees continue to find new and quirky ways to salute and celebrate Camellia bean culture. And we want to say thank you — for cooking, seasoning and partying right along with us as we commemorate this big birthday!

Love Stories from Our Fans
"I grew up on red beans and rice. My mom would make them every Monday. You knew as soon as you got home from school that it would be just deliciousness. The beans were always cooked to perfection , the sausage melted in your mouth. She always served it with rice and cornbread…..ahhhhhhhh Love in a bowl!!" Gwen W.
"For the last 15 years we have lived in Southern California, so every time we visit home or the in-laws come to visit, we always pack our bags with many pounds of Camellia red beans, some cajun shake and some crab boil. Thank you for keeping the beans consistent all this time! Looking forward to many more pots of "home". Justin B.
"When I behaved well my mom would give me a bean. When I'd collected a whole jar of beans, I could trade them in for money to buy a treat. After trade-in, they might have ended up in my mom's 3-Bean Soup." Akasha
"I have raised more generations of babies than I have beans in the pot. And they all love their hot lunches. Red, black, white, doesn't matter what color  – it's a healthy meal and the price is right." Aida G.
"In Louisiana, the brand of beans that most of us agree on is Camellia brand red beans. I don't believe any other brand gives the correct tenderness and hue that is a requirement of true "red" beans." Antonio T.
"Now that is a taste of home! Shipping 30 bags of @camelliabeans to North Carolina today!" #onlythebest #redbeansdoneright Cajun Crate
"Damn these are good beans. Even my wife, who isn't a real fan of beans, had to admit they were the best beans she had ever had." Bigtanuki
"The best beans I have ever tasted, coming from a chef who grew up on a farm with some of the best food in the world!! I will have no other bean in my kitchen save Camellia Red Kidney Beans." Big John