Beans Simmered with Pork: Deeply Flavorful Dishes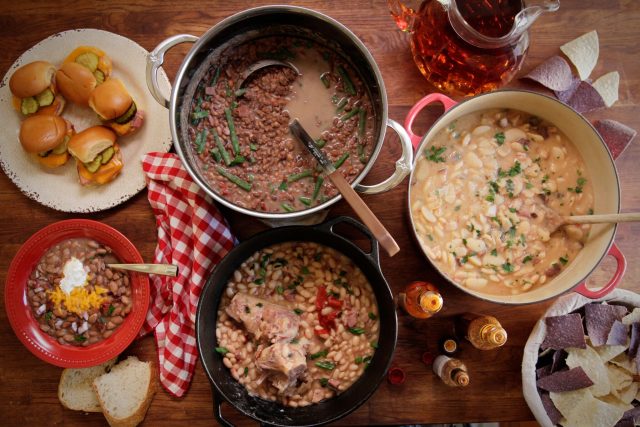 Raised on her family's farm in Mississippi and classically trained as a chef at Le Cordon Bleu in Paris, France, Chef Jennifer Hill Booker puts an authentic, interesting twist on even the most humble pot of beans. And the recipes featured here from her cookbook Field Peas to Foie Gras: Southern Recipes with a French Accent are a testament to her skill and ingenuity. Combining what at first glance might seem like two disparate types of cuisine — Southern and French — she has found a way to celebrate their similarities, by incorporating nose-to-tail cooking and using every part of the pig. Featuring such richness-producing cuts as hog jowls, ham bones, salt pork, and ham hocks, these savory recipes don't let anything go to waste and are loaded with flavor. And with the addition of garlic, onion and dried red chili peppers, they create welcoming meals for family suppers and friendly get-togethers alike.
Chef Booker notes that her delicious Butter Beans & Hog Jowls dish gets its richness from the bacon-like flavor but firmer texture of hog jowl. From the cheek area of the hog, hog jowl can be used fresh, cured or smoked and remains firm during long cook times. As she explains the Southern-French connection, "Beans and greens are a huge staple in Southern cuisine and cooked in much the same way here as they are in French cuisine. Whether the beans you use are fresh, frozen or dried, they are cooked the same way — by adding a liquid, a cured or smoked piece of meat for flavoring, and seasoning." With Butter Beans & Hog Jowls, the broth becomes thicker the longer you simmer the beans, and the dish is even more heavenly when served with cornbread.
Great Northern Beans & Ham is another of Booker's favorites, and its wonderful flavor comes from the use of both a ham bone and diced ham. The marrow hidden inside a ham bone adds amazing richness to the dish and melts into silky goodness when slow-simmered. And the diced ham is a meaty addition that makes the meal hearty and comforting in every way. Serve with melty grilled cheese on sourdough for an irresistible combination.
Pinto Beans & Ham Hocks is a dish that's savory and satisfying, and the ham hock imparts marrow-rich flavor that enhances the beans. Chef Booker explains, "The longer you cook your pinto beans, the thicker the sauce or "gravy" will become. I find it best to cook them a day or two before you plan to serve them, and refrigerate until you are ready to reheat and serve. This guarantees a thick, rich pot of beans." For a little color and freshness, garnish with chopped spring onions, or top with sour cream, shredded cheese, chopped red onion and bits of bacon for even smokier flavor.
Made with salt pork, Field Peas & Snap Beans epitomizes both down home goodness and Booker's childhood experience. Like bacon, salt pork is made from pork bellies and adds great meaty flavor and luxurious fat — slowly rendering down as the peas cook. As for the addition of snap beans, Chef Booker notes: "It doesn't matter if you start with fresh, frozen or dried field peas, they always turn a muddy color when they're cooked. It made me realize that my grandmother always added snap beans (or string beans) to her pot of peas to provide a bright spot of color." To round out the meal and feed a hungry crowd, try serving alongside a slew of toasted ham and cheese sliders.
For more recipes from Chef Booker, check out Field Peas to Foie Gras: Southern Recipes with a French Accent. You'll find more savory Southern dishes like Tomato and Okra Gravy, Glazed Turnips with Pearl Onions and Brown Butter, Fresh Pork Sausage, Hickory-Smoked Chicken Croquettes and Venison Stew.