Brazilian-Style Blackeye Pea Fritters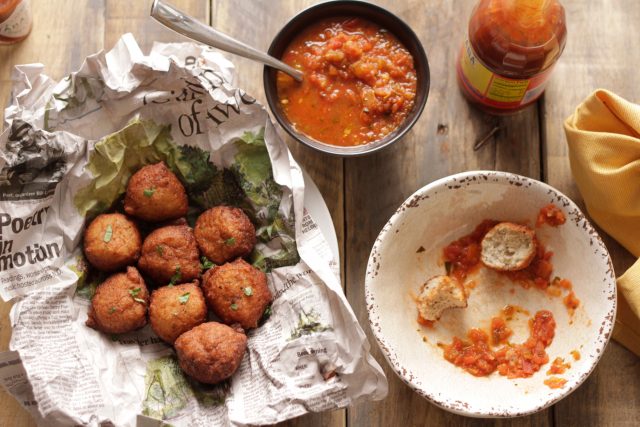 The History of Blackeye Peas
On the African continent where these legumes were first domesticated, blackeye peas were planted on the borders of fields to help keep down the weeds. They were also used to enrich the soil. Cattle grazed on the stems and vines, giving rise to some of the legume's alternate names: cowpeas and field peas.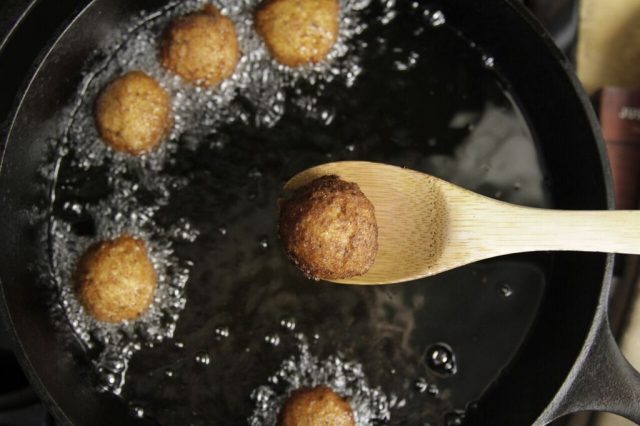 A Southern Staple
In the United States, few foods are more connected with African Americans than blackeye peas. Before the early 1700s, they were growing in the Carolina colonies, became one of the area's first cash crops, and were exported to the Caribbean colonies where they were also prized. In the United States, they appear in early cookbooks like The Virginia Housewife, in which Mary Randolph suggests making a fried bean cake that is garnished with "thin bits of fried bacon." Today, they come into their own at the holiday season when no self-respecting southerner will go without a dish of blackeye peas for luck on New Year's Day.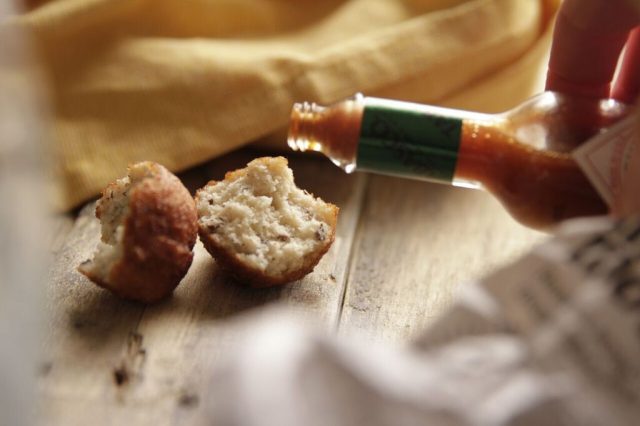 Fritter Heaven
In the Caribbean, they turn up in a myriad of beans and rice combinations but take a back seat to the Congo or gunga pea there. They come back into their own in Brazil. There, in the northeast region, the pea is transformed into a fritter known as an acarajé, which is the traditional street food of Salvador da Bahia. The fritters are made to order and dressed with a selection of fish pastes and hot sauces to the buyer's taste. No trip to the city is complete without the taste of at least one. The following recipe is for non-traditional fritters that use ginger and garlic and that don't call for skinning the beans. One bite, though, and you can almost feel the sea breezes blowing off the harbor.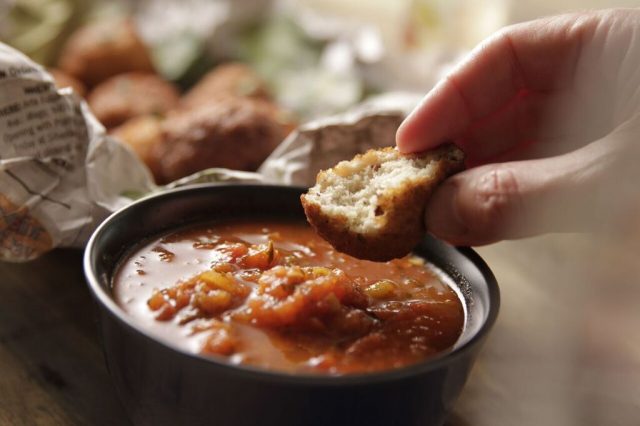 Ingredients:
1 (1-pound) package Camellia Brand Blackeye Peas
1 large onion, coarsely chopped
3 teaspoons ginger paste*
2 teaspoons garlic paste*
Salt to taste
Oil for frying
*Both ginger and garlic paste are readily available in supermarkets, usually found in the fresh produce/herbs section.
Directions:
1. Soak blackeye peas 8-10 hours or overnight.
2. When ready to prepare, place soaked blackeye peas in a food processor with remaining ingredients. Process until a smooth, thick batter forms, with no lumps. Add salt to taste. Empty batter from food processor into a large bowl, and aerate it by beating for 2-3 minutes with a wooden spoon.
3. In a large heavy skillet or Dutch oven, heat at least 2 inches of oil for frying. When ready to fry, stir the batter again, and drop by large spoonsful into the hot oil. Allow to brown, turning each fritter once. Continue to stir remaining batter to aerate it before frying.
4. Drain fritters on absorbent paper, and serve hot with hot sauce, salsa or condiment of your choice.
Makes about two dozen fritters.
Written by Jessica B. Harris, a culinary historian, journalist and acclaimed cookbook author who has been honored for spreading the word of African and Caribbean cuisines around the world.