Good Food for Good People: Helping Real Heroes
A delicious, nutritious, and comforting meal has never been more important than it is right now. While we're working hard to keep the dry goods aisle of your local stores stocked with your favorite dried beans, peas, and lentils, we're also doing what we can to feed those in need.
How are we doing this? By donating thousands of pounds of beans to those who are feeding healthcare workers on the front lines, out-of-work restaurant staff and their families, artists, musicians, homebound seniors, and those with compromised immune systems.
We're grateful for these chefs, leaders, and non-profits and the tremendous work they're doing to care, cook, and serve food to others — all in the name of getting our communities through this tough period, one day at a time. Read on to learn more.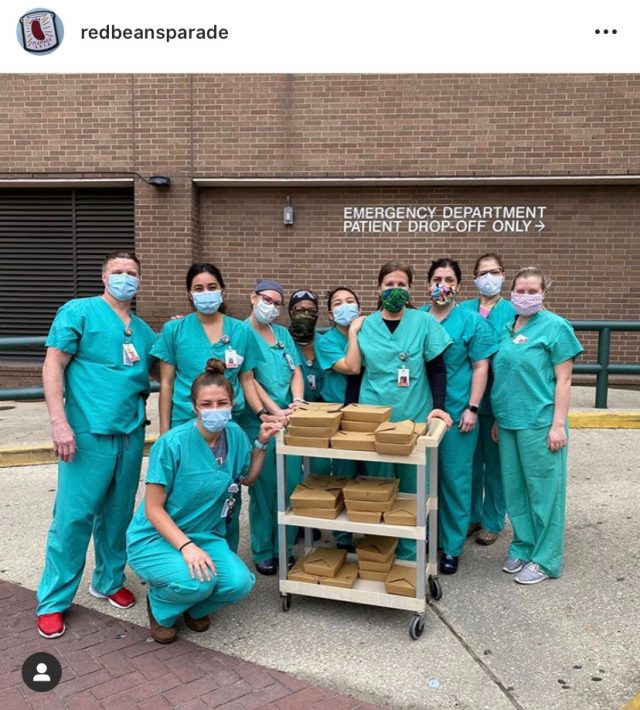 The Red Bean Krewe / Red Beans Parade
The Krewe of Red Beans and its partners, with their 'Feed the Frontline' initiative, helped keep New Orleans restaurants open and staffed to deliver amazing free meals to New Orleans hospital workers on the front lines. Now, their new effort called 'Feed the Secondline' is working to keep local restaurants and farm-to-table networks open for business while supporting those who make New Orleans great — from musicians, Mardi Gras Indians, and Social Aid & Pleasure Club members, to artists and other cultural figures throughout the city. Learn more at www.feedthefrontlinenola.org and www.feedthesecondline.org. To see these folks in action, search @redbeansparade on Instagram.
Chef Isaac Toups and Toups Eatery
Chef Isaac Toups and the Toups Meatery team are cooking FREE, daily family meals that they are offering to anyone in need, especially service industry family. They are also working with Pableaux Johnson and a grassroots group called New Orleans Mutual Aid to deliver meals to homebound seniors and those with compromised immune systems.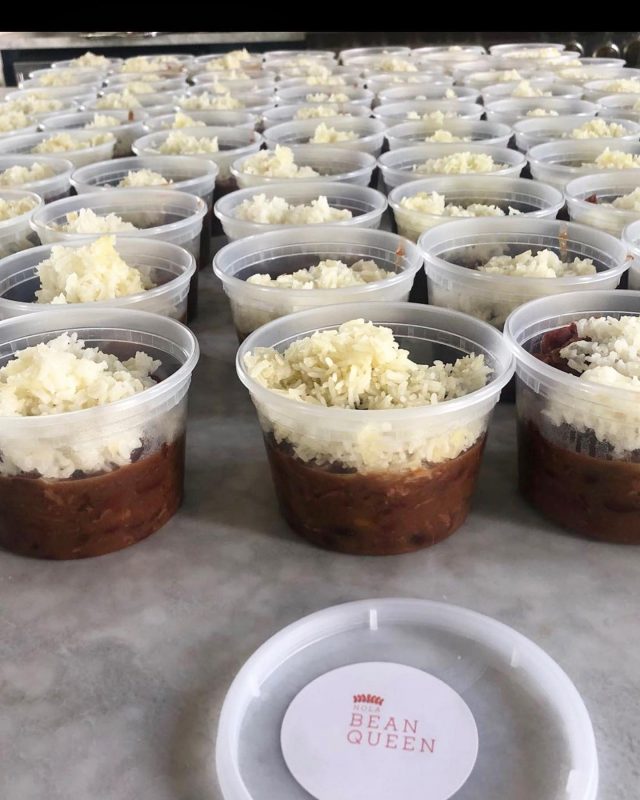 The Red Bean Queen: Emily Shaya
Emily Shaya, our Red Bean Queen, and her husband Chef Alon Shaya are cooking and donating red beans & rice to New Orleans Emergency Medical Services through the Krewe of Red Beans initiative.
Pableaux Johnson of the Red Beans Road Show
Pableaux Johnson of the Red Beans Road Show has been working with different local groups to cook and serve countless pints of red beans & rice to the families of out-of-work restaurant workers and musicians, and he has delivered meals to New Orleans restaurants like Manolito, where hospitality workers are running pickup operations to feed those in need.
A special thanks to the good folks at the Mosquito Supper Club, who invited Pableaux to cook in their kitchen for the month of April. Now, the Southern Food & Beverage Museum is his new host, as he is cooking in their restaurant kitchen formerly occupied by Toups South. With larger equipment, he's now able to cook a 25-lb. bag of Camellia brand Red Kidney Beans in a single batch! This has been greatly helpful in increasing the quantity of red beans & rice that he has been able to deliver and serve each week.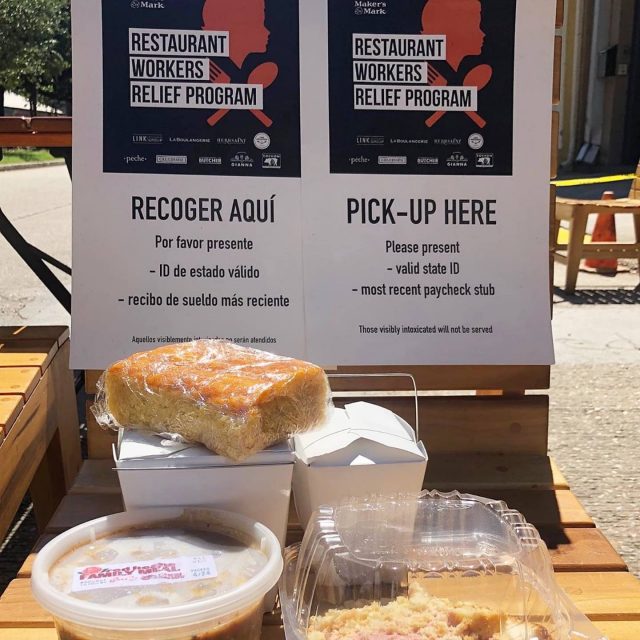 Pableaux has partnered with Cochon to supply and distribute red beans & rice for Monday's Restaurant Workers Relief Program, in partnership with The Lee Initiative. Three times a week, they're giving restaurant workers hot meals and groceries — and Pableaux's 'Red Beans Family Meals' are a part of that effort.
He has also worked with the Krewe of Red Beans initiative to deliver red beans & rice to front-line hospital workers and is now working on their 'Feed the Secondline' initiative. And finally, he is stocking one of Oschner Hospital's break-room refrigerators with frozen red beans & rice.
To date, Pableaux has cooked and delivered over 1800 servings of red beans & rice.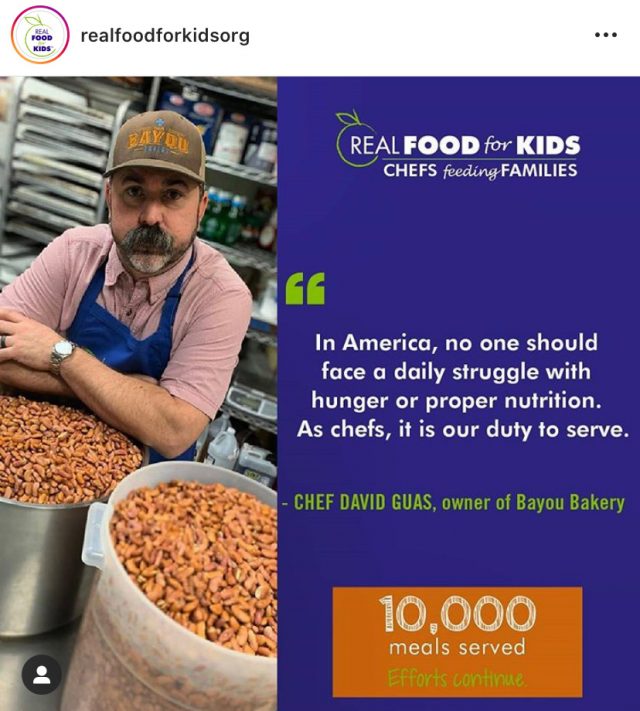 Real Foods for Kids
Real Food for Kids: Chefs Feeding Families is a joint initiative with Washington, D.C., metro-area restaurants to provide nourishing grab-and-go meals to children and families in need and create employment opportunities in the hard-hit restaurant sector.
The initiative was launched on March 17th by Real Food for Kids and Chef David Guas of Bayou Bakery, Coffee Bar & Eatery in Arlington, Virginia. It has since expanded to include collaborations with Silver Diner in Gaithersburg, MD and Pizzeria Paradiso, distributing from two sites in Annandale, VA.
Cultural Aid NOLA
Culture Aid NOLA (CAN) is a collaborative relief effort of several New Orleans' non-profits in the culture and hospitality sectors uniting to provide direct assistance, resources and information to underserved members of the community. They offer no-barrier aid to all who need help, reaching those most vulnerable, who would be otherwise unable to access assistance. The organization has provided almost 14,000 servings of free food in the last month, from bags full of grocery items and produce, to thousands of prepared meals. Staffed and led by people with decades of experience in non-profit disaster response, they are serving everyone from tour guides, gig musicians, and artists to street performers, brass bands and other folks who literally weave the cultural fabric of New Orleans. They require no documentation and no proof of income to access their services because they believe that food is a human right, and that good food is essential to mental and physical health.
Cultural Aid NOLA has also partnered with other organizations to provide direct food relief, as well as Medicaid access navigation services, reliable health and wellness information, information about using SNAP benefits at farmer's markets, easy recipes for the groceries provided, and advocacy for cultural groups.
And finally, we're also proud to support other local groups like the Salvation Army New Orleans, Ozanam Inn, St. Rita's, and the Jefferson Parish Sheriff's Office.