Host a Great Mardi Gras Party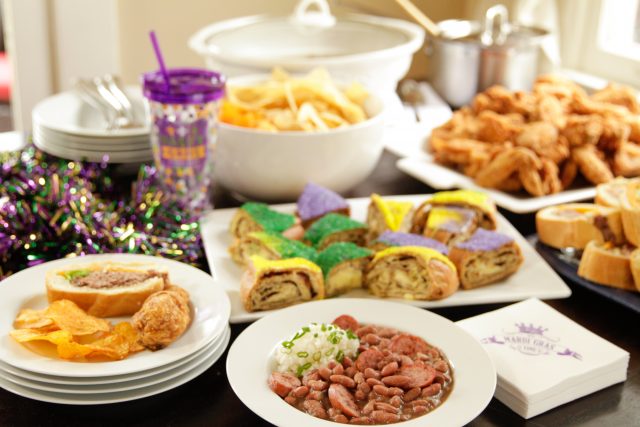 Festive Mardi Gras Party Foods: Red Beans, Jambalaya, Fried Chicken, Po-Boys and King Cake
Mardi Gras parties in and around New Orleans range from the truly basic (i.e., a box of fried chicken and a six-pack) to the very elaborate (catered affairs with hot cocktail buffets, open bars, and customized go-cups), with no one way to do it up right. But those who live on or near a parade route — as well as those who love to celebrate Carnival wherever they are — tend to have their preferred party hosting plan down to a science, since they usually make an annual event out of it.
Whether you're in New Orleans or just wish you were, throwing a Mardi Gras party is all about fun food that's simple to make and easy to serve. It takes a little planning, but the key is to create a help-yourself spread that doesn't require much fuss and lets guests come and go, grazing as they like and coming back for seconds and thirds. With the menu below, you've got all your bases covered. In fact, the only things you have to cook are the red beans and the jambalaya – and even those pretty much cook themselves in the slow cooker.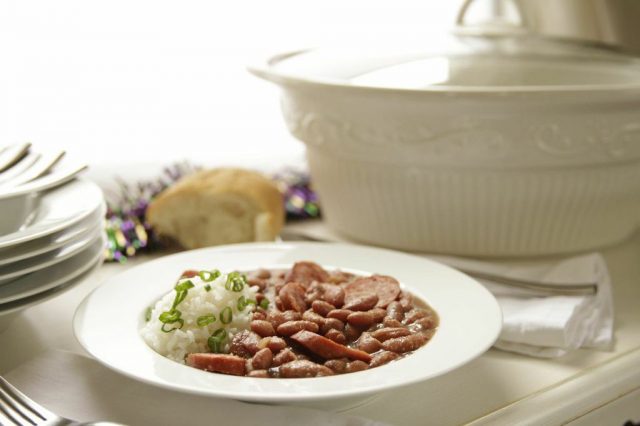 Red Beans and Rice Is Nice – Especially When Made in Your Slow Cooker
A staple of any Mardi Gras menu is Red Beans and Rice. Whether you prefer to use our signature Camellia Red Kidney Beans and this Slow Cooker Red Beans and Rice recipe, or our foolproof, flavorful Creole Red Bean Seasoning and its accompanying Slow Cooker Creole Red Beans recipe – the key is to keep things effortless. And since you don't have to watch the stove, you can enjoy the festivities just like your guests. After your red beans have cooked, simply turn the slow cooker setting down to warm, and the beans can stay right where they are for another couple of hours – getting thicker and creamier all the while. You can also cook your rice ahead of time and place it in a large serving bowl. Guests can add a little rice to a bowl, ladle the warm red beans on top, and enjoy.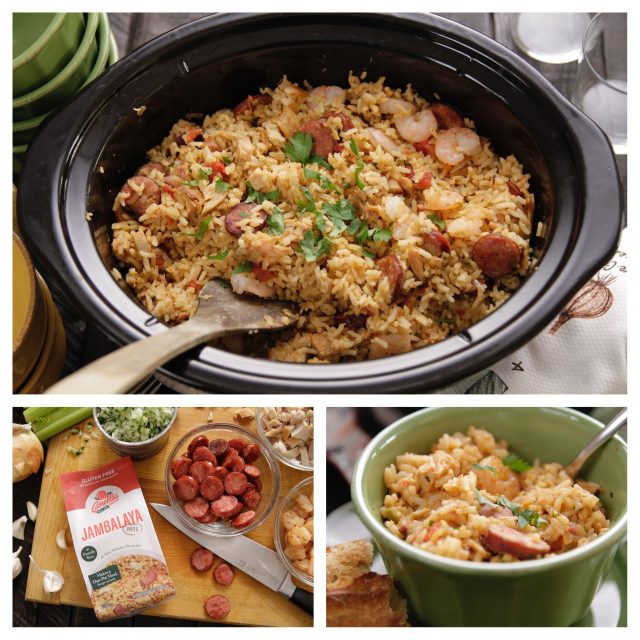 Jambalaya – An Easy Crowd-Pleaser
Another dish that's perfect for your party menu is Jambalaya – and our Jambalaya Cajun Seasoning Mix takes all the fuss out of making it. Easy to prepare, with just the right seasonings and spices incorporated into the mix, just add a few fresh ingredients and simmer in your slow cooker. The mix is so versatile, you can add any kind or combination of meats you prefer – from chicken to sausage to shrimp and more. And the best part? It'll easily feed a bunch of hungry party-goers. Keep it on the warm setting in a slow cooker, or in a chafing dish or food warmer.
Fried Chicken Is a Perfect Choice
An essential for any Mardi Gras party spread is fried chicken. Because it can be served hot, cold, or at room temperature, it's a great dish for a casual party buffet – and it's finger food at its finest. Simply pick up a box or two of your favorite fried chicken, serve on a platter, and make sure there are plenty of napkins at the ready.
Petite Po-boys Round Out the Buffet
Mini po-boys made with tender roast beef, turkey, and ham, dressed with mayo, lettuce, and cheese on French bread are another must-have for your party spread. A Mardi Gras favorite, they're easy to order and to pick up from any New Orleans grocery store, and they're just the kind of thing that appeals to kids and adults alike. Can't find 'em where you are? As long as you can get your hands on some good French bread, they're easy to make yourself. Just as popular and sure to get eaten quickly are an assortment of finger sandwiches or mini muffalettas made with olive salad, mozzarella, ham, and provolone.
Crown Your Party Table With a King Cake
Add to your table a large and generously sliced king cake, and you've got all the party foods covered. (Good thing you can order king cakes online, if you're not in NOLA.) Be sure to add finger foods along with your favorite chips and salsas, and stock a self-serve bar with soft drinks, Bloody Marys, plenty of cold beer, go-cups, and napkins. And with that, the party can get started.
Mardi Gras Party Checklist