Red Bean Essentials: Green Onion Smoked Sausage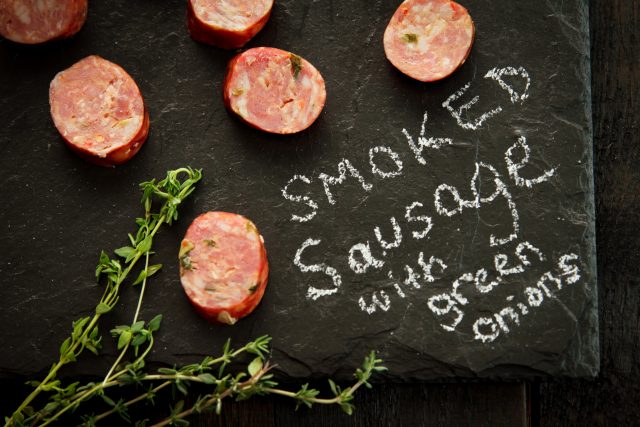 Smoked sausage is a bedrock red beans essential, and many folks wouldn't make a pot of red beans without it. But while there's always the popular Andouille, another local favorite is green onion smoked sausage. Flecked with bits of freshly chopped green onions, this variety of sausage offers a little bit of color and a whole lot of flavor to a pot of red beans. And it's available from Louisiana brands like Manda and Richard's.
Just as with other varieties of smoked sausage, most fans slice and brown green onion smoked sausage in a few glugs of oil, leaving the perfect amount of fat in the pot for cooking the trinity and infusing those aromatic vegetables with smoky green onion flavor. The texture, aroma and taste of green onion smoked sausage is a natural addition to a pot of creamy red beans, and a personal preference for many.
Check out quotes from fans who love making their red beans with green onion smoked sausage:
"Camellias..lots of onions..bay leaf..fry ground green onion sausage Patton's Sausage and Smoked Cajun Sausage drain S&P cook slowly mash 2 cups creamy."
Bonnie M.
"Some good smoked green onion sausages, smoked Tasso, smoked ham hocks, onion, Bell pepper, Tony's seasoning. Slow cook for hours!!!!! I forgot.. GARLIC!!!"
Tonya M.
"Tasso, smoked green onion sausage, onions, little bell pepper, garlic. Chicken broth. Cook on high then turn down. I cook all day. Thick and creamy."
Janet B.