At Fiorella's, Food is a Family Tradition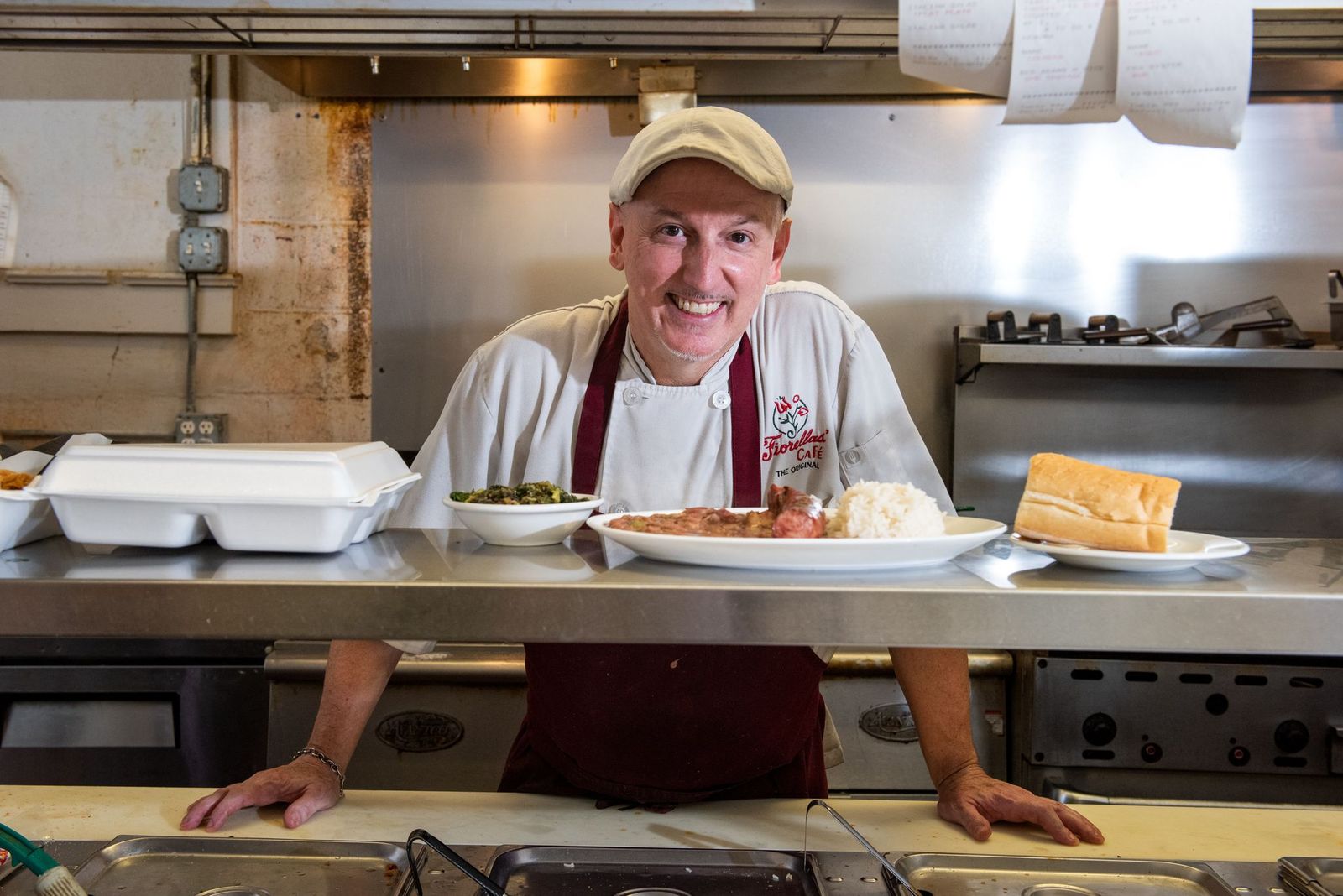 To understand how important the Fiorella family has been to the food culture of New Orleans, just ask the folks who line up early at Fiorella's Cafe in Gentilly, waiting for the doors to open. They wait for that hot and crunchy, award-winning fried chicken that is perfectly seasoned down to the bone. Some are there for the wide variety of po-boys on the menu. And many are there early on Mondays for first dibs on the hearty, smoky Monday red beans and rice before they sell out.
Family Recipes from a French Quarter Restaurant
Owners Kelly and Calcie Fiorella are carrying on a family tradition, with family recipes, based on the original Fiorella's Restaurant on Decatur Street in the New Orleans French Quarter, which was operated by their dad, CJ Fiorella, until he closed it 1999. As that restaurant's origin story goes, CJ was a New Orleans grocer of Sicilian descent who just wanted a good cup of coffee. Every day CJ would make his way to the French Market to buy fresh produce. After taking care of business, he would stop in the Market Place Restaurant and purchase a coffee. One day in 1984, the restaurant's owner, Anthony Bianca, who knew CJ and his family and their love of cooking, approached him and offered to sell him the restaurant. It took a bit of pushing from a friend, but CJ finally accepted, and Fiorella's was born.
CJ renamed it Fiorella's Cafe and brought a large amount of the family's own recipes to the restaurant. Not completely satisfied with the menu, he began to walk around the French Quarter and look at the different menus to see what others were doing. Since this was a family style neighborhood spot, he wanted to make sure he offered red beans and rice on Mondays, served butter beans another day, and stayed true to a typical New Orleans menu – but with a Fiorella spin.
"When my brother and I decided to reopen the family restaurant here in Gentilly, I said to him, I'm the one doing all of the cooking," said Kelly Fiorella. He was not only excited to be back in the kitchen but also to bring back the original family recipes, including the famous fried chicken (they go through about 80 to 100 pounds of it per day).
How do you red bean, Fiorella's?
One plate you will only find on Monday is red beans and rice – a recipe that was handed down from Kelly's grandmother. "It was a tradition, and it was always with Camellia beans," he said. "There were always little bags of Camellia beans in the pantry," he said. "She also had stacks of Camellia white beans, red beans, navy and black-eyed peas. I can remember always seeing that little Camellia logo."
On a typical Monday, Fiorella's goes through about 10 to 12 pounds of Camellia red beans, according to Kelly. It's all made fresh Monday morning and usually sells out by mid-afternoon. And when it's gone for the day, it's gone. Fiorella's red beans recipe is a hearty one. You will find the hint of bacon with the onions, bell peppers, and garlic. They add ham, pork shoulder, and andouille sausage. The key to a good pot of beans, Kelly says, is to cook them low and slow.
Fiorella's Weekday Specials – A Schedule to Live By
Kelly also uses Camellia's large lima beans for the Thursday special of butter beans and rice. "I love the butter beans," he said. "They've got so much flavor to them." Other weekday specials include meatloaf on Tuesdays, Italian sausage and shells on Wednesday, and shrimp Creole on Fridays. The menu also includes favorite family classics like meatballs and spaghetti, veal parmesan, hamburger steak, fried seafood, a variety of po-boys, and of course, the fried chicken. In both 2016 and 2017, Kelly and Calcie earned the "best fried chicken" award at the National Fried Chicken Festival.
"It's all family recipes," said Kelly. "The red beans is a family recipe handed down."
Kelly's love of cooking was sparked early on, when visiting his grandmother. "Every time you walked into that woman's house, it smelled like she was cooking a pot of red gravy or something," he said. "That's my grandmother's meatballs that we use with the spaghetti. She taught us her recipes."
The history of those who came before him is important to Kelly. Black and white photographs of relatives decorate the walls and serve as reminders of the legacy he wants to continue and build upon. The building itself has historical importance, too. The Fiorellas have had a longtime friendship with the Bologna family that formerly operated Teddy's Grill at this location. To pay homage to that friendship and what the restaurant meant to the Gentilly neighborhood, two black plastic bull heads from Teddy's Grill watch over the dining room. "We always just wanted to stay true to what is tradition in New Orleans," Kelly added.
Written by Eric Olsson