Café 615, Home of Da Wabbit, Keeps Gretna Hopping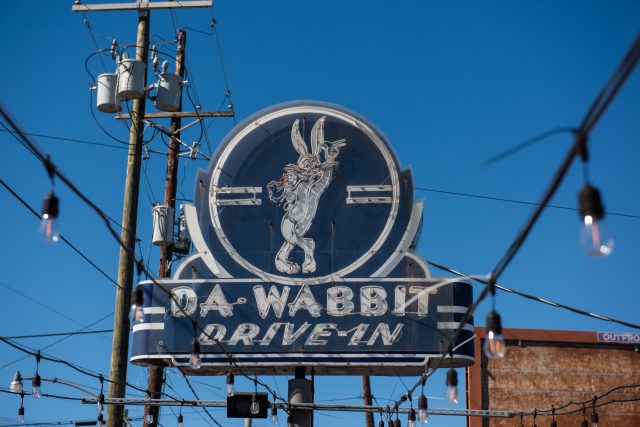 Where everyone knows your name
Café 615, Home of the Da Wabbit restaurant, with its iconic, vintage Bugs Bunny themed neon sign, began as a drive-in restaurant in 1948. Today it continues to be the place Westbankers (and others in the know) go for great New Orleans food. On a typical Monday, which is red beans and rice day, of course, it's packed with diners. The waitresses are in nonstop motion and seem to know everyone by their first name. This familial feeling – not to mention the restaurant's famed red beans – brings the neighborhood here, and that's how owners Donna and Eric Savoie like it.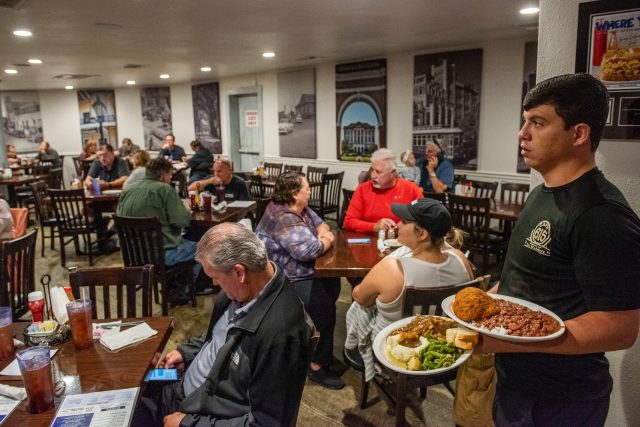 A restaurant history in neon
The Savoies bought this Gretna landmark in 2004 and renamed it Café 615, Home of Da Wabbit, keeping a link to its previous owner, "Da Wabbit" Licciardi, who won the building in a card game in 1946. Before Licciardi owned it, the business was a drive-up diner and bar called Kerner's, which was also known as a place to gamble. Today, this old-school New Orleans tradition and the food keep bringing people back. "That's how our business has grown – by just word of mouth or just locals," says Dawn.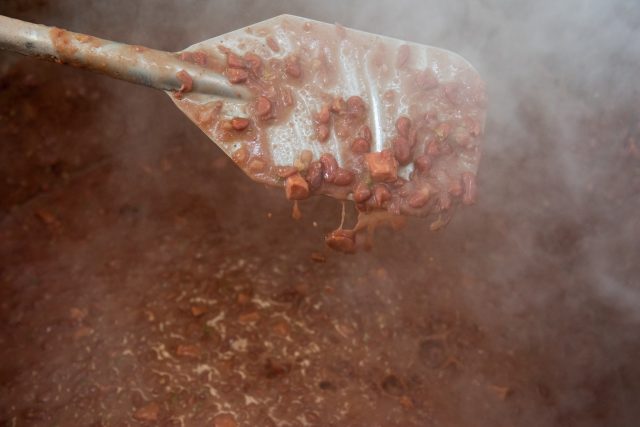 A red beans recipe for 300…and counting
When Eric recounts their red beans and rice recipe, he thinks in bulk – he says they serve about 300 portions on Mondays for lunch and dinner. He constructs his dish in steps: "We start with 50 pounds of dry beans. Add around 10 to 12 large bay leaves, then add two cups of liquid smoke and eight large smoked ham hocks. We boil it until the beans are soft, then add four cups of chopped garlic and 35 pounds of smoked sausage cut in quarters. We cook that until the garlic is soft, then add two pounds of non-salted butter. Then let it cook for two to three hours."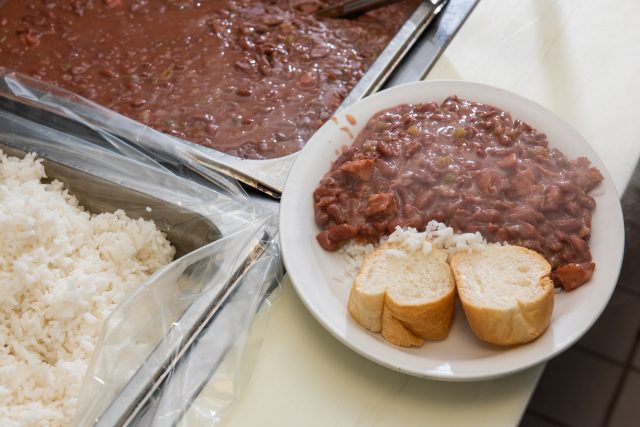 Two pounds of butter – yes indeed!
The butter, he says, makes the mixture creamy. Eric then adds three or four stalks of celery chopped, 15 bell peppers, and 25 large onions, all chopped, which are all cooked down. "You don't cook it until you can't see the seasoning, because you still want to see the seasoning. We just cook it until it's translucent, so it's soft, but visible, and then we add salt." The dish is completed with a side of a pork chop or smoked sausage.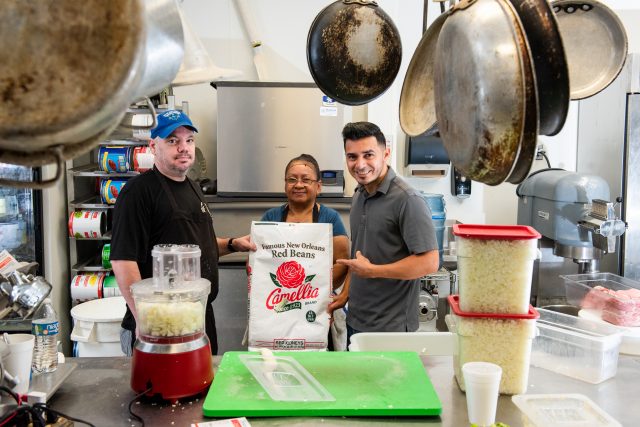 Red beans, white beans… but always Camellia Beans
The only beans Eric will use, which also include the Thursday special of white beans and rice, are Camellia Beans. "It's a family tradition," said Eric, to use the beans. And it's one that can't be messed with. It's staple and most people that come in are getting the red beans," Dawn notes. "It's a New Orleans thing."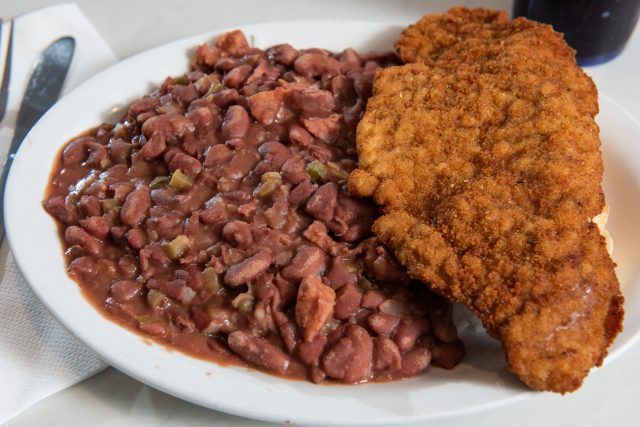 Pork chop or smothered rabbit on the side
For the white beans and rice – which can be ordered with pork chop or smothered rabbit (not the "wascally" kind) – Eric uses a different cooking technique: "We boil navy beans in plain water until they are soft, then we add regular onions, green onions, pickled meat, salt and pepper to taste. We check it until the pickled meat is tender and the beans are soft and creamy. Way easier than the red beans!"
Café 615, Home of Da Wabbit, 615 Kepler St., Gretna, 504-365-1225, cafe615.com