Caribbean-Style Chickpea Curry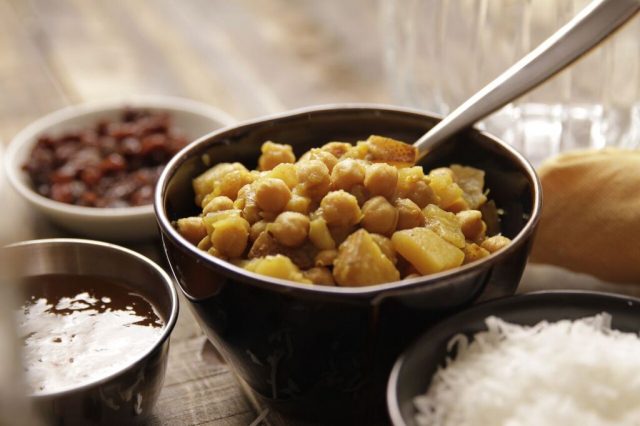 Chickpeas, the Ancient Beans Used 'Round the World
Chickpeas, also known as garbanzos, are ancient beans. Remains have been found in the Middle East that date back more than seven millennia. The ancient world associated them with Venus, the Roman goddess of love, and they were thought to help with reproductive difficulties. More recently, in the 18th century, they were roasted as a coffee substitute. Most people today know them as the main ingredient in hummus, the Middle Eastern bean paste that takes its name from the Arabic word for chickpea.
Chickpeas are known as channa in Trinidad and are a constant in Trinidadian food. Fried and seasoned with a variety of spices, channa is a street snack that's perfect for munching any time but seems to go particularly well with cocktails. Chickpeas appear in many types of soups and stews, but are at their best when served in a dish like Caribbean-style chickpea and potato curry that's also known as channa aloo.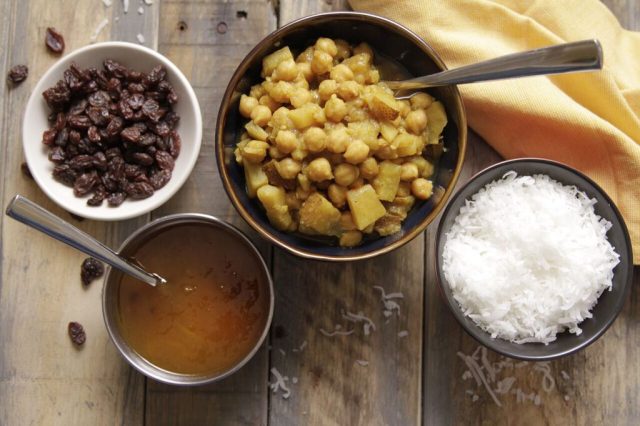 The History of Curries
In the Caribbean region, curries have their origin in the waves of immigrants from the Indian subcontinent who arrived in the 19th century. In New Orleans and the United States, they are traditional as well, dating back to the days of the clipper ships when captains brought exotic spices back from their journeys that transformed traditional dishes into savory delights.  This curry displays the thriftiness of many housewives in both areas, uses potatoes to complete the dish and places the history of three continents squarely on the plate.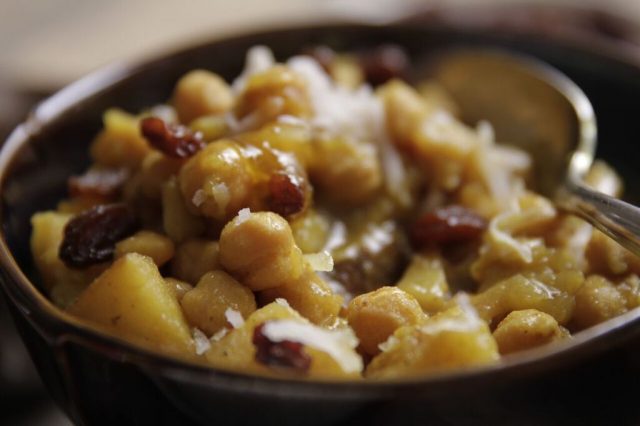 Caribbean-Style Chickpea Curry
Ingredients:
3 tablespoons butter
1 large onion, minced
4 cloves garlic, minced
2 teaspoons minced fresh ginger
1/2 teaspoon crushed red pepper, or to taste
3 tablespoons Madras-style curry powder
1/2 cup Steen's cane vinegar (or distilled white vinegar)
1 1/2 cups Camellia Brand Garbanzo Beans, soaked overnight (3 cups, plumped)
3 cups coarsely chopped potatoes
Directions:
1. In a large frying pan, heat the butter and sauté the onion, garlic, and ginger until the onion is soft but not brown. Add the curry powder and the crushed red pepper, stirring so that they do not stick or burn. Gradually add the vinegar and stir until you have a smooth paste. (You may have to add more.)
2. Add the soaked chickpeas and the potatoes; stir well to cover them with the paste. Remove from heat and allow to marinate for at least 2 hours.
3. When ready to cook, place the chickpea and potato mixture into a large frying pan or in the bottom of a Dutch oven, and add enough water to reconstitute the paste and prevent scorching. Cover and simmer over low heat for about 2 hours or until the chickpeas and potatoes are fork tender. Check occasionally and add more water if necessary to prevent scorching.
4. Serve hot with mango chutney, raisins, freshly grated coconut or with the Indian bread known as roti.
Written by Jessica B. Harris, a culinary historian, journalist and acclaimed cookbook author who has been honored for spreading the word of African and Caribbean cuisines around the world.