Delicious Dishes for a New Year Filled with Luck & Money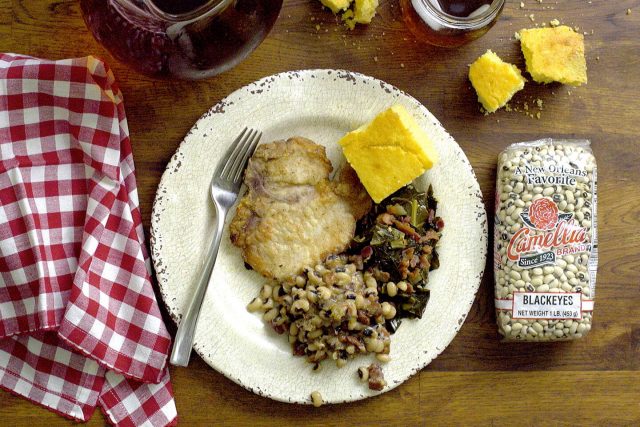 Looking for good fortune and prosperity in the new year? In most cultures, traditional dishes made for New Year's Day are said to bring luck and money. Often, they include beans — which resemble coins or closed circles signifying the end of one year and prosperity in the next, greens — which represent wealth, and pork — because pigs root forward as they eat — symbolizing a positive direction in the upcoming year.
Throughout the South, blackeye peas and collard greens flavored with pork are popular New Year's fare for the promise of luck and money (and because they taste so good). So, to cover all of your bases for a prosperous new year, we've created a complete menu of comforting dishes that are perfect for a New Year's Day feast. These recipes are simple to make, big on flavor, and feed a crowd easily. After the champagne's been consumed and the noisemakers set aside, invite family and friends to come on over (whenever they manage to wake up) and enjoy a casual New Year's Day celebration that'll start things off right.
Our classic Southern Blackeye Peas recipe gets its great taste by starting with a savory base of diced ham and chopped bacon. The aromatic trinity of onion, celery, and red bell pepper (for a nice hint of color) gets sautéed in the pot with the ham, bacon, and bacon fat combo. Then chicken stock is added along with the blackeye peas, for even more richness in the final dish. Blackeye peas simmer till tender relatively quickly compared to other beans, so you can make and serve this delicious dish in short order and without much pre-planning.
Southern Collard Greens complement blackeye peas beautifully and also incorporate the wonders of bacon and its grease. First, the fat is rendered out of the bacon, and the crispy, crumbled bacon is reserved for topping. Chopped onion and garlic are cooked in the grease until translucent, and then chicken stock, rice vinegar, sugar, and seasonings are simmered with bright bunches of chopped collard greens till tender. Finally, the greens are topped with the reserved crumbled bacon for an amazing dish that doesn't disappoint.
Finally, our Easy Pan Fried Pork Chops round out the menu. So fast and so simple! Thin cut, bone-in pork chops are dredged in a mixture of flour, Creole seasoning, and garlic powder, and then fried in vegetable oil in a skillet. After three minutes per side, they're done — as well as delightfully golden brown and tasty.
This whole menu can be cooked up in a little over an hour and is an extremely satisfying way to usher in the new year. Let the prospect of good luck and money (and a wonderful meal) put it on your must-do list for January 1st.
And don't forget the cornbread!